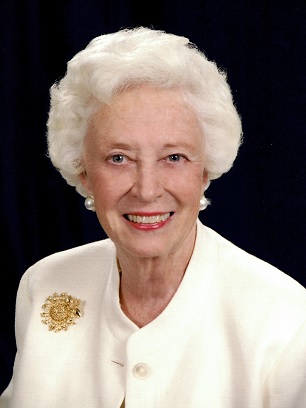 Marian M. Hosch, 88, died peacefully in Gainesville on February 10th, 2020, surrounded by family.
A seventh-generation native of Hall County, Marian lived her entire life in Gainesville. She graduated from Brenau College in 1952 with a degree in music performance, where she was a member of Alpha Delta Pi. In September of that year she married Gainesville native Heyward C. Hosch, Jr. and they raised their family in Gainesville.
Marian was an accomplished concert pianist, from early childhood. For many years, she accompanied vocal practices and performances, gave private lessons, and performed for churches and community groups. Marian touched many lives with her performances of sacred music at church services, weddings, and funerals, often performing dual-piano or piano-organ pieces with her friends Sandra Romberg or Martha Stratton, performing beautiful, complex, one-of-a-kind arrangements which they improvised as they played. She had a deep interest in history, and was a member of The Jamestowne Society, the Daughters of the American Revolution, and the National Society of Colonial Dames XVII Century. She was a beautiful writer, particularly of traditional correspondence with friends and relatives, and expressions of gratitude. She was an attentive and devoted grandmother and great-grandmother, filling the house with pictures of them and directing her energies to them as she had to her own children; and during her life she read the entire Bible, in the King James Version, 31 times.
She was preceded in death by her parents, Mr. and Mrs. Charles H. Martin, Jr. (Juaneese Collier); her daughter in law, Jeana B. Peeler Hosch; and her brother in law, Henry Edward Braselton. She is survived by her husband of 67 years, Heyward C. Hosch, Jr; sons Heyward C. Hosch, III of Birmingham, AL, Charles M. Hosch of Dallas, TX and his wife Elizabeth (Beth) H. Hosch; grandchildren Marian Bradley Hosch Anderson and her husband Frank S. Anderson of Birmingham, AL, Caroline Carithers Hosch Halbrook and her husband Zachary A. Halbrook of Bethesda, MD, Julia Elizabeth Forbes Hosch of Dallas, TX, and Mary Catherine Chilton Hosch of New York, NY; great grandchildren Kathleen Carithers Anderson and Frank Sherard Anderson, Jr. of Birmingham, AL; sister Janice M. Braselton of Braselton, GA; and many nieces and nephews.
Services will be held on Saturday, Feb. 15, 2020 at 11:30 a.m at First United Methodist Church, in Gainesville. Rev. Scott Hearne will officiate. In lieu of flowers, please consider a gift to the Endowment Trust of the First United Methodist Church, 2780 Thompson Bridge Road, Gainesville, GA 30506, or the charity of your choice. Jerry Ward, of Memorial Park Funeral Home, 989 Riverside Drive, Gainesville, GA 30501, is in charge of arrangements.
Send online condolences to www.memorialparkfuneralhomes.com.