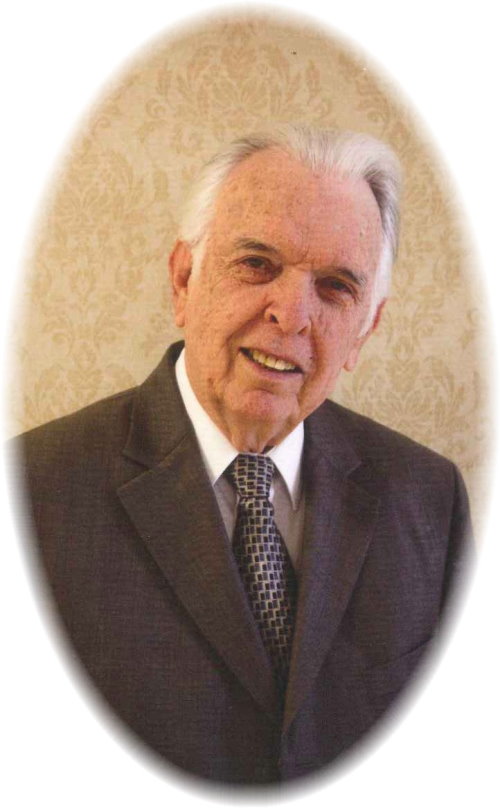 Jack Charles Pethel left his earthly home for his heavenly home on July 31, 2016 after an extended illness. He was born on August 24, 1927 to Rabon and Omalee (Simpson) Pethel.
He was preceded in death by his parents, brother and sister-in-law; David and Lucy Pethel, and sister-in-law; Martha Pethel.
He was a member and deacon of Central Baptist Church. He served as a Sunday School Teacher, Department Director, and pianist for the 101 Sunday
School Class. He loved music and playing the piano. For many years, he was a faithful member of the choir, where his tenor voice was a beautiful asset to Central's Music Department.
He began his career at the Gainesville News and worked there until he was drafted to serve in World War II. He was proud to be an Army veteran. In 1947, he started his employment as The Times began its publication. He worked again for The Gainesville News and at the Georgia Printing Company. He was considered an outstanding old-time printer. His last employment was at Johnson High School, where he served until retirement as a Graphic Arts Instructor.
He is survived by "the love of his life", his wife of 67 years, Coleen Pethel, son Stan (Jo Ann) Pethel, daughters Nancy (David) Duncan, and Margie (Terry) Park. The grandchildren include Jerry (Jennifer) Wood, Carrie (Chris) Owens, Mary Ellen Pethel, Jamie Wood, Katie (Chris) Scobel, Rob (Syra) Pethel, Joseph (Cherish) Pethel, and Kenny Park.
There are four great-grand-children and one on the way; William Pethel, Jack Pethel, Eva Pethel, Levi Pethel, and Samuel Pethel due in September. He is also survived by two brothers and one sister-in-law, James Pethel, and Ben (Jean) Pethel.
The funeral service is scheduled for Tuesday, August 2, 2016, at 3 pm at Memorial Park South Chapel in Flowery Branch Georgia. Rev. Earl Pirkle will be officiating. Interment will follow in Oakwood Cemetery.
Visitation will be from 1 to 3 pm before the funeral. All deacons are requested by the family to serve as honorary pallbearers.
In lieu of flowers, contributions may be made to Central Baptist Church or the 101 Sunday School Class, 785 Main Street, Post Office Box 444, Gainesville, Georgia, 30503.
Memorial Park South, Flowery Branch is in charge of arrangments.