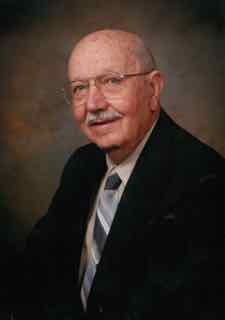 A much loved husband, father, and grandfather, Dorsey Davis Brooks, 100, of Hoschton, GA passed away peacefully at his home Wednesday July 15th 2015 with family present. Dorsey was a faithful follower of Christ devoting many years to teaching Sunday school at The First Baptist Church of Jefferson, GA.
Dorsey was dedicated to the pursuit of higher education; he finished high school at The Martin Institute, his undergraduate degree at Abraham Baldwin Agricultural College (ABAC) and his Master's degree at The University of Georgia. He continued his passion for education by devoting his 32 year career to serving as a teacher, coach and administrator. After retirement, Dorsey continued his commitment to public education by establishing and personally funding an educational program for "at risk" children at Jefferson Middle School.
Dorsey served his country three years in the United States Navy during WWII as an aircraft mechanic and received an honorable discharge.
In addition to Dorsey's scholastic and military accomplishments, Dorsey had a passion for athletics. During college, Dorsey played guard and forward for ABAC where his team won the state title in 1937. Dorsey continued his passion for athletics by coaching. To many he was known as D.D. Brooks but to many more he was affectionately called "coach". Dorsey coached and mentored hundreds of students during his career.
Because of Dorsey's commitment to education and athletics Dorsey's baseball teams won numerous district championships. In 1956 the Tucker High School baseball team earned the school's first ever state championship in a major sport under his leadership. He was also instrumental in beginning the Tucker Little League baseball program. Dorsey was acknowledged as ABAC's "Teacher of the Year" in 2008 and inducted in ABAC's Athletic Hall of Fame in 2009, and also inducted into Tucker High School Athletic Hall of Fame in 2009. Finally in 2014, Dorsey was again recognized by Tucker High School in the naming of their baseball field "Dorsey Brooks Field".
Dorsey was preceded in death by his parents, James Davis Brooks and Martha Ann Moore Brooks; and his 9 siblings; his first wife Gippie Cofer Brooks -- the mother of his four children; and his second wife, Inez Carlan Brooks. He leaves behind his present wife, Nancy Dianne Brooks and four generations of descendants including his four children: Gary Brooks (wife Roberta) of Palmer, AK, Gail Brooks Harden (husband Jack) of Carrollton, GA, Larry Brooks of Hoschton, GA, and Tim Brooks (wife Tina) of Hoschton, GA. He also had two stepchildren Nathan Turner (wife Jennifer) of Cumming, GA, and Kristen Richardson (husband Nick) of Louisville, KY. Dorsey leaves behind 7 grandchildren, 10 great grandchildren, 2 great-great grandchildren, and 3 step-grandchildren. He also leaves behind 3 sister-in-laws, Donna Baker of Cleveland, GA, Sharon Hickox of Clayton, GA, and Elizabeth Cofer of Lawrenceville, GA.
Dorsey brought 100 years of joy and blessed life to his family and those who knew him. He will be missed and remembered as a Christian, educator, coach, mentor, and father. While we will miss him greatly, he wouldn't want us to focus on the sadness of his death, but instead focus on the happiness in our lives. He would want us to appreciate each other and our future. His guidance and love will carry us through to the end of our days when we will again be reunited.
The Family will receive friends Friday, July 17th at Evans Funeral Home, Jefferson, GA from 2:00 pm to 4:00 pm and 6:00 pm to 8:00 pm. Funeral Services will be held Saturday, July 18th at First Baptist Church, Jefferson, GA at 2:00 pm. Interment will follow at Chestnut Grove Baptist Church, 2299 Rosebud Rd., Grayson, GA.
"He fought a good fight, he kept the faith, he won the race!"