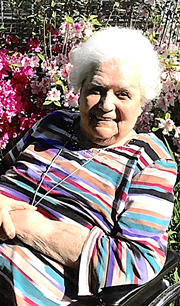 Mrs. Joan Waneta Hicks, 87, of Lula, passed away Friday, November 17, 2023 following an extended illness.
Funeral services will be held at 11:00 a.m. Tuesday, November 21, 2023 in the Chapel of Memorial Park Funeral Home. Mr. George Lee will officiate. Interment will follow in West View Cemetery, Lula, GA. The family will receive friends at Memorial Park Funeral Home Monday, November 20, 2023 from 4:00 p.m. until 6:00 p.m.
Born on June 15, 1936 in St. Paul, MN, she was the daughter of the late H. Coye and Ina M. Freer Johnson. She was retired from the United States Post Office where she was a courier.
Joan was a faithful wife, loving mother and friend to all. She was known for her great cooking and Southern hospitality. While she wasn't born in the South, she always said "she got here as quick as she could". She loved her family very much and her Heavenly Father. Ever the pillar of strength, she was a confidant to many and opened her home to anyone in need. She was the best "Nannie", and will be missed dearly.
In addition to her parents, Mrs. Hicks was preceded in death by her husband, Alvin Paul Hicks and daughter, Jackie Shadle.
Mrs. Hicks is survived by her daughter, Judy Hicks Stepp of Lula; granddaughters, Loren Armour, Ashley (Tyler) King all of Lula; great grandchildren, Easton Martin, Jaydon King, Emily King; sister and brother in law, Betty (Mike) Hedberg of MN; sister, Karen Johnson of CA and a number of nieces, nephews and other loving relatives.
Memorial Park Funeral Home, 2030 Memorial Park Road, Gainesville, GA 30504 is in charge of arrangements.
Send online condolences to www.memorialparkfuneralhomes.com