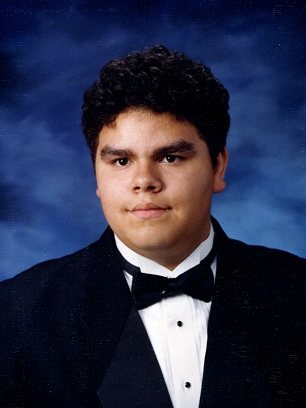 Derik Stiller, a brilliant and multi-talented individual, passed away on Tuesday, October 31, 2023, at the age of 39, in Dahlonega, Georgia. He was born on August 29, 1984, in Alexandria, Virginia, to his late father, Alvin F. Tinney Jr., and his mother, Regina Stiller Smith.
Derik was a shining star in the world of information technology (IT), dedicating two decades of his life to his profession. His keen intellect and unwavering dedication made him a respected figure among his colleagues and peers. Yet, it was not just his professional prowess that set him apart. Derik was a man of immense kindness, love, and selflessness. His quick wit and infectious sense of humor brought joy to all
who were fortunate enough to know him.
Beyond his IT career, Derik's passion for music shone brightly. He was a gifted singer and songwriter who played bass guitar, keyboards, drums, and guitar. He started writing and recording original music at age 13, first with a cassette tape deck and quickly progressing to computers and open reel systems. Derik's love of music transcended genres, and he was equally skilled in all of them. His melodies will forever linger in the hearts of those who had the privilege of performing with him or listening to his
music.
Derik is survived by his beloved mother, Regina Smith, and her husband, Ronald, of Dahlonega; his sister Emily, and her husband, Ibn, of New Jersey; his paternal grandmother Peggy Nestler; and his beloved dog Honey. In addition, Derik is survived by half-sisters Katryna Seto of Maryland, Anjanette Tinney-Young of Washington, DC, Donielle Tinney Blake of Washington, DC, and Qionna Tinney of North Carolina, as well 11 nieces and nephews, along with countless friends and other relatives, all of whom were touched by his warmth and kindness.
Derik is now reunited with his late father, Alvin F. Tinney, Jr., his maternal grandfather, John C. Nestler, and paternal grandparents, Alvin F. Tinney, Sr. and Caroline Tinney. Although he has left this world, Derik's memory will continue to shine in the hearts of those who were fortunate to share their lives with him. Derik Stiller's legacy of love, laughter, and exceptional talent will live on through the stories and music that he leaves behind, inspiring those who knew him to continue spreading kindness and creativity in his honor.
A public Celebration of Derik Stiller's life will be held near the time of his birthday in 2024.