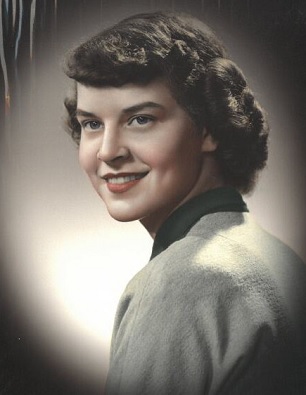 Bonita Marie Osborne Trimmer went home to be with the Lord on March 14th, 2023.
She is preceded in death by her husband of 67 years, Dick Trimmer, her parents, Everett and Leah Osborne of Marion, Ohio, and her brothers Warren and Ron. She is survived by her daughter Christy Roberts (Dave), son's Mark (Barbara), Paul (Vicky), Bob, and Kerry Dean (Patsy). fourteen Grandchildren and sixteen Great Grandchildren.
She was born in Marion, Ohio on December 2nd, 1933, the youngest of 3 children. She was a beautiful, gifted child who learned to play the piano, write poetry and love the Lord. Her favorite time in her childhood was as a barefoot girl in Kentucky, dirt poor by anyone's standards, but her home was rich in love for each other and for Jesus. She met the love of her life when she was 16, and they married a year later, and they were devoted to one another for 67 years.
She loved to be a mother and grandmother and devoted her life to caring for her family. She loved to cook and bake, and her Christmas cookies were legendary. We moved frequently due to Dad's job, which she loved because it meant she could make new curtains and drapes, pick out new colors and turn a house into a home. When Dad got involved in the ministry in the late 1970's, she was his perfect companion, played piano, sang and served her role as the Mom to everyone in his church. She loved it when they pastored in Logan, Utah and it provided another opportunity to share her love of Christ and do what she did best, which was to make people feel welcomed and loved. She was the queen of sending birthday cards, was the family historian and genealogist but above all, was a shining example of reflecting the love of Christ to the world around her. We know that we were touched by the hand of God when he formed us in her womb, and we are eternally grateful and blessed that God chose her to be our Mother, Grandmother and Great Grandmother. We know that she is resting in the arms of Jesus. Hebrews chapter 12, "Therefore we also, since we are surrounded by so great a cloud of witnesses, let us lay aside every weight, and the sin which so easily ensnares us, and let us run with endurance the race that is set before us, looking unto Jesus, the author and finisher of our faith, who for the joy that was set before Him endured the cross, despising the shame, and has sat down at the right hand of the throne of God."
We are eternally grateful to the ladies from Hospice and the CNA's who helped mom. They do the unspeakable every day to provide comfort to the dying, and there is a special place in heaven for them.
Funeral services will be held Saturday March 18, 2023, at 11:00 a.m. in the chapel of Little & Davenport Funeral Home. Interment will follow in the Alta Vista Cemetery. The family will receive friends at the funeral home Friday March 17 from 5:00 p.m. until 8:00 p.m.
Those wishing to send online condolences to the family may do so at littledavenport.com
Little & Davenport Funeral Home and Crematory, 355 Dawsonville Highway, SW, Gainesville, Georgia 30501 is in charge of arrangements.