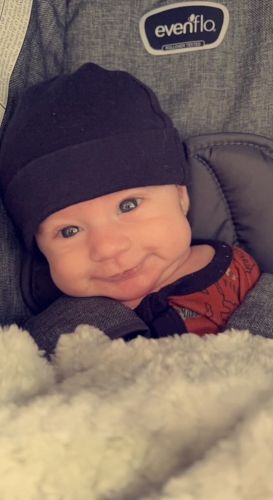 Weston Haze Arrowood, age 2 months, entered into the presence of Jesus on Saturday, January 21, 2023.
Weston was born on November 1, 2022 at 11:56 am in Hall County, Georgia to Michael Arrowood and Savannah Robinson. Weston brought so much joy and love into everyone's life. He had the biggest and most affectionate smile. Everyone that met him, fell in love with him.
In addition to his parents, he is survived by his paternal grandparents, Randy and Angela Arrowood, of Alto; maternal grandparents, Donald and April Robinson, of Murrayville; maternal great-grandmother, Debbie Maple, of Dawsonville; maternal great-grandfather, Anthony Harrison, of Gainesville; paternal great-grandparents, Shirley and Mike Thomas, of Baldwin; Judy and Ronnie Arrowood, of Alto; aunts and uncles, Karlie Martin, Ashton Arrowood, Madison Robinson, Marley Fortenberry, Tyler Robinson, Donald Robinson, Jr., Derick Davis; cousins, Carter Robinson, Annabeth Blackburn, Jentri Blackburn, Dallas Lisk, Paisleigh and Presley Blackburn.
Funeral Services will be held at 2:00 p.m., Sunday, January 29, 2023 at the Whitfield Funeral Homes, North Chapel with Rev. Kenneth Taylor officiating. Interment will follow in Yonah Memorial Gardens.
The family will receive friends from 5:00 p.m. to 8:00 p.m., Saturday, January 28, 2023 at the funeral home.
Flowers will be accepted or memorial donations may be made to the Whitfield Funeral Homes & Crematory, North Chapel, P.O. Box 1113, Cornelia, Georgia 30531. Telephone: 706-778-1700.
Arrangements have been entrusted to the Whitfield Funeral Homes & Crematory, North Chapel at 245 Central Avenue, Demorest, Georgia 30535. Telephone: 706-778-1700.