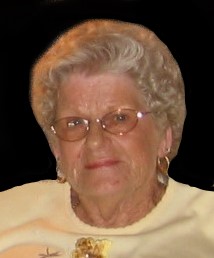 Joye Belle Adair Rushing, age 85 of Clarkesville, Georgia formerly of Haleyville, Alabama went home to be with the Lord on Monday, November 21, 2022.
Born in Winston County, Alabama on June 18, 1937, she was a daughter of the late Arthur Fuller & Callie Adair Self. Joye was a homemaker and a member of County Line Church in Haleyville. She was a very loving wife, mother, grandmother, & great-grandmother. Joye's care and compassion for others was immeasurable. Her last words to everyone were always, "I Love You!"
In addition to her parents, she was preceded in death by her husband, D.J. "Shorty" Rushing & by her brother, Robert Adair.
Survivors include her children, Ronnie & Susan Rushing of Clarkesville, GA; Cindy & Terry Gann of Vincent, AL; Renese Rushing King of MS; sisters, Jeanette Wiley of Memphis, TN; Faye Simmons of Booneville, AR; grandchildren, Derek & Liza Rushing, Ty & Rachael Rushing, Kaitlin Gann, Maggey Gann, Amber King, & Justin King; great-granddaughter, Jaina Rushing.
Funeral services are scheduled for 1:00 p.m. on Friday, November 25, 2022 from the Chapel of Pinkard Funeral Home of Haleyville, 1308 21st Street, Hwy. 195, Haleyville, AL 35565. Interment will follow in the Winston Memorial Gardens in Haleyville.
The family will receive friends at the Pinkard Funeral Home from 12:00 p.m. until the service hour on Friday, November 25, 2022.
An online guest registry is available for the Rushing family at www.HillsideMemorialChapel.com