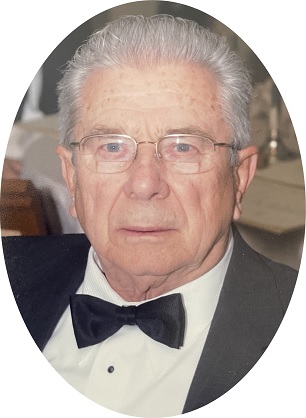 Mr. Frank Michael Turchik, age 93, of Hoschton passed away Thursday, November 17, 2022 at Northeast Georgia Medical Center – Braselton.
Funeral Mass will be 2:00 p.m., Wednesday, November 30, 2022 at Prince of Peace Catholic Church. Father Adam Blatt will officiate.
Mr. Turchik was born November 2, 1929 to the late Michael & Mary Turchik in Bridgeport, Connecticut. A Veteran of the United States Navy, he was a member of Prince of Peace Catholic Church and retired from Sikorsky Aircraft, where he was a Chief Flight Inspector.
Mr. Turchik is survived by his wife, Emmaline Jan Turchik; sons, Frank Turchik Jr. and Robert (Cindy) Turchik; step-children, Lorraine (Dale) Mancuso, Linda (Bill) Hartford, Jerry (Crissie) Wartko and Suzann (Larry) Fox; 10 grandchildren; 7 great-grandchildren; and sister, Lillian Mierzejewski. He was preceded in death by his father, Michael; mother, Mary; and sister, Eleaner Pekata.
Memorial Park South Funeral Home, 4121 Falcon Parkway, Flowery Branch, Georgia 30542 is in charge of arrangements. Send on-line condolences to www.memorialparkfuneralhomes.com.