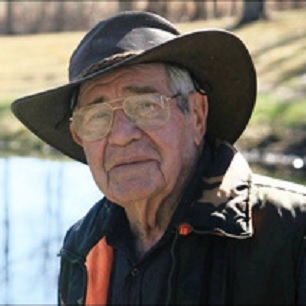 Mr. Clyde Edward Harkins, age 97, of Suches, passed away on Sunday, November 20, 2022.
Clyde was a native and lifelong resident of Suches. He was born in his parents' home on Cooper's Creek, with the help of a midwife, his "Grandma Lizzy," on October 1, 1925. Only two things would take Clyde away from his beloved home, Suches, when he would leave to serve his country in WWII and go to work at Pinetree (Burlington Industries) to provide for his family. He was a faithful member and a deacon at Zion Baptist Church.
Clyde was a mason and met regularly at Allegheny Masonic Lodge #114 F&AM.
Say the name "Clyde Harkins" around North Georgia, and it is almost a certainty that someone is going to say, "oh, I know ol' Clyde! He's a good one! He knows more about the history, plants, and wildlife in this part of the country than anyone ever has! And he ain't afraid to tell you about it either!" He is the definitive example of living history and has encapsulated the soul and spirit of the Suches community his entire life. He is known for and truly finds his joy in sharing everything he knows about the people, places, and wildlife of our beautiful county with fellow and future generations. On any given day, visitors (whether family, neighbors, friends, and often even strangers!) could be found dropping by for a good story, some sage advice, a gardening lesson, maybe a snort from the bitters jar, or a stroll around the property gleaning some knowledge about every plant in sight. These drop-ins rarely lasted less than half the day and usually involved an impromptu meal from his garden, meat freezer, and canning room whipped up seamlessly by his equally admirable wife, Virginia.
Clyde Harkins has been honored for his service in WWII as well as recognized as being a part of an amazing family rooted in these mountains, homesteading and growing up on Cooper's Creek, but often gone unsung is his passion for and knowledge of the plants and animals of our beautiful North Georgia. He led many organized hikes and expeditions on and off the Appalachian Trail, throughout Cooper's Creek, over Blood Mountain, in The Valley of the Giants, and all through Union County for the purpose of education and stewardship of this local flora, fauna, and wildlife. He has guided groups of all ages, abilities, and walks of life through many, many miles of these North Georgia Mountains.
Throughout his life, he held various roles (many unofficial and voluntary) with the Forest Service, Forestry Commission, Department of Natural Resources, Department of Agriculture, and the Conservation Corps with a fierce love for and loyalty to our beautiful mountains. Plant enthusiasts, historians, biology/botany educators from colleges and universities, gardeners, aspiring green thumbs, novices, experts, and even the Atlanta news have sought him out for his knowledge of all things plants, garden, and local history, all the while enjoying his zest for life and hospitality.
To know a man like Clyde, we'd need to appreciate all of him. From homesteadin' to coon huntin' to moonshinin' to buck dancin' to deer skinnin' to ginseng dryin' to chicken scratch throwin' to bible readin' to lady slipper findin' to ramp patchin' to tomato growin' to speckled trout fishin' to mountain hikin' to church goin' to okra picklin' to World War II survivin' to prank pullin' to trail blazin' to Indian corn tyin' to fire tower watchin' to tall tale tellin' to tractor drivin' to medicine mannin' to hog raisin' to turkey huntin' to potato diggin' to timber loggin' to ballhootin' to bird watchin' to flower pickin' to land preservin' to old homeplace caretakin' to rhubarb eatin' to apple peelin' to bean pickin' to bluegrass gospel listenin' to row hoein' (diligently through life figuratively and literally) to life lovin'... the list possibly never ends.
His veneration in recent years has come along less by his "doing" and more by his companions listening while he sits in the shade across his creek at the egg house by the garden, recounting the tales, lessons learned, and grace given over the last century. May his presence in and impact on this area linger another 100 years.
Clyde was greeted in Heaven by his parents, James Henry Harkins and Lola Abercrombie Harkins; his beloved wife of 67 years, Virginia Moose Harkins, his son and daughter-in-law Dennis and Terri Harkins, his brothers, whom all served with Clyde during WWII, Ira Harkins, Eldo Harkins, Ralph Harkins, and Harley Harkins.
Missing him here will be his children Dianne and Larry Wood; Dwight Harkins, of Suches; Robert and Brenda Massey, of Cleveland; sister Stella Hayes, of North Carolina; grandchildren, Blaine Harkins, Brandon and Cheryl Harkins, Britton and Katie Harkins, Connie Wood Webster, Carval Wood Grizzle, and Casey and Adam Faulkner, eighteen great-grandchildren, three great-great-grandchildren, several nieces, nephews, several other relatives, and a beloved community of friends in Suches, Georgia.
Funeral services will be held at 2:00 PM Sunday, November 27, 2022, at Zion Baptist Church. The Rev. Jim Sheffield, the Rev. Michael Wilkes, and the Rev. Doug Merck will officiate. Interment will follow in the church cemetery with Masonic Rites and Military Honors. The family will receive friends from 4:00 PM to 8:00 PM Saturday at the funeral home and from 1:00 PM to the service hour Sunday at Zion Baptist Church.
To share a memory or condolence with the family, visit Mr. Harkin's online guestbook at andersonunderwood.com.
Anderson-Underwood Funeral Home, 2068 Highway 19 North Dahlonega, GA 30533.