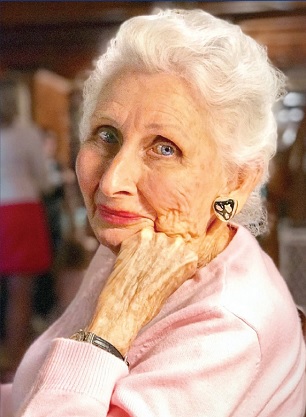 Beverly Harris Bartlett, 95, of Cleveland, Georgia, was joyfully greeted into the arms of her loving Savior, Jesus Christ, on Saturday, November 19, 2022, after a life lived well.
How do you sum up, in just a few words, the life of someone who lived it to the fullest? Beverly Bartlett...when each of you hear her name...it evokes many different memories. Those memories cause us to smile, laugh and sometimes cry. Beverly lives on in our hearts. Her love, encouragement and at times, correction, are occasions we cherish and hold dear. We are better for knowing her.
Beverly graduated from the University of Georgia in 1948 with a degree in Zoology. She was married to her husband, Rayburn for 52 years before he went home to be with the Lord in 2001. Her surviving children are: Donald Bartlett (Cheryl); Michael Bartlett (Debbie); and Glennis Bartlett McDonald (Mike.) She is also survived by her grandchildren, great-grands, and many loved ones who call her family, as well as countless others who call her "friend." She lived a Proverbs 31:10-31 life that can be attested by all who knew her.
Her love of Jesus was something she shared with others without hesitation. She often shared the love of Christ through her poetry, found in all three of her published books. No matter where she was, she would give an encouraging word to everyone with whom she came in contact. In Beverly's world, each person was important, and she always wanted to be obedient to the prompting of the Lord and leave you with something to ponder.
Beverly's heart was to stay active in ministry wherever God was leading her. She was a member of Free Chapel Church and The Bridge Church. She graduated from two bible colleges; and at the age of 93 in the year 2020, she was the oldest graduate from the School of Discipleship at Free Chapel Church in Gainesville, Georgia. She always donated countless hours of her time and talents to many ministries and churches throughout North Georgia, including Women's Aglow and Tres Dias.
Near and dear to her heart was a local Jail Ministry where she ministered for years to the ladies in jail. Through her sweet love for those who have traveled a very rough road of life, one of those ladies was highly impacted by Beverly's ministry. This same lady eventually recovered and started The Community Recovery Center, a women's Christian based, 12-step residential program providing the structure to enable a successful transition back into a stable environment. Since Beverly was a catalyst for this particular ministry, Beverly herself, requested that in lieu of flowers, donations be made to:
Community Recovery Center
34 Everett Drive
Cleveland, GA 30528
770-530-3021
A celebration service honoring "Miss Beverly" will be held at The Bridge Church, 607 Hulsey Rd., Cleveland Georgia, on Friday, January 13, 2023, at 1:00 PM. All are invited & requested to wear bright colors, in celebration of how Beverly would have wanted it.
To share a memory for the family, please visit barrettfh.com
Barrett Funeral Home of Cleveland