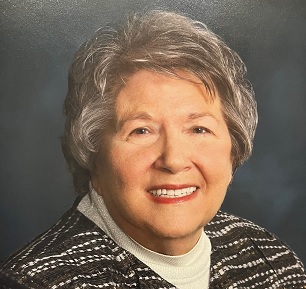 Barbara Lina Karwoski, beloved by all who knew her, died on Wednesday, September 6, 2022. Over and over, people use two words to describe Barbara, kind and loving. We are all lucky to have had this exceptional woman as part of our lives.
Barbara was born in St. Louis, Missouri, in the Baden area. She graduated from Laboure High School, where she met Joe, her future husband. They married in 1957, the day after Joe graduated from college. Over the years they lived in Kansas City, MO; St. Louis, MO; Atlanta, GA; Clarkesville GA; and retiring to Gainesville, GA.
Barbara loved her family, and they knew it. She loved unconditionally and it radiated from her. When Barbara called you friend, you knew she meant it. Barbara always thought the best of everyone. It never occurred to her to think or say anything negative about anyone. She had such an open heart that she would sit down and truly listen to you talk and genuinely find it interesting. She was always there to lend a helping hand or a shoulder to lean on.
Barbara was devout in her faith. Any challenges she faced, she trusted in God for guidance. She lived her life to reflect her belief that she was an example of God's love.
She is survived by the love of her life, Joe Karwoski; the joys of her life, her daughters, Jane McCracken (Ralston), Mary Karwoski, Amy Hawkins (Dave); the delight of her life, her granddaughter, Jessica Hawkins (Brian Shufelt). Barbara is also survived by her brother, John Lina (Carola) and her sister-in-law Sylvia Neff (George Wilkie).
A Memorial Mass will be held on Saturday, October 8th at 2:00pm at the Lanier Village Estates Chapel, 4000 Village View Dr., Gainesville, GA 30506.
In lieu of flowers, please consider a donation in Barbara's honor to the Parkinson's Foundation.
Those wishing to send online condolences to the family may do so at littledavenport.com
Little & Davenport Funeral Home and Crematory, 355 Dawsonville Highway, SW, Gainesville, Georgia 30501 is in charge of arrangements.