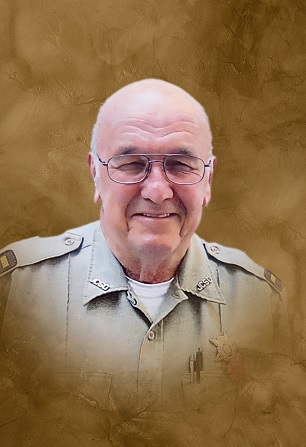 Evans Funeral Home announces the death of Mr. John C. Cody, age 78 of Jefferson, Georgia who entered rest Wednesday, August 3, 2022. Mr. Cody was born in Jefferson, Georgia a son of the late William and Myra Williamson Cody. In addition to his parents John is preceded by his wife Joan Underwood Cody, son, Greg Beck, brother, Joseph and sisters Mary and Marie.
John Cody was a true public servant and called Jackson County home his entire life. He served his Country, his City and Jackson County, with over four decades of service. He graduated from Jefferson High School and enlisted in the Army. After returning home he worked in Athens for a decade in the vending business while simultaneously serving as a volunteer firefighter in Arcade. His dedication to serving the community continued when he joined the Jefferson Police Department. John would later continue his public service with the Jackson County Sheriff's Office where he served for over thirty years. Mr. Cody loved the outdoors and ran his own landscaping company for many years. He was a true one-of-a-kind. For those of us lucky enough to have known him, we knew a man who always found time for people, he was patient, caring, and always willing to do whatever was with in his power to help others.
Survivors include a son, Scott Cody (Seth Bush) of Apopka, Florida. Daughter, Dawn Cody of Jefferson. Daughter in law, Christy Beck of Jefferson. Grandchildren, Trey and Trent Beck of Jefferson and a sister-in-law, Shirley Channell of Jefferson.
A Celebration of John's life and service to his community will be held 3:00 P.M. Sunday, August 7, 2022, from the Chapel of Evans Funeral Home. The family will receive friends 1:00 – 3:00 prior to the service.
In lieu of flowers, memorials may be made to St. Jude's Children's Hospital at www.stjude.org or to the Georgia Sheriff's Youth Homes at P.O. Box 1000, Stockbridge, Georgia. 30281
Evans Funeral Home, Inc., 1350 Winder Highway, Jefferson, Georgia. 706-367-5467.
Online condolences at: www.evansfuneralhomeinc.com