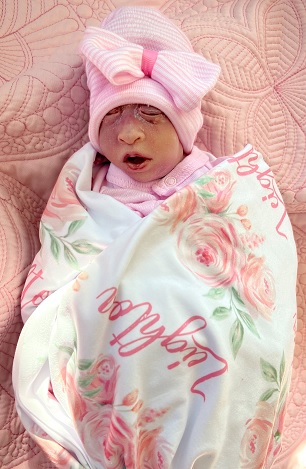 Leighton Everly Shirley, infant daughter of Evan and Alexas Shirley of Baldwin, was born and also passed away on Tuesday, May 10, 2022, in Gainesville.
In addition to her parents, survivors also include grandparents, Jim and Chrissy Andrews, and Paul and Lynn Shirley; great grandmother, Pat Andrews; aunts and uncles: Bryce Andrews; Alex and Casey Shirley and their son Lennox; Lindsey and Zach Moore, theirs daughters, Ansley and Hannah and son, Oliver; Jonathan and Leah Dick, their sons Solomon and Elijah and daughter, Hannah.
She was preceded in death by great grandparents: Bobby and Barbara Shirley; Jurell and Joyce Ruis; Rodger and Pat Berry; Edwin Andrews: great uncle, Craig Medlin.
Memorial services are 1 pm on Saturday, May 14, 2022, at Level Grove Baptist Church with Dr. Brian James officiating.
The family will receive friends immediately following the service on Saturday at the church.
An online guest register is available and may be viewed at www.mcgaheegriffinandstewart.com.
McGahee-Griffin & Stewart Funeral Home of Cornelia, Georgia (706/778-8668) is in charge of arrangements.