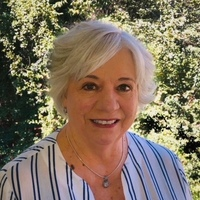 Mrs. Judy Rose Pruitt Stover, a loving wife, grandmother, sister, and friend. She left this world and went into the presence of The Lord on January 10, 2022, at the age of 72.
Judy was born in Atlanta on October 2, 1949, to the late Robert Lee and Pauline Lunsford Pruitt. She had worked for public safety in Hall County for several years and then The Health Clinic in Suches. Judy would then take up the job she loved the most. Her title would become "Grandma". With that job came feeding, traveling to sporting events, nurturing and caring for all her grandchildren. In this world of darkness and almost everything unstable, Grandma would remain the constant in her family's lives. Judy's unwavering convictions and love for The Lord was a bright spot for her family and those who knew her. She faithfully attended Chattahoochee Baptist Church.
Those who met Grandma on Heaven's bright shore, in addition to her parents, are her granddaughter Courtney Rose Anderson, son-in-law Jim Freeman, sisters Susan King and Robin Giadrosich.
Those missing her here are her beloved husband Stan Stover, Cleveland; children Tania Lightsey (Kevin), Cleveland; John Lee III (Leanne), Texas; Jenny Anderson (Chris), Cleveland; step-son Scott Stover (Anna), Fayetteville; grandchildren Ryan Freeman (Chelsea), Jessica Lee, Alex Ward (Brandon), Samuel Stover (Elyse), Bailey Anderson, Jonathan Stover, John Henry Lee IV, Jacob Anderson, Tyler Anderson, Chesnee Freeman, Carolina Stover, Emma Lightsey, Davin Lightsey, Marianna Stover; great grandchildren Brayden Freeman, Skip Freeman, Zane Ward, Sawyer Ward; brother Dr. Don Pruitt (Theresa), sisters Gayle Bass, Sherry Hudson, Joy Barker (Larry), Dale Waggoner (John); several nieces, nephews and other relatives.
Funeral services are scheduled for 11:00 AM Thursday, January 13, 2022, at the chapel of Anderson-Underwood Funeral Home. The Rev. Chris Anderson will officiate. Interment will follow in Mt. Lebanon Baptist Church Cemetery in Suches, GA. The family will receive friends from 4:00 PM to 8:00 PM Wednesday at the funeral home.
To share a memory or a condolence with the family visit Judy's online guestbook at andersonunderwood.com.
Anderson-Underwood Funeral Home, 2068 Highway 19 North, Dahlonega, GA 30533