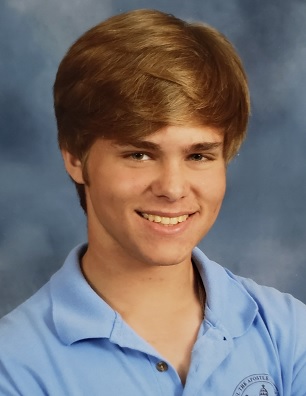 Jonathan Lloyd Wylie, born June 7, 2001, to Lloyd and Yanira Wylie, passed away on September 8, 2021, in Jacksonville FL. Jonathan had been a well-liked member of the White County community for much of his 20 years God shared his presence with us on this earth. He was a member of St. Paul the Apostle Catholic Church where he received the sacraments of Baptism, First Holy Communion, and Confirmation.
Jonathan graduated cum laude from White County High School in 2019. In addition to his academic talents, Jonathan studied piano for many years, winning many awards and competitions, and he played piano for the St. Paul's Catholic Church Choir. As well, he loved to assist the SOR (School of Religion) teachers and the SOR staff. During his high school years, he was a dual enrolled student successfully completing approximately 45 college credits.
Jonathan's achievements are eclipsed only by his dear, sweet, kind-hearted nature, and a willingness to help anyone in need. He was loved by all and had more friends than he could count. Jonathan is survived by his father and stepmother, Lloyd and Amanda Wylie of White County; his mother, Yanira Padilla of Jacksonville FL; his sister, Jacquelyn Anita Wylie of White County; his paternal grandparents, Andy and Anita Brackett of White County; and his maternal grandparents Josefina and Rey Padilla of Jacksonville. Additionally, he is survived by many uncles, aunts, and cousins from both families who all loved him dearly.
Funeral services will be held at St. Paul the Apostle Catholic Church on Saturday, October 16, at 10:00 am. In lieu of flowers the family is requesting donations to the St. Paul the Apostle Catholic Church Choir.
Jonathan will be a part of the St. Paul the Apostle Catholic Church community forever and he will be remembered for all of his contributions. His family members will remember him as their beautiful, golden boy.
To share a memory or to leave an online condolence for the family, please visit www.barrettfh.com
Barrett Funeral Home of Cleveland.