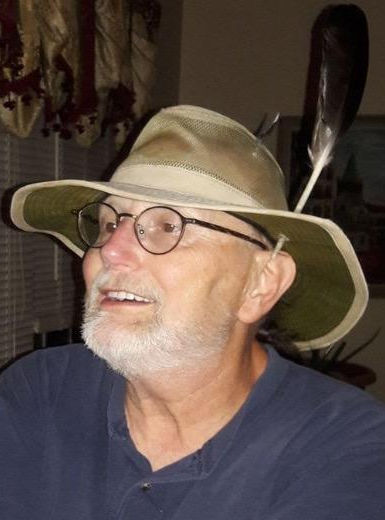 Floyd David Stewart, aka Arlo P. Hogfish, Husband, Father, and world's best Papa, passed away peacefully, with his loving wife Marshalle by his side, on October 3, 2021. He is survived by wife of 37 years, Marshalle Stewart; daughter, Missy Fowler; stepdaughters, Christina Fenton and Marcie Payne; and his three grandchildren, Haley Fenton, Elijah Fowler, and Charlotte Payne. There was never a dull moment when Arlo was around. Whether it was singing along as he played the guitar, admiring his beautiful hiking sticks and trying to pick out a favorite or just listening to him tell one of his stories from his days on the road, being with him always made the day a better one. He spent every day with his two favorite critters, Coatie and Daisy right by his side and whether it be a walk down to the lake or a ride around town in the old Ford pick-up truck, the three of them garnered plenty of attention and helped a lot of people smile. He never hesitated to help someone in their time of need and the knowledge and comfort he provided while doing so, made a big impact on a lot of lives.
Arlo enjoyed playing the guitar, Marshalle's home cooking (especially her chocolate cake), camping, being in the mountains, reading a good book, and talking on the telephone. He liked playing his guitar, John Wayne movies, checking the sky for UFO'S, telling ghost stories, annoying his neighbors, believing in Bigfoot, spoiling his grandkids and any time spent with his wife, family and friends. He never met a stranger, was always the center of attention, talked to everyone and anyone who would listen, refused to be ignored and loved to make you laugh.
His life was one to be proud of. He decided for himself what happiness was and surrounded himself with the people and things that allowed him to have it. His energy was magnetic and everyone who knew him felt a little more special because of it. His loss is profound and he will be dearly missed.
Funeral services will be held Tuesday, October 19, at 10:00 a.m. at the Ingram Funeral Home Chapel with Rev. Kathie Stasko officiating. The family will receive friends at the funeral home the hour prior to the service.
Ingram Funeral Home & Crematory, Cumming, Georgia in charge of arrangements.
Condolences may be made at www.ingramfuneralhome.com.