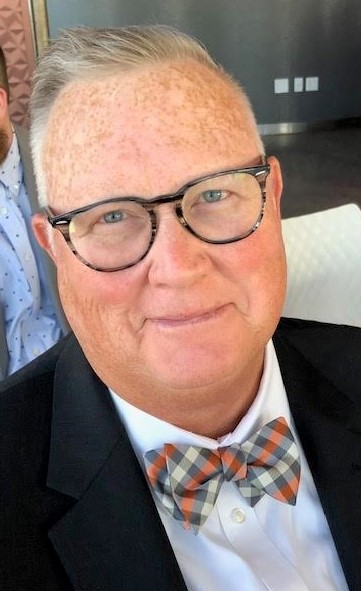 Having courageously battled prostate cancer for 10 years, Jeff Austin, 64, went home to be with the Lord on September 30, 2021. Jeff lived in Buford, Georgia with his wife, Cathy, of 39 years.
Jeff was born in Grand Rapids, Michigan on November 26, 1956. He grew up in Muskegon, MI and Fairfield, CT. He graduated from Appalachian State University with a double major of Business Administration and Finance. His working career consisted of various sales and management positions including Burroughs Corporation, General Foods, Medic Computers, and Medaphis Computers. In 1995, Jeff started his own company, Ivy Creek Landscape and Irrigation, which he managed until 2008. After a move to Columbia SC, Jeff sold for Lake Murray Boating Club. He transitioned to selling home remodeling for Master's Men Remodeling and Construction before retiring.
Jeff's hobbies were grilling, gardening, golfing, fishing, photography, and travel. He will be remembered for his BBQ and homemade pizzas. He loved good food and loved sharing his creations with others. Everything he attempted, he strived for perfection. As we say, "no moss grew under his feet".
Jeff's legacy of love continues through his wife, Cathy, their daughter, Sarah, son-in-law, Jeff, and of course through his granddaughter, Elewyn. Jeff is survived by his sister, Judi Atwell of Las Vegas, NV, his brother, Jonathan Austin of Winston Salem, NC, his nieces and nephews, and his uncle, Bob Begemann of Kentwood, MI. He is preceded in death by his parents, Jerry and Joann Austin, as well as his aunt, Ruth Begemann.
Jeff was a loyal and faithful husband, father, brother, and friend. He had an infectious laugh, an entrepreneurial spirit and a desire to excel at everything he participated in. He loved the Lord, his church, studying the Bible and investing in relationships. Through his cancer journey, he had many, many opportunities to encourage people from around the country in their quest for the best treatments and therapies. Mostly, he was encouraging them to be positive in their thinking, kind to the medical staff, and to have great fortitude to weather the process.
We wish to thank Duke Cancer Center in Durham NC, Winship Cancer Center in Atlanta GA, and The Cancer Treatment Center of America in Newnan GA for their undying work in the area of prostate cancer treatment and research. Jeff had great teams of doctors and nurses at these facilities. A very special thank you to Dr. Michael Harrison at Duke Cancer Center who always stayed ahead of the next treatment needed for Jeff and continued to follow him and communicate with him, even though he was treated elsewhere later in the process.
A celebration worship service of his life is planned for Saturday, October 30th at 1pm followed by a reception, both at the Braselton Event Center 5257 Hwy 53, Braselton, GA 30517.
In lieu of flowers, donations can be made to Redeemer Church, PO Box 772, Lawrenceville, GA 30046 in Jeff's memory.
Memorial Park South Funeral Home, 4121 Falcon Parkway, Flowery Branch, Georgia 30542 is in charge of arrangements. Send on-line condolences to www.memorialparkfuneralhomes.com