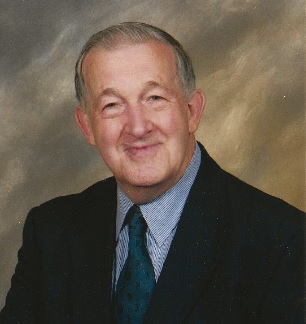 Church William "Bill" Hames, age 88, of Roanoke, VA passed away at home on Monday morning, March 22, 2021 after a long period of illness.
Bill was born in Clarkesville, GA on June 10, 1932 to John Reynold "Rennie" and Sallie Etta English Hames. He graduated from Clarkesville High School in 1949. Bill served three years of active duty in the United States Army beginning in November 1952, where he maintained personnel records at the Georgia Military District and Fort McPherson. This was followed by six years of service in the Army Reserve. In 1958, his sister Ethel introduced him to her roommate, Barbara Coker. Bill and Barbara were married at New Holland United Methodist Church in Gainesville, GA on March 19, 1960. In 1961, Bill graduated from Georgia Tech with a B.S. in Industrial Management. They lived in Ripley, MS; Nashville, TN; Monroe, NC; Lumberton, NC; Arab, AL; Lake City, FL; Paris, TN, Garland, TX; Eufaula, AL; Lilburn, GA; and Murphy, NC before moving to Roanoke, VA in 1992. During his career in apparel manufacturing, he gained product experience from head (Resistol hats) to toe (Genesco shoes) and everything in between. He retired from Integrated Textile Solutions (formerly Maid Bess Corporation) after more than 10 years. He was a member of Woodlawn United Methodist Church, where he served as a trustee, and more recently, Raleigh Court Presbyterian Church.
Bill was handy with tools and enjoyed fixing things around the house and maintaining the family cars. For many summers, residents of the South County area of Roanoke would slow down to look at his large container garden of tomatoes, cucumbers, and squash as they drove past on Chaparral Drive, sometimes even stopping to chat about his growing techniques. He could cook a delicious steak on his charcoal grill and loved to make popcorn "from scratch" on the stovetop. He kept up with Georgia Tech football and basketball and had a lifelong hobby of coin collecting. He was also a natural teacher and always took time to equip his daughters, granddaughter, and grandson with a variety of skills including oil changes, geometry, fishing, archery, whittling, how to make popcorn, batting/pitching/catching, and the names and purposes of his various tools.
Bill is survived by his wife, Barbara Coker Hames; daughters, Melanie Hames of Grimesland, NC and Katherine Shaver of Roanoke; grandchildren, Emma Kate Shaver and Griffin Shaver of Roanoke, their father, Chris Shaver of Roanoke; nieces and nephews, David (Ann) Nichols, Robert (Mary) Nichols, Susan (Danny) Joslin, children Nicholas, Alexander, and Kara Joslin; Stuart (Wendy) Hames, children Alex and Stever Hames; Jacquita (Richy) Butler, John (Teresa) Hames, Landon (Carol) Hames, Carole (Dave) Poleski, Denise Farmer, Deidre (Kevin) Spivey, Roger Farmer, Joe Ann Coker, Steve Hulsey, Carolyn (Barty) Simonton, Stuart (Lisa) Hulsey, Mike (Peggy) Coker, Todd (Linda) Coker, Roxanna (Joe) Hoch, Karlen Clayton, children Sadie, Elinor, and Brennan; Annie (Drew) Welsh, children Lex and Sammy Welsh; Jennifer (Jarrod) Barnes, children Lola and Celia Barnes; Ashley Nichols, Blake Hulsey, Abby Hulsey, Emily Hulsey, Sydney (Justin) Babb, children Will and Belle Babb; Brent (Jackie) Staley, children Benjamin and Oliver Staley; Barrett (Jenny) Staley, children Chloe and Addison Staley, Samantha (Nick) Jeffries, child Holly Jeffries; Joanne Hoch, and Leanna (Kyle) Krenik; siblings Ralph (Kathy) Coker, Debbie Hames, and Wandell Wells.
He is preceded in death by his parents; his siblings, Robert Hames, Rachel (Wallace) Nichols, Lou Emma Elsberry, Nan (Cecil) Morrison, J.R. "Reynold" Hames, Ethel Wells, Quillian (Elizabeth) Coker, Carolyn Coker, Lea Coker, Dennis (Eleanor) Coker, Lanelle (Herbert) Farmer, and Rexann (Arnold) Hulsey; nephews, Phillip Hames and Lee Morrison, and niece, Jane Brown.
A service will be held on what would have been Bill's 89th birthday, Thursday, June 10, 2021, at 2:00 PM at St. Paul United Methodist Church, Gainesville, GA. The Rev. Bryan Smith of Candler United Methodist Church will officiate. Interment will follow at Alta Vista Cemetery. The family will receive friends at Ward's Funeral Home, Gainesville, GA on June 9, 2021 from 6-8 p.m.
Please share online condolences and memories with the family at www.wardsfh.com. Ward's Funeral Home is honored to serve the family of Church William "Bill" Hames.
Ward's Funeral Home & Cremation Services, Gainesville. "A Family Funeral Home"