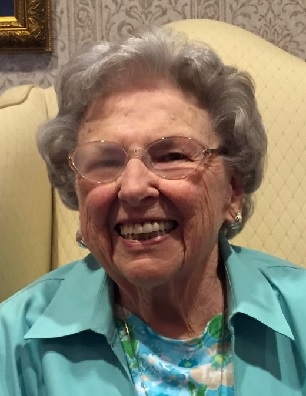 Carolyn (Porter) Terrell passed away on March 22, 2021, at age 95. She led a remarkable life, which, when asked, she summarized in a single word: "blessed." We would add "eventful," because, as an Army wife, she was required to raise her children in moves across many states and two foreign countries. During all that turmoil, her charm and good humor never wavered.
Carolyn was born on July 31, 1925, in Atlanta, GA, to Minnie (White) Porter. She had older brothers, George, and William (Bill), with whom she remained close during their long lives. She moved to Gainesville in 1938 as a ninth grader and attended Gainesville High School. She graduated cum laude in 1942, having been a member of nearly every club the High School offered, a cheerleader, voted "Most Popular Girl," and having dated the class President, her future husband, Harold. During her junior year, she took flying lessons, thanks to a gift from brother George.
Carolyn then attended, and graduated from Brenau College (now University), again graduating cum laude in 1946, with a double major: a BA in English and a BS in math.
Carolyn married Harold after his graduation From West Point in 1946, and then began the challenging nomadic military life of one Army post after another. There were occasional long separations from Harold during his overseas postings. She joined Harold in Japan, returned with him to the US in 1949, but then had to remain in Gainesville while he served in the Korean War. Upon his return, they seldom stayed at any posting for more than a year or two and spent three years at posts in Germany.
In 1974, after Harold's retirement from the Army, Carolyn returned to Gainesville, where after 54 years of marriage, Harold died in 2001. Later that year, Carolyn moved to Lanier Village Estates (LVE), remaining there for the rest of her life. During her time at LVE she again joined in numerous activities, including a dulcimer group and wrote skits for the annual follies. She also wrote, and her family had published, a memoir entitled "Yesterday Once More," which chronicles the many aspects of her life that this short summary cannot adequately present.
She is survived by her children (and their spouses), Timothy Terrell (Mary), Lynda Terrell Byrne (John), Brian Terrell (Cindy), and Bruce Terrell (Missy), along with 12 grandchildren and 14 great-grandchildren.
Her family would like to thank the staff at LVE -- doctors, nurses, and all other caregivers -- for the remarkable care they gave Carolyn during her many years there, but particularly her final years when her health began to fail. We are grateful for their dedication to her comfort and well-being.
A celebration of life service will be held Sunday June 20, 2021 at 2:00 p.m. in the chapel of Lanier Village Estates. If you are planning to attend the service please contact Lanier Village to be informed of any COVID-19 protocols in place.
In lieu of flowers, donations can be made to Lanier Village or to Brenau University, Gainesville, GA, or to LVE through their foundation: Acts Legacy Foundation, The LVE/WBC Fund, 4000 Village View Drive, Gainesville, GA 30406.
Those wishing to send online condolences to the family may do so at littledavenport.com
Little & Davenport Funeral Home and Crematory, 355 Dawsonville Highway, SW, Gainesville, Georgia 30501 is in charge of arrangements.