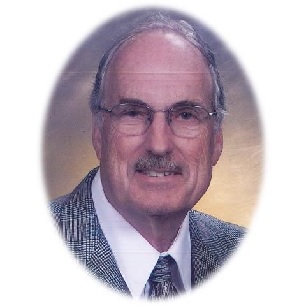 Gainesville resident Paul Andrew Tjepkema, 81, died February 19, 2021, at Northeast Georgia MC. Born June 23, 1939, in Evart, Michigan, to Vernon and Vera (Seberry) Tjepkema, Paul attended Evart HS, Spring Arbor College, and Michigan State University (agribusiness 1963). He married Barbara Elaine Parsons October 14, 1961, in Evart.
Paul's career in poultry began at his father's Evart hatchery. He moved to Gainesville in 1967 to work for Pillsbury, later working for Crystal Farms and Gold Kist. The family twice moved to Florida and also lived in Chestnut Mountain and Dahlonega, GA, returning to stay in Gainesville in 1978. Paul also worked for Dahlonega Equipment, International Paper, and Little Woodall.
Barbara "Ms. TJ" died in a car accident September 1, 1989. Paul married Banks County native Betty Jo "BJ" (White) Sanders August 3, 1991, in Gainesville.
Paul enjoyed hunting, tennis, golfing, water-skiing, hiking, playing pool, Model A touring, and especially fishing. A huge bass mounted in the den testifies to his fishing prowess.
During their nearly 30-year marriage, Paul and BJ visited Italy, Poland, Cyprus, Scotland, England, and The Netherlands, and Paul accompanied missions to Honduras and Guatemala. In Friesland, The Netherlands, they visited the Tjepkema windmill on Tjepkemastraat.
Paul is survived by wife BJ; brother Mark Tjepkema; daughter Sonya Newlyn, son-in-law Jeffrey Stock, grandson Sebastian Stock; daughter Thea Tjepkema, son-in-law John Russell, grandchildren Jack and Alma Russell; son Travis and daughter-in-law Kimberly (Riddle) Tjepkema, grandchildren Nathanael, Raegan, Lyla, and Taj Tjepkema; stepdaughter Gwen (Sanders) Edwards; stepdaughter Debbie (Sanders) Mooney Fraser; stepson Troy and step-daughter-in-law Susie (Heberlen) Sanders; step-grandchildren Amy Edwards, Lindsey (Edwards) Smith, Kyle and Katlyn Mooney, Tyler Sanders, Harold and Michael Fraser; and ten step-great-grandchildren. In addition to first wife Barbara, Paul was pre-deceased by step-sons-in-law Johnny Edwards and Keith Fraser.
Visitation and the memorial service will be Saturday, February 27, at Memorial Park Funeral Home, 2030 Memorial Park Rd., Gainesville. Visitation is from 11:00 a.m. to 12:30 p.m. The service is at 12:30 p.m., Rev. Mark Tjepkema officiating. The service will be livestreamed at Memorial Park Funeral Homes and Cemeteries Gainesville Georgia | Facebook. In-person attendees: Wear masks, follow social-distancing guidelines.
In lieu of flowers, donate In Memory of Paul Tjepkema to Hopewell Baptist Church, 5086 Poplar Springs Rd, Gainesville 30507. Post online condolences at www.memorialparkfuneralhomes.com.