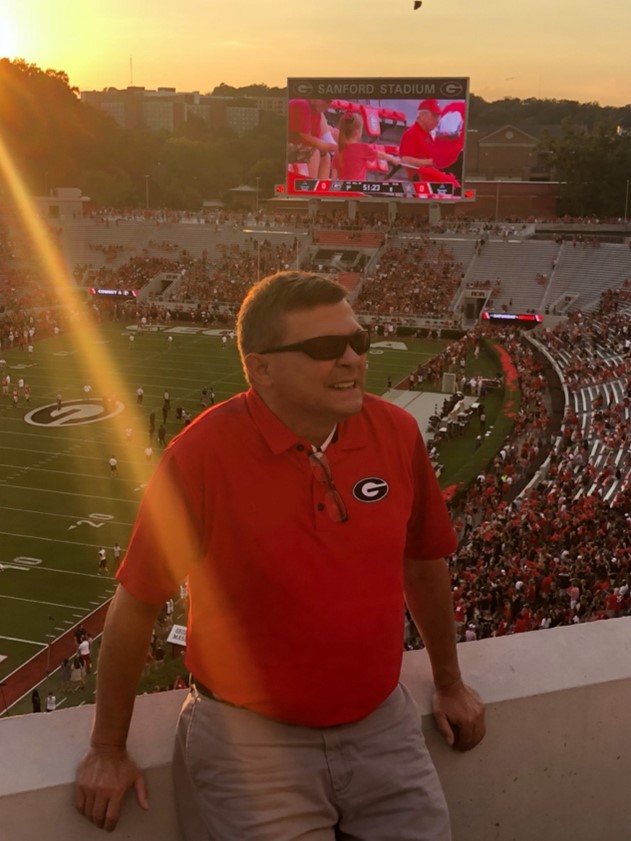 On February 12, 2021, Michael "Mike" Allen Hearn, 61, stormed the gates of heaven. A larger than life personality, Mike met with his Creator clothed in the love and prayers of not only his many family members but from people around the globe.
Born on November 11, 1959, Mike spent his days caring for and hunting on the family land in Fayetteville, Georgia. There was no place he was happier than fishing at the old family lake, something he was able to share with his children and stepchildren.
His graduation from the University of Georgia in 1983 was the catalyst for a life-long obsession. A proud member of Chi Psi, Mike would get a twinkle in his eye when talking about the trouble that he and his brothers would get themselves into and was particularly proud of the "hunch punch" recipe he had learned from his fraternity days, which he would break out for any occasion. Mike was an avid Bulldawg fan and could be found yelling his heart and soul out at Sanford Stadium on Saturdays, rain or shine. Anyone who knew Mike knew that once they got him started, they were stuck there for the next two hours hearing a play by play of the 2008 Sugar Bowl, or similar Bulldawg achievements. Sometimes Mike would slip in an interesting fact in, like it was no big deal, such as meeting Coretta Scott King, as well as Lewis Grizzard, or his investing in Apple at a ground level. And then, when he had your attention, it would somehow inevitably lead back to Georgia football.
If Mike wasn't talking about football, he was talking about his sweetheart, or his children and stepchildren. Being a father was Mike's greatest joy in life, and he kept all the artwork and every report card for his children, dating back to the elementary school days, as they were precious to him. Upon marrying his wife, Judy, Mike, at that point an empty nester, gained five new stepchildren and accepted his new role with nothing but enthusiasm. To see his eyes light up when talking about his sweetheart or his many children was akin to watching a Christmas tree come to life.
Mike overcame significant adversity in his life and was a fighter throughout it all. While his family is heartbroken to let him go, they are joyful at Mike finding his place in the mansions of rest – which for Mike probably comes in the form of a pontoon boat floating on the calm waters of Lake Lanier, watching the sun slowly set on the water with a beer in his hand for all of eternity.
Mike is preceded in death by his beloved father, Allen Hearn, who he can now finally join in soaring through the sky, and mother-in-law Nellie Lacy, whom he has never met on this side of heaven, but knows he has been specially tasked with letting her know that Judy is okay, and everything about her many grandchildren. Mike is also preceded by his maternal and paternal grandparents.
Mike is survived by his lady love, Judy Davenport Sartain, and his children, Ashley Hearn, Shelby Hearn, Craig Hearn, and granddaughter Andy Kate. He also leaves behind his stepchildren, Jessica Claar, Catherine Sartain, Sam Sartain, Hannah Sartain, and Stephen Sartain.
Mike leaves behind his beloved mother, Charlotte Hearn, who will dearly miss her daily phone calls from Mike, brother Mark Hearn, sister-in-law Sherry Hearn, and his niece and nephew. Mike leaves behind his beloved canine companion, Lara, who was his shadow and mourns his absence.
Due to Covid-19, a celebration of Mike's life will be held at a later date. Southern Cremations & Funerals, 1861 Dallas Highway, Marietta, GA 30064 is in charge of arrangements.
In lieu of flowers, Mike's family requests that donations be made in his honor to the following organizations:
American Brittany Rescue – Mike was an active member and this organization was responsible for the rescue of his beloved dog Lara.
https://americanbrittanyrescue.org/help-rescue-brittanys/#donate
Georgia Transplant Foundation – As a kidney and pancreas transplant survivor, Mike was passionate about others receiving the same gift of life that he received.
https://gatransplant.org/giving/donate/
While saddened by his loss, Mike's loved ones know that in heaven, time moves in the blink of an eye, and once again they will find themselves back out on that boat, watching the sun slowly set, content in each other's company forever.