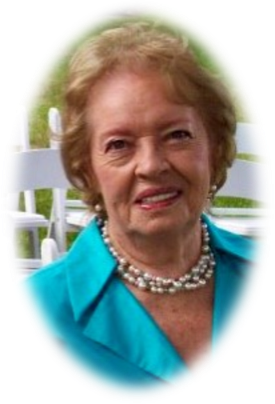 Damaris Evans Martin, 88, of Gainesville went home to meet her Savior on Friday, January 8, 2021. The eldest of 3 daughters, Damaris was a lifelong resident of Hall County born on September 10, 1932 to Carl Evans and Nellie Robinson Evans. She attended Sardis High School where she played basketball. During her senior year a young man returns home from the Navy and asks his younger brother, Merritt, "Who is the prettiest girl in the senior class?" Merritt bestowed this honor on Damaris and she is introduced to Milton Martin, Sr. who begins to court her. After graduation Damaris secured a job at the Sears, Roebuck & Company in Atlanta and worked there while engaged. She married Milton, Sr. on December 24, 1950 and celebrated 69 anniversaries with him before his death on September 14, 2020.
Damaris took pride in her roles as wife and stay-at-home mother. She supported her husband as he built his automotive business by managing their household and raising their six children: Milton, Jr., Mike, Alan, Ricky, Robin & Malinda. Damaris spent hours outdoors and was an avid gardener and bird watcher. She always set her table with her buttermilk cornbread, a wedge of vidalia onion and fresh vegetables such as tomatoes, okra, and string beans picked from her own garden. Damaris loved plants and flowers and found peace working in the soil, walking in her yard to admire her roses, tulip tree, hydrangeas, day lilies and other plant varieties. Her bay window sill was always replete with african violets and orchids.
Damaris and Milton took up golfing in their 40s and she spent countless hours at Chattahoochee Golf Course playing in the women's league where she won several tournaments. She always packed Toastchee crackers in her golf bag and had a small collection of elegant hats that complimented every outfit. Damaris enjoyed traveling with her husband and family to Hawaii, Japan and other countries on Toyota trips. She and Milton, Sr. lived in Florida for part of the year after he retired and she always made sure to bring home cartons of grapefruits and oranges for the entire family. Damaris was a very private person who may not have socialized much, but she had a huge heart. She always wanted to take care of those struggling financially and donated funds and personal items to meet their needs. She loved her family and will always be remembered for her generous heart, quick wit, feisty spirit and loving soul.
Damaris is survived by her six children: son & daughter-in-law, Evangelist Milton Martin, Jr. & Lynn; son & daughter-in-law, Mike & Lisa Martin; son & daughter-in-law, Alan & Pia Martin; son & daughter-in-law, Ricky & Cindy Martin; daughter-in-law Wendy Martin; daughter & son-in-law, Malinda & Jim Foote; bonus daughter Judy Martin; 24 grandchildren & 27 great-grandchildren; sister & brother-in-law Evelyn & Roger Sund; sister and brother-in-law Brenda and W.L. Keith, Jr.; and several nieces and nephews.
Damaris was preceded in death by her husband of 69 years Milton Martin, Sr., her son, Pastor Robin Martin, her grandson, Gregory Martin, Jr. and her parents, Carl & Nellie Evans.
A private graveside service will be held at Memorial Park Main in the spring. The family is grateful to Damaris' wonderful caregivers, Jessica, Lisa, Patricia, Dee, Becky and hospice of Northeast Georgia for their support.
Memorial Park Funeral Home, 2030 Memorial Park Road, Gainesville, GA 30504 is in charge of arrangements.
Send online condolences to www.memorialparkfuneralhomes.com.