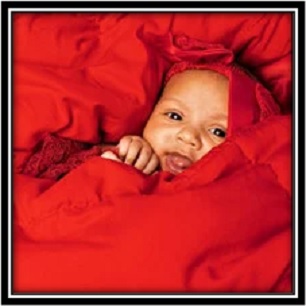 Aurora Wynter Wilkins was born in Cumming, Georgia, October 9, 2020 to parents Alexis Senecal and Josaiah Wilkins. An angel full of light, Aurora made her presence known with an eventful birth that will forever provide happy memories full of laughs for her family. Though her time on this earth was short, the mark she made is lasting and cannot be denied. Her love of music and lights were continually evident by the smiles and giggles that brightened any room. Her naturally inquisitive nature was evident as she would cry if events and activities were outside of her sight. Bath time was a favorite for her as she would cry whenever removed from the water.
Born in the middle of a pandemic, Aurora was a reminder of God's grace and mercy, shining light during dark times. Known by a host of nicknames, the love Aurora experienced is evident and strong. Mommy and daddy's princess, Gi Gi's pooh and tink, Pops' jellybean, Ti Ti's bunny, and aunt's precious. The list goes on! She touched everyone's life in a special way.
Aurora was called home suddenly, January 6, 2021, breaking the hearts of her entire family. The family finds comfort in knowing Aurora is joining and being watched over by her great-grandparents, Pete Senecal, Richard and Lesslie Wilkins and her great-great grandparents Calvin and Laura Mae Austin, and Janice Mannis.
She leaves to cherish her memory her mother and father, Alexis Senecal and Josaiah Wilkins, brother Braxton Santana; grandparents, Anita Senecal, Marcus and Rochelle Peet; great grandmothers, Evelyn Senecal, Shevon Peet; great grandfather, N.J. Peet, aunts Tori Senecal, Elizabeth Miller, Nicole Peet; uncles, Christopher Dollar, Austin Hollifield, Dustin Hasty, Maurice Peet and a host of cousins and family members. She will be missed by all!
The Celebration of Life for baby Aurora will be Sunday January 17th at Wimberly Funeral Home at 11am. Professional Service Entrusted to Wimberly Funeral Home.