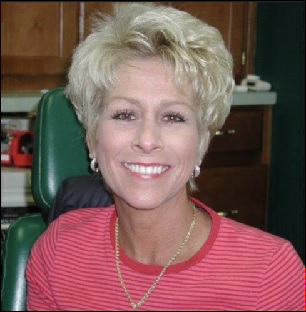 Melissa "Missy" Ann Farmer, 59, of Lula, Georgia, passed away peacefully at home on Thursday, July 30, 2020, surrounded by her family.
Services will be held 11:00 am Saturday, August 1, 2020 at Calvary Cross Baptist Church. Rev. John Bowen and Rev. Mike Irvin will officiate. Interment will be at church cemetery. The family will receive friends from 2 to 4 pm and 6 to 8 pm Friday, July 31, 2020 at Memorial Park North Riverside Chapel in Gainesville.
Missy was born in Gainesville, Georgia on July 16, 1961 to Philip and Shirley Meaders. At a young age, she enjoyed showing sheep with the local 4-H club. Later, she was a cheerleader and a member of the dance corp. for North Hall High School, before graduating in 1979. She attended Lanier Technical College and received a degree in cosmetology. She went on to work at the Fountain of Beauty in Gainesville for several years and eventually opened her own shop, Shear Precision Salon, in Brookton, Georgia, She was a member of Broadway Baptist Church.
Missy was well-known in the community as a renowned cook, with chocolate oatmeal cookies, Brunswick stew, cranberry salad and her grandmother Cora's kraut salad being among the many sought after delicacies that are loved by all. She concerned herself with the well-being and comfort of others, often times putting herself last to ensure others were taken care of. Above all, she devoted herself to her husband and two sons and she made her family the center of her world, always. She will be dearly missed by all who were blessed to have known and loved her.
Missy is survived by her husband of 36 years, Danny Farmer; son and daughter-in-law, Clayton and Megan Farmer; son, Cason Farmer; father Philip Meaders, and Ralph, her dog and constant companion for the last 14 years.
She is preceded in death by her mother, Shirley Meaders; grandparents, Tate and Cora Ryder; and grandparents, Albert and Fanilu Meaders.
The family would like to Thanks Northeast Georgia Medical Center Hospice for their outstanding care, devotion, and support during this time.
In lieu of flowers, the family requests donations be made to Samaritan's Purse: Operation Christmas Child at www.samaritanspurse.org/ or Hall County Humane Society, www.humanesocietyofnortheastgeorgia.org 845 West Ridge Road Gainesville, GA 30501, Reference Missy Farmer.
Memorial Park Funeral Home North Riverside Chapel, 989 Riverside Dr. is in charge of arrangements.
Send online condolences to www.memorialparkfuneralhomes.com.