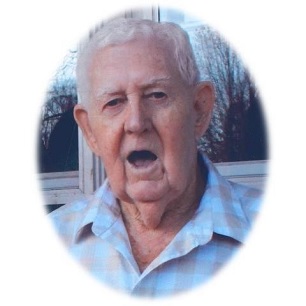 Mr. Robert Gordon Dacus, age 95 of Mableton, formerly of Dahlonega, passed away on Tuesday, May 19, 2020 at Seasons Hospice following an extended illness.
Funeral services are scheduled for Friday, May 22, 2020 at 3:30 pm in the Chapel of Memorial Park Funeral Home with interment to follow in Memorial Park Cemetery. Reverend Ken Dacus will officiate. The family will receive friends on Friday, May 22, 2020 from 1:30 – 3:30 pm, prior to the service, at the funeral home.
Mr. Dacus was born May 12, 1925 in Cumming, Georgia to the late Arch Dacus and Maybelle Mooney Dacus. He served in the U S Army during World War II and was the owner and operator of Robert Dacus Painting Service. Robert was a loving husband, father, grandfather, great-grandfather and great-great-grandfather. He loved playing his banjo and guitar, making music with friends and family, gardening and spending his time with his grandchildren. Robert was of the Baptist faith and accepted Christ in his life at an early age. He instilled in his children the importance of Christ in their lives as well. He was a help to anyone in need and all who knew him loved him. Robert was preceded in death by his parents, his wife, LeeNora Hicks Dacus, three of his sons, Mark Anthony Dacus, Donald Lee Dacus and David Leon Dacus, three of his sisters, Ruby Lois Dacus Page, Hazel Dacus and Allie Dacus and one of his brothers, Grady Dacus.
Mr. Dacus is survived by children, Doyal (Jean) Dacus of Ellijay, Georgia, Sandra (Mike) Bone of Mableton, Georgia, Travis Dacus of Lula and Ken (Peggy) Dacus of Lula, 10 grandchildren, 19 great-grandchildren, 4 great-great-grandchildren, sister, Bernice Dacus Lynn Pinson of Martin, Georgia and a number of nieces, nephews and other relatives.
Memorial Park Funeral Home, 2030 Memorial Park Road, Gainesville, GA 30504 is in charge of arrangements.
Send online condolences to www.memorialparkfuneralhomes.com.