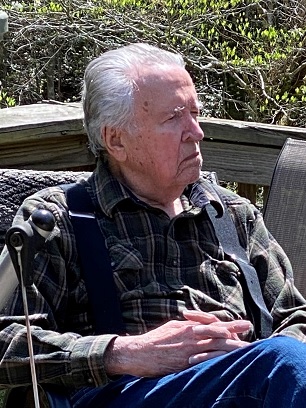 Major JD Short, Ret., fondly known as Jay, passed away on Monday, May 18, 2020. Jay was 94 years old and died peacefully at his home in Cleveland, Ga. of natural causes.
Jay was born on October 19, 1925 in Bartlesville, Ok. He was the oldest son of Joe Dee Short and Verna Mae Nealis. He also had a younger brother Jack E. Short and younger sister Donna Jean Short McDonald, both preceded him in death.
In 1944, while living in Bartlesville, OK, he married Irene Fishburn (deceased). Jay was color blind as well as legally blind in one eye and was denied entry into the US Army 3 times until he was finally drafted in 1944. He served in Germany during WWII and the Korean War. He earned his GED while in the Army and a field promotion to Second Lieutenant during the Korean War. Retired in 1964 holding the rank of Major after 20 years of service, Jay then went to work for the US State Department of the Navy in Washington, DC. He retired from the State Department after another 20 years of service. During these years he towed his wife, Irene and their 4 children, Michael Jay Short (deceased), Pamela Jayne Short Foltz, JoAnn Short Morris, and Sandra Jean Short Rogers all over the world.
After his second retirement, he met and married Myra Short (deceased) and moved to Helen, GA., where he lived for the next 30 years or so. Upon moving to Helen, he opened a sharpening service known as "Jay's Sharp All". He later married Lisa Greene Short.
Jay is survived by his wife, Lisa Greene Short, and 2 step-daughters, Brandy Clay of Cleveland, GA and Johnnie Skelton of Macon, GA. He is also survived by his 3 daughters, Pamela Jayne Short Foltz, her husband Richard D. Foltz of Jonesborough, TN; JoAnn Short Morris of Fleming Island, FL., and Sandra Jean Short Rogers also of Fleming Island, FL. Jay has 10 grandchildren, Danny Joe Short (deceased), Kevin Short (deceased), Tracy Short Fike, of Austin, Texas., Michael Elliott Foltz of Richmond, VA., Thomas Walker Foltz of Knoxville, TN, JD Ashley Roberson of Austin, TX., Melinda Leone Buterbauh of Fryeburg, Maine, Megan Alpers of Olathe, KS, Matthew Rogers of Las Vegas, NV, and Andrew Rogers of Pikeville, NC; and 3 Step Grandchildren. There are also 16 great-grandchildren and 3 great-great-grandchildren.
No services are planned.
In lieu of flowers or food, the family asks that donations be made to Smithgall Woods Animal Shelter - 4823 Helen Hwy. 75N, Sautee Nacoochee, GA 30571
To share a memory or to leave the family condolence please visit www.barrettfh.com.
Barrett Funeral Home, Cleveland, GA. 706-865-3101.