Posted
10:01AM on Tuesday 30th December 2014
( 7 years ago )
Lanierland boys semifinals: Unbeatens Johnson, Red Elephants roll into finals
By
Jeff Hart
Sports Reporter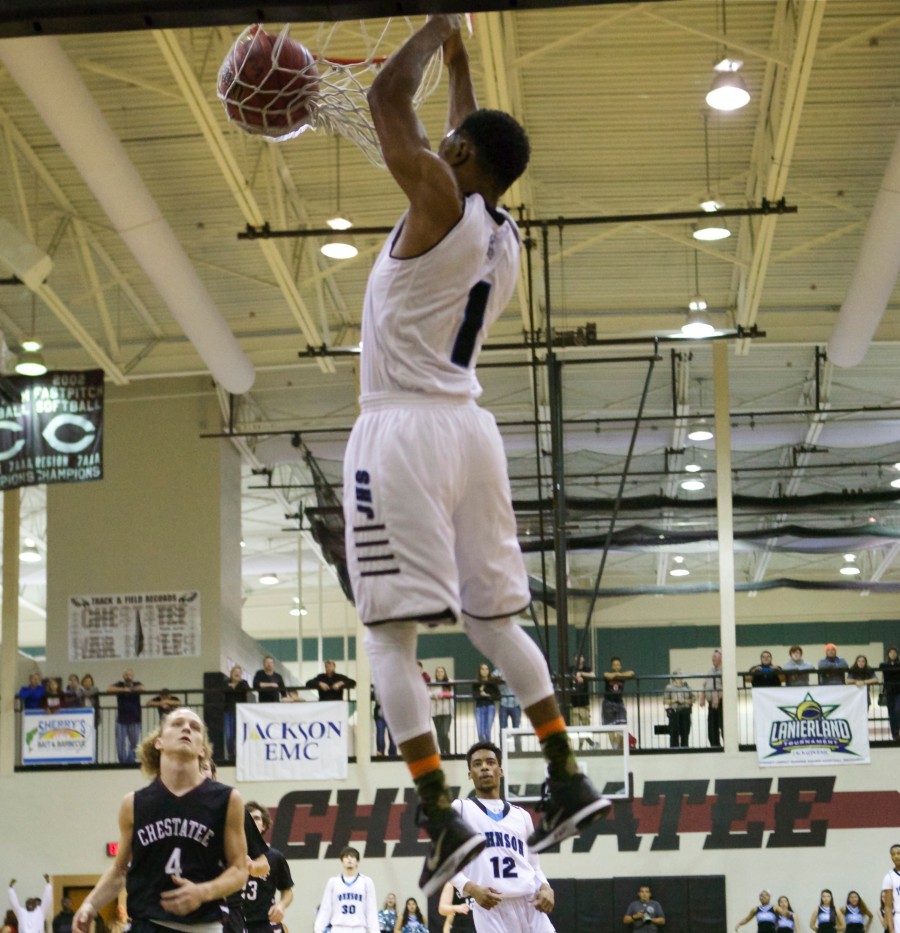 55th annual boys Lanierland Tournament

Monday's action at Chestatee High School

Semifinals

Gainesville 73, East Hall 47
Johnson 66, Chestatee 45

Consolation round games

Lakeview Academy 53, North Hall 39
Flowery Branch 50, West Hall 41

Tuesday's schedule at Chestatee High School

Finals

Gainesville vs. Johnson, 8:30 p.m.

Consolation round

West Hall vs. North Hall, 7th place game, 10:30 a.m.

Lakeview Academy vs. Flowery Branch, 5th place game, 1:30 p.m.

East Hall vs. Chestatee, 3rd place game, 5:30 p.m.
GAINESVILLE -- It's definitely too early to start start talking championships and state playoffs, but if Gainesville plays like it did Monday in the semifinals of the Lanierland Tournament, Class AAAAA could be in for a show.<br /> <br /> The Red Elephants stifled a potent East Hall offense and used their height, quickness, and defensive pressure to take a surprising 73-47 win over their arch-rivals at the Chestatee High gym.<br /> <br /> Even the usually hard-to-please Benjie Wood could find little criticism of his team's performance.<br /> <br /> "There's always things you can improve on but overall it was a great team effort," Wood said. "We've got a lot of guys stepping us for us. We just do what we do."<br /> <br /> The first quarter saw two ties and four lead changes and plenty of defense. East Hall standout Kyvon Davenport had two shots blocked early by the Red Elephants (12-0) but he returned the favor twice for the Vikings. <br /> <br /> East Hall scored first on a Tylor Brown basket and Gainesville would take its first lead at 4-2 on a jumper by Luke Maddox. The Vikings reclaimed the lead on a 3-pointer by Jacquen Hopkins and would take a 10-6 lead on a 3-pointer by Luke Cooper.<br /> <br /> The Red Elephants, however, closed out the first quarter on a 6-0 run, capped by a Maddox basket just before the buzzer. It would be all Gainesville after that. Sam Carpenter made it a 9-0 spurt with a trey to start the second quarter and Gainesville pushed its lead to 21-13 on a D.Marcus Simonds layup.<br /> <br /> East Hall cut it to 21-16 on a second Hopkins trey but Gainesville would go on a 14-4 run, capped by a dunk from Tyler Scott on a feed from Simonds for a 35-20 lead. Triston Cooper would finish the half with a 3-pointer for East Hall to make it a 35-23 halftime lead for the Red Elephants.<br /> <br /> East Hall (7-2) opened the third quarter with a 7-4 run to get within 39-30 on a Hopkins trey, but Gainesville responded with a 17-4 run over the final 4:54 of the quarter to blow the game open. The Red Elephants continued the onslaught in the fourth quarter leading by as many as 30 points, 69-39, at one point.<br /> <br /> The height of Scott, Simonds, and K.J. Buffen neutralized Davenport inside the entire game. Davenport had just one basket inside and only attempted two shots inside the 3-point line after the first quarter.<br /> <br /> "We didn't do anything different. The kids just played with a lot of energy on the defensive end," Wood said.<br /> <br /> Davenport finished with just seven points for East Hall. Hopkins led the Vikings with 13 points and Brown had nine points.<br /> <br /> Meanwhile, the Red Elephants offensive firepower was too much for the Vikings to defend. Simonds finished with 20 points and four assists and generated much of his offense off East Hall turnovers. Buffen added 19 and added four blocks. Jermaine Fleming had 10 points and Carpenter and Maddox finished with seven points each for Gainesville.<br /> <br /> Gainesville will take on Johnson at 8:30 p.m. Tuesday at Chestatee.<br /> <br /> <b>Johnson 66<br /> Chestatee 45</b><br /> <br /> After a sluggish first half the Knights used a big third quarter to take control en route to the win.<br /> <br /> It will mark the third straight finals appearances for the Knights, a first in coach Jeff Steele's 17 seasons and in program history.<br /> <br /> The Knights owned the first quarter using a 15-1 run over the final 6:15 to take an 18-6 lead. Chestatee led twice, 3-0 on a Hunter Creamer 3-point play and 5-3 on a basket by Jordan Pulliam.<br /> <br /> But Johnson's Ty Cockfield took over hitting his first four shots, including two 3-pointers to go with a steal and dunk, to build the early lead for the Knights with 11 points in the quarter.<br /> <br /> The second quarter belonged to Chestatee. Caleb Jameson capped a 12-4 run with a long 3-pointer to pull the War Eagles within 24-18 with just under three minutes left in the half.<br /> <br /> Cockfield closed out the half for Johnson with a steal and assist to Andrew Sims for a 32-24 halftime lead. <br /> <br /> Rod English helped blow the game open in the third quarter for the Knights with back-to-back 3-pointers to start things and then added another as part of an 11-point quarter for the senior and a 16-2 run for a 48-26 lead. The War Eagles would not get closer than 18 the rest of the way.<br /> <br /> Steele said he will need the third quarter team compared to the first half team against the Red Elephants in the finals.<br /> <br /> "We didn't adjust to how the game was being called in the first half and we were in foul trouble," Steele said. "I thought we came out more focused in the third quarter and we got Rod going a little bit. But we're going to need everybody to step up (Tuesday). It will take our best game of the season to beat Gainesville, if we can beat them."<br /> <br /> Cockfield finished with 21 points to lead Johnson (12-0). English added 15 points and Sims had 11 for the Knights.<br /> <br /> Chestatee was paced by 14 points from Pulliam. Creamer finished with just seven points, just two after halftime as he battled foul trouble.<br /> <br /> In the consolation games Monday, Lakeview Academy knocked off North Hall 53-39 and Flowery Branch beat West Hall 50-41.
© Copyright 2022 AccessWDUN.com
All rights reserved. This material may not be published, broadcast, rewritten, or redistributed without permission.