Posted
10:00AM on Tuesday 30th December 2014
( 7 years ago )
Lanierland girls semifinals: GHS, Lady Falcons advance to finals <b> (VIDEO) </b>
By
Jeff Hart
Sports Reporter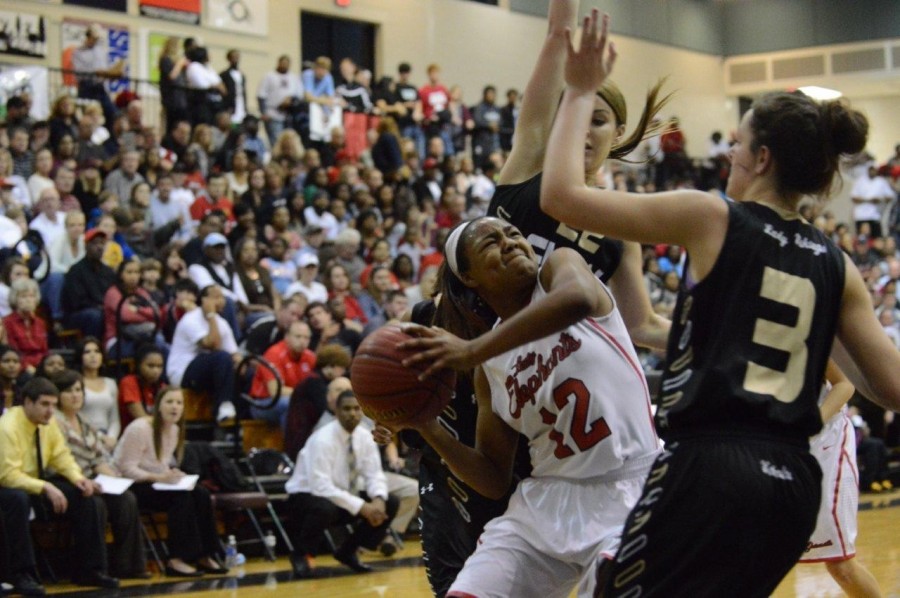 55th annual girls Lanierland Tournament

Monday's action at Chestatee High School

Semifinals

Flowery Branch 66, North Hall 57
Gainesville 54, East Hall 40

Consolation round games

Chestatee 31, West Hall 29
Lakeview Academy 65, Johnson 45

Tuesday's schedule at Chestatee High School

Finals

Gainesville vs. Flowery Branch, 7 p.m.

Consolation round

Johnson vs. West Hall, 7th place game, 9 a.m.

Lakeview Academy vs. Chestatee, 5th place game, noon

East Hall vs. North Hall, 3rd place game, 4 p.m.


GAINESVILLE -- Lexie Sengkhammee is barely five-feet tall. But she played like a giant Monday for Flowery Branch.<br /> <br /> The freshman guard poured in 22 points to go with seven assists and two steals and sparked an early run to lead the Lady Falcons to a 66-57 win over North Hall in the semifinals at the Chestatee High gym.<br /> <br /> Sengkhammee had seven points and two assists in the first quarter as Flowery Branch (11-1) never trailed and opened the game with a 15-5 run to take control early. She helped close out the victory hitting 4-of-4 free throws in the final two minutes.<br /> <br /> "She has been with us since the sixth grade and we've been waiting on her to get here," Lady Falcons coach Hazel Hall said about her budding star. "She has a high basketball IQ and really makes things happen for us."<br /> <br /> The win moved the Lady Falcons into the finals for the first time since 2012. They have won the tournament just once, in 2003.<br /> <br /> "We're just trying to win games but it's always nice to get into the finals," Hall said. "It would be a big positive for the program and the kids if we can win it."<br /> <br /> Flowery Branch will take on defending champion Gainesville at 7 p.m. Tuesday at Chestatee. Gainesville knocked off East Hall 54-40 to advance.<br /> <br /> After the Lady Falcons hot start, North Hall (7-5) climbed back into the game with a 6-2 run, capped by a 3-pointer from Katie Sayers. But Sengkhammee hit a long jumper, sparked a fastbreak that led to two Breanna Locke free throws, and then drained a 3-pointer just before the buzzer to give Flowery Branch a 24-11 lead after the first quarter.<br /> <br /> North Hall never got closer than eight points until late in the fourth quarter. Sengkhammee dished out two more assists and hit two more jumpers in the second quarter as the Lady Falcons built a 38-24 halftime lead.<br /> <br /> "It was good to see us maintain the lead at the end but we still haven't played our best game," Hall said. "We played a great first quarter but we haven't been able to sustain it for four quarters. That's our goal right now."<br /> <br /> The Lady Falcons opened the game with a Maddie Hetzel basket and North Hall answered with a Taylor Anne Kelley free throw to cut it to 2-1 just 30 seconds into the game. Sengkhammee assisted on two baskets that sparked a 13-4 run for a 15-5 lead with 2:31 left. The Lady Trojans had a rough start missing six of their first seven 3-pointers and opening the game 1-for-10 from the field.<br /> <br /> North Hall did get back-to-back 3-pointers from Sadie Cleveland and Sayers to cut the lead to 17-11 but could not get closer.<br /> <br /> North Hall pulled within eight points three times in the final two minutes but suffered a big blow when Cleveland had to leave with 2:11 left with an apparent injury.<br /> <br /> Locke finished with 15 points for Flowery Branch. Freshman Taniyah Worth added eight points and four blocks and Julianne Sutton had nine points for the Lady Falcons.<br /> <br /> Kelley finished with 21 points to lead North Hall. Cleveland had 20 points before her injury.<br /> <br /> <b>Gainesville 54<br /> East Hall 40</b><br /> <br /> It was a game of two-minute spurts for both teams but in the end the Lady Elephants were able to get a 7-0 run to finish the game to advance into the finals with a chance to defend their title.<br /> <br /> Gainesville coach Brenda Gilmore had a big sigh of relief afterwards.<br /> "East Hall has so many weapons to defend. We knew it would be a tough game," Gilmore said. "It's hard to defend at Lanierland so we're just glad to have the chance."<br /> <br /> East Hall (7-4) led just twice, 3-0 and 8-6, but managed to keep the game within reach most of the way. Jenny Edwards gave the Lady Vikings their final lead with 4:26 left in the first quarter and Gainesville responded.<br /> <br /> The Lady Elephants (7-5) used an 11-0 run, powered by seven consecutive points from Shikiya Brown, to take control. Gainesville would lead 19-10 after the first quarter and the Lady Vikings used a 7-2 run to get within 19-15, the closest they would get the rest of the way.<br /> <br /> Over the final three quarters both teams would control the game in four-minute stretches. Gainesville went on an 11-2 run to push the lead to 30-17 and took a 34-20 lead into halftime.<br /> <br /> East Hall outscored the Lady Elephants 13-7 in the third quarter to trim the lead to 41-33 and then closed to within 47-40 with 2: 22 left on a three-point play by Edwards.<br /> <br /> The Lady Vikings would not score again, however, as Gainesville put the game away with its late run.<br /> <br /> Gilmore said despite being the defending champions they will have a challenge in the finals on Tuesday.<br /> <br /> "Flowery Branch is big inside and can shoot and play defense. They will be a handful for us," Gilmore said. "But we've been playing pretty well so I expect a good game."<br /> <br /> In the consolation games Monday, Chestatee held off a scrappy West Hall group 31-29 while Lakeview Academy beat Johnson 65-45.
© Copyright 2022 AccessWDUN.com
All rights reserved. This material may not be published, broadcast, rewritten, or redistributed without permission.