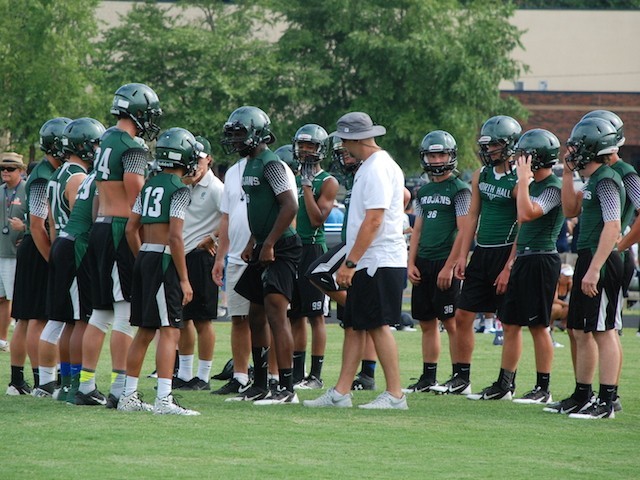 JEFFERSON at NORTH HALL
-- WHEN: 7:30 p.m. Friday
-- WHERE: The Brickyard, Gainesville
-- RADIO: 102.9 FM
-- JEFFERSON (2-0, 0-0 Region 8-AAA): The Dragons defeated Winder-Barrow 41-7 last week. Jefferson is ranked fifth in Class AAA.
-- NORTH HALL (0-0, 0-0 Region 8-AAAA): The Trojans were 8-3 in 2013.
-- HISTORY: North Hall won the last meeting 41-34 in 2013. Jefferson owns a 9-3 series lead -- though the two teams have split the last four meetings.
GAINESVILLE -- It's been a long preseason -- but now the butterflies and the anticipation can begin in earnest for North Hall football.<br /> <br /> And with so many new faces set to take the field for the Trojans on Friday, you can be sure there will be plenty of both -- even for the head coach.<br /> <br /> "I'm not going to lie, there will be a few nerves -- but at the same time I'm excited to try and carry things and forward and continue what we've built here," said North Hall's David Bishop, the team's longtime offensive coordinator that took the reins this offseason when head coach Bob Christmas left the program following a 13-year run.<br /> <br /> The nerves will stem not only from Bishop's first night in charge but from the fact that 21 new Trojans starters will take on a veteran Jefferson squad that already has two games under its collective belt.<br /> <br /> "It's going to be a big challenge -- thanks to the schedule and a lot of the changes we've gone through," Bishop said. <br /> <br /> With that in mind, Bishop and his staff have made the most of their open date through the opening week of the 2014 campaign.<br /> <br /> "I think (having Week 1) off has helped right now because there's so much teaching going on," Bishop said. "We had pretty much the same team for two straight years (in 2012-13), and now we're going to have half-a-dozen sophomores seeing action on Friday. That's unusual for us."<br /> <br /> That includes starting quarterback Maddox Turner -- who was moved into the role after junior Drew Atha (who entered the summer as the No. 1 QB) went down with a foot/lower leg injury that could keep him out for weeks to come.<br /> <br /> It was the youth factor that led North Hall's coaches to opt for two fall scrimmages, taking on Gilmer and Dawson County -- settings that the Trojans treated as much like real games as possible, while also cycling as many players into live situations as possible.<br /> <br /> "We played a lot of kids just to see who could step up and play at the varsity level," said Bishop, who added that he was very pleased with what he saw from Turner, as well as junior receiver/defensive back Sam Jackson, senior running back/linebacker Bobby Mendenhall and junior running back/linebacker Dylan Murphy.<br /> <br /> "Sam caught a couple of big passes for 80 yards and a touchdown in the Dawson County scrimmage, and Dylan Murphy has been a pleasant surprise for us. That said we know it was scrimmages."<br /> <br /> And when the real thing gets here on Friday it will come in the form of a veteran and physical team that Bishop believes is already firing on full cylinders.<br /> "They look very crisp and mature; they look like they've been playing three-four weeks already," Bishop said of Jefferson (2-0). "They're kind of in the situation we were the last couple of years with a lot of veterans back."<br /> <br /> Perhaps most impressive has been the play of the Dragons' own new faces. And after replacing their entire starting offensive line from last year, Jefferson has proven just as capable in the trenches, clearing lanes for running backs Sammy Williams and Colby Wood (the duo combined for 341 yards rushing in last week's 41-7 win over Winder-Barrow). They have also given quarterback Evan Shirreffs plenty of time to hook up with dangerous targets TJ Skelton and Dalton Hill.<br /> <br /> "The game is going to be won or lost up front," Bishop said. "We want to be able to control the ball and keep their offense off the field as much as possible. We're probably not going to have a lot of big runs against them. We'll have to plug away with shorter runs and patient."<br /> <br /> The series has produced hardfought contests since becoming a regular fixture in 2010, with the Trojans and Dragons going 2-2 and the average margin of victory just over eight points.<br /> <br /> "I expect it to go down to the wire because that's just the type of game it has become," Bishop said. "It's grown into a healthy rivalry. But we've got to make plays on offense when they're there, and we can't make mistakes."<br /> <br /> Bishop says that is a metaphor that works for the entire 2014 campaign -- one that includes a potentially-murderous Region 8-AAAA schedule and non-region battles with West Hall and Carrollton.<br /> <br /> "There's no one that you look at on the schedule and go, 'we can breathe for a night,' " Bishop said. <br /> <br /> Yet the new head Trojans also knows that it is a challenge his team is anxious to get started.<br /> <br /> "The kids have played hard, no matter what has happened this preseason -- even when we've made mistakes -- the kids have always played hard, and I know they'll do that again this week," Bishop said. "We're going to run to the ball on defense and run the ball on offense."<br /> <br /> And you have to figure that -- come middle of the first quarter -- all those butterflies will be gone in the process.