Posted
5:15PM on Wednesday 20th August 2014
( 3 years ago )
Second FCA East/West Football Classic scheduled for Dec. 19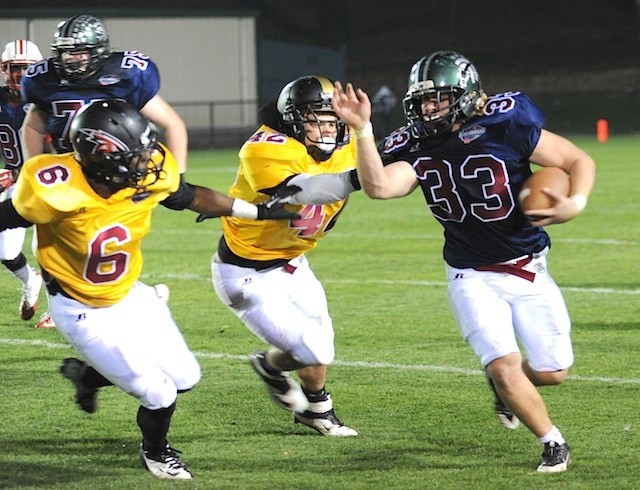 FRIDAY GAME NIGHT IS BACK!
Check out the most comprehensive high school football coverage in northeast Georgia on our
Friday Game Night page.
COME INSIDE OUR 2014 PREVIEW:
- Get the lowdown on 30 area teams
- Video: Area coaches talk about their own squads
- Region races: See where your favorite team lines up
- Read about 8 new head coaches
- Read about the new QB talent taking the reins
- Team schedules, Radio schedules and more...
It's Friday... Game Night!
The second FCA East/West High School Football Classic -- featuring prep football standouts from throughout Hall County and beyond -- will take place on Friday, Dec. 19.<br /> <br /> After an impressive start to the event last season, it will once again take place at Gainesville's Bobby Gruhn Field, with kickoff slated for 7:30 p.m.<br /> <br /> The East team will be made up of players from Flowery Branch, Johnson, East Hall, Banks County, Riverside Military Academy, Jefferson and East Jackson. The West team will feature competitors from West Hall, Chestatee, Gainesville, North Hall, Lakeview Academy, Jackson County and Commerce High.<br /> <br /> Flowery Branch's Chris Griffin will lead the East team, with West Hall's Tony Lotti guiding the West team.<br /> <br /> Each squad will be made up of 40 roster spots including two quarterbacks, three running backs, four receivers, two tight ends, eight offensive linemen, seven defensive linemen, five linebackers, seven defensive backs, one kicker and one punter. Four seniors will be selected from each school with the remaining spots to be filled by the best players available.<br /> <br /> Team members will be selected by head coaches on Nov. 3.<br /> <br /> There will also be all-star bands and cheerleading squads. The senior band will be selected from all 14 school bands and will perform during the game and at halftime. Cheerleaders will also be selected from seniors at the 14 area schools.
© Copyright 2017 AccessWDUN.com
All rights reserved. This material may not be published, broadcast, rewritten, or redistributed without permission.