On a good night, you might see one first time winner on at a Saturday night dirt track race. On Saturday, Georgia's Toccoa Raceway hosted three drivers who scored their maiden victories on the historic 3/8-mile speedway.
Sammy Calhoun won in the Toccoa Pro Trucks feature, while Kyle McAlister was the winner in the 602 Charger feature and Zac Cox topped the Stock 4 feature.
In the Pro Trucks feature, Sammy Calhoun edged out Terry Calhoun to record his maiden feature victory. Bill Pulliam followed in third, with Ryan Key in fourth, and Jerry Speed in fifth.
Kyle McCallister topped the 602 Chargers feature to take home his first career victory, with Hunter Atkinson in second, Frankie Barrett in third, Justin Smith in fourth, and LeeBo Bridges in fifth.
In the Stock 4 feature, it was Zac Cox holding off Randy Boshears to score the win, with Jamie Brown, Phil Wood, and Bobby Boshears rounding out the top five.
In other action, Frankie Beard beat out David McCoy to win the Limited Late Model feature. Daniel Wilson finished in third, with Joe Nash in fourth, and David Conley in fifth.
Brady Cornett added to his 2022 win total with a victory in the 602 Sportsman feature. Crandall Turner followed in second, with John Howard in third, David McCoy in fourth, and Austin Fox in fifth.
Joseph Galloway parked in victory lane after winning the Open Wheel Modified feature. Chris Nickerson followed in second, with NASCAR Camping World Truck Series regular Austin Self in third, Brian Nickerson in fourth, and Johnny Mobley in fifth.
Sterling Helm topped the Modified Street field to take the feature victory, with Chris Thomas second, Robbie Campbell third, Billy Buffington fourth, and Curtis Green fifth.
Ronnie Poole was the winner in the Stock 8 feature. Hayden Collett finished in second, with Douglas Stewart in third, Terry Calhoun in fourth, and Stacy Watts in fifth.
Eddie Segars was first under the checkered flag to win the Front Wheel Drive feature, with Austin Kinsey, Cameron Booth, Bobby Croya, and Jonathan Montgomery rounding out the top five.
All results are unofficial until certified by race officials.
Toccoa Raceway returns to action on Saturday, June 25. For more information, visit ToccoaRaceway.org.
Toccoa Raceway – Toccoa, GA
Race Results* – June 18, 2022
Toccoa Pro Trucks
1. Sammy Calhoun #11
2. Terry Calhoun #4
3. Bill Pulliam #21
4. Ryan Key #9
5. Jerry Speed #50
602 Chargers
1. Kyle McCallister #04
2. Hunter Atkinson # 25H
3. Frankie Barrett #12
4. Justin Smith #82
5. Leebo Bridges #67
6. Jerry Buice #50
Stock 4
1. Zac Cox #88
2. Randy Boshears # zero3
3. Jamie Brown #02
4. Phil Wood #01
5. Bobby Boshears # zero7
Limited Late Models
1. Frankie Beard #2
2. David McCoy #187
3. Daniel Wilson #12
4. Crash Nash #28
5. David Conley #1
6. Mark Wilbanks #6
7. Dustin McLaughlin #94
602 Sportsman
1. Brady Cornett #2
2. Crandall Turner #93
3. John Howard #81
4. David McCoy #187
5. Austin Fox #36
6. Gordon Welch #41
Open Wheel Modified
1.Joseph Galloway #42
2. Chris Nickerson #73
3. Austin Self #23 S
4. Brian Nickerson #44
5. Johnny Mobley #4
6. Jimmy Motes #18
7. Roger Mealey #25
8. Michael Bostick #15
Modified Street
1. Sterling Helm #98
2. Chris Thomas #29
3. Robbie Campbell #137
4. Billy Buffington #10
5. Curtis Green #1
Stock 8
1. Ronnie Poole #55
2. Hayden Collett #85
3. Douglas Stewart #3
4. Terry Calhoun #4
5. Stacy Watts # 85W
6. Cameron Collett #35
FWD
1. Eddie Segars #4
2. Austin Kinsey # 6A
3. Cameron Booth #29
4. Bobby Croya #38
5. Jonathan Montgomery #6
*Unofficial Results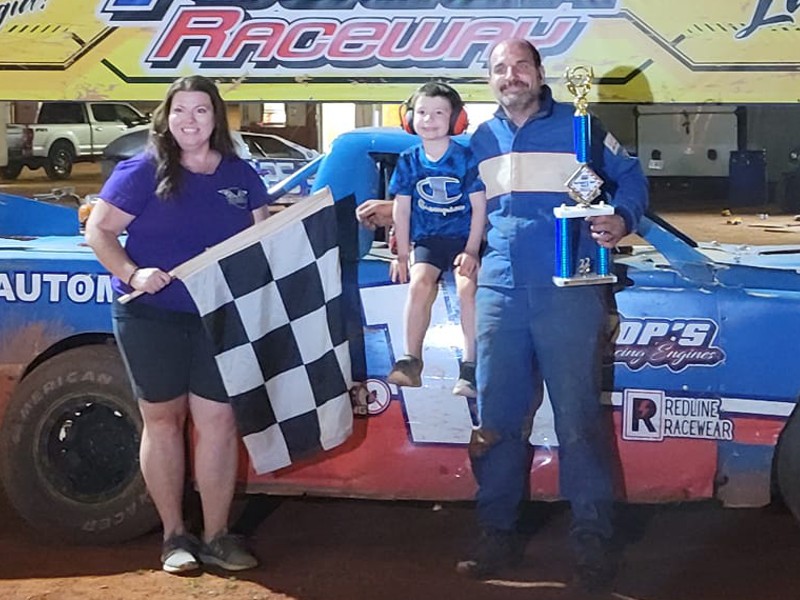 http://accesswdun.com/article/2022/6/1111955/toccoa-raceway-sees-three-first-time-winners