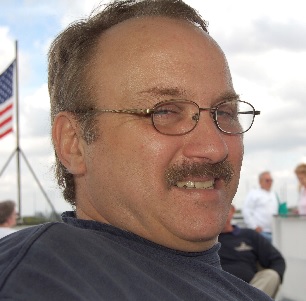 Steven Ellie White, 63, died April 23, 2021, at the Northeast Georgia Medical Center, Gainesville, Georgia.
He was born August 11, 1957, in Augusta, Georgia, to Allen Rudolph and Gloria Elaine (Booth) White. He was named in honor of his grandfather, Ellie Jackson White. He graduated from Evans High School in Evans, Georgia, in 1976; and set sail, serving his country in the United States Navy. He married Dawn Sue Rigby on May 28, 1988, in Edgefield, South Carolina.
Steve was very young for his age, a gentle giant. He had a good sense of humor and loved to play jokes on his friends, relatives and colleagues. When he was a little boy, he went through many bikes because if he didn't take them apart to find out how they worked, then he wrecked them trying to fly across ditches.
In his teens, Steve joined a Baptist church in his neighborhood. He gave his life to Jesus Christ, and made it a habit to be a part of a church family wherever he lived, especially after he was married. For the past several years, he was a member of the Victory Baptist Church in Gainesville, singing in the choir, fixing food, and being an encourager.
He traveled all over the globe, but especially in the Middle East and to European ports. After 17 years of military service, he retired early and began his second career as an industrial maintenance technician. He was good at what he did and loved working with his hands. He seemed to have a special knack for knowing about mechanical things as well as electrical gadgets. Computers were no mystery to him. He had a habit of making cricket and bird noises and singing as he worked.
This family man was a good cook, and enjoyed getting in the kitchen especially with his mother. Nothing made him happier than for someone to request a pan of stuffed mushrooms, or a plate of carrot cake. If all he had was two ingredients, Steve could make a meal out of it.
Steve is survived by his wife, Dawn, son Steven White and family (Maria Roland, Wyatt and Pheona White); daughter Sarah Varnadoe and family (Brian, Joey, and Kylie Phillips, and James Varnadoe); and his father-in-law Terry Rigby. He leaves behind dear sisters Marsha White and Brenda (Nolan) Knight; niece Emily (Melton) Ryan and family (Tim, Ebin, and Luca Ryan); and sister-in-law Joy (Rigby) Weiss and family (Brian, Carly, and Madison Weiss). His beloved Aunt Joyce (Booth) Elliott Brown and Uncle Frank White also survive him. He loved his paternal cousins Bobby, Roy, Susan, Kathy, Manley, Judy, Keith, and Jenny; and his maternal cousins Randy, Lealonie, Patricia, and Robin. He was preceded in death by his grandparents, parents and twin infant sisters, Annette and Nanette White (1954).
The family will receive friends from 9:00 am to 10:30 am, Wednesday, May 5, 2021 at Victory Baptist Church with the funeral to be held at 10:30 am, immediately following the visitation at the church, interment with full military honors will be held at 2:00 pm at the Georgia National Cemetery, 1080 Veterans Cemetery Road, Canton, Georgia. Pastors Scott Waters and Steve Brannon will officiate.
Memorial Park Funeral Home North Riverside Chapel, 989 Riverside Dr. is in charge of arrangements.
Send online condolences to www.memorialparkfuneralhomes.com.