Crews installed a cupola on the far left corner of the Gainesville Renaissance project Thursday afternoon.
This architectural component has become the symbol of the entire Gainesville Renaissance project. It consists of a four-sided base with a window on each side, a dome, and a finial at the very top.
Campbellsville Indusries, Inc. out of Kentucky was the company responsible for the construction and installation of the cupola.
The company has built and installed other similar structures in Gainesville, including the dome that rests on the top of Weaver Law Firm.
Fred Roddy, the owner of Roddy Properties, developer for the Gainesville Renaissance project, called the cupola the "star at the top of the Christmas tree."
"It's an iconic architectural feature that really sets the period of the building," said Roddy. I think it really adds to the whole idea of what we're doing there."
As the name suggests, the idea behind the Gainesville Renaissance project is rebirth.
There is more to the significance of the cupola; it relates to Brenau University's Lynn J. Darby School of Psychology that moves into the second floor of the 60,000-square-foot mixed-use development upon completion.
"One of the things that was at one time a part of the old campus at Brenau was a similar type of feature," said Roddy.
Roddy said it took four trucks to transport the cupola from Kentucky to Gainesville. Workers at Campbellsville Industries built the cupola at the company's shop in Kentucky, took it apart for transport, then put it back together again on-site.
"They put it back together and then they lifted it...the base piece [first] and then the second lift was the crown or dome," said Roddy. "It's all welded together and then bolted to the building."
It took the Campbellsville crew roughly three hours to lift, anchor, weld, and bolt the cupola in place.
Roddy said the cupola was designed by Al Sako with Robertson Loia Roof, the architect for the Renaissance project.
Along with complimenting Sako and Robertson Loia, Roddy praised Carroll Daniel Construction, the general contractor for the project.
Clayton Cowart, assistant project manager with Carroll Daniel, said he is happy to see the cupola in place after a slight delay.
"The labor shortage bit us a bit too...we kind of dealt with a little bit of delay in getting it there," said Cowart. "But we worked through it and the folks up in Kentucky at Campbellsville delivered a beautiful, well-built product."
Cowart said lights will be installed soon to illuminate the cupola at night.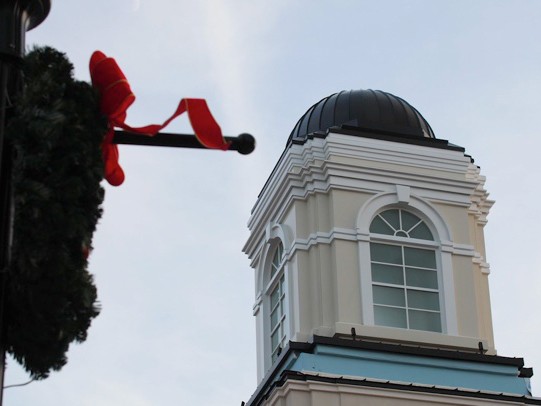 http://accesswdun.com/article/2021/12/1062425/cupola-installed-on-gainesville-renaissance-building