SUGAR HILL — Bailey Minor didn't score a point. Gainesville hit just two 3-pointers all night. Jarrel Rosser hurt his wrist and did not play in the second half.
Yet, somehow the Red Elephants were able to walk away with a 57-46 win over Lanier Wednesday night in a key Region 8-AAAAAA battle.
"It was an ugly game. You're going to have nights like these," Gainesville coach Benjie Wood said. "You just try to survive."
Both teams came in tied for the early lead atop the standings with the Longhorns and Adrian Martin looking to show their early season success was no fluke.
It was a lethargic first half for the Red Elephants as Martin and the Longhorns used their quickness to hound Gainesville shooters into an 8-for-20 half.
Gainesville (10-6, 3-0 Region 8-AAAAAA) trailed 17-10 after the first quarter following a 13-2 Lanier run and the Longhorns (12-5, 2-1) led 24-23 at halftime.
"We came out maybe a little too loose and relaxed and Lanier played well in the first half," Wood said.
With the offense struggling, Gainesville turned to its defense in the second half. A pair of Raphael Rubel free throws after a steal to open the third quarter gave Gainesville a 25-24 lead. The Red Elephants swiped four more steals in the quarter, including two that ended in KJ Buffen dunks, and held Lanier to just 1-of-11 shooting in the period as part of a 20-5 run to take control.
The depth of the Red Elephants, who go 11 deep most nights, eventually wore down the Longhorns, who played just eight. Martin played the entire game and finished with 18 points. But seven came in the first quarter and he had just seven in the entire second half.
Wood said there were no real magic speeches at halftime.
"We just played a lot better (in the third quarter)," he said. "I thought the defense was much better and I our depth finally paid off. You have to be able to win games like that."
Gainesville continued its hot hand with an 8-1 run to open the fourth quarter for a 51-30 lead. Lanier closed to within 11 points twice, including the final score.
Buffen, who has not been starting of late, finished with 22 points, 6 rebounds, 5 steals, and 3 blocks off the bench to lead the Red Elephants. Xavier Bledson also came off the bench to add 13 points for Gainesville.
Wood said they have no plans to change the rotations.
"We've won seven in a row with how we've managed things so we're not going to change anything for now," he said.

LANIER GIRLS 54,
GAINESVILLE 37
The Lady Longhorns (14-3, 3-0 Region 8-AAAAAA) held Gainesville to just 14 second half points as they pulled away late for the victory. The win kept Lanier atop the region standings as the lone unbeaten team.
It was a tough shooting night for the Lady Red Elephants (6-8, 1-2) who missed 10 of their first 11 shots while falling behind 7-0 to open the game. They never led but did use an 18-12 second quarter run behind Tija Blackwell, who scored eight of her 16 points in the period as they got within 24-23 by halftime.
But Lanier, behind Kezyah Hollimon, took control in the third quarter outscoring Gainesville 14-6 and building a 38-29 lead. Hollimon scored eight of her 16 in the third quarter.
Blackwell converted a three-point pay early in the fourth quarter to get the Lady Red Elephants back within 40-35 but the Lady Longhorns exploded for a 14-1 run as Gainesville again went cold with a 1-for-11 streak from the field.
Tia Shelton finished with 14 points for Gainesville, who had just three players score. Sadie Roach added 7 points for the Lady Red Elephants.
Gainesville was just 12-of-46 from the field for the game. Lanier was 14-of-19 from the field in the second half alone.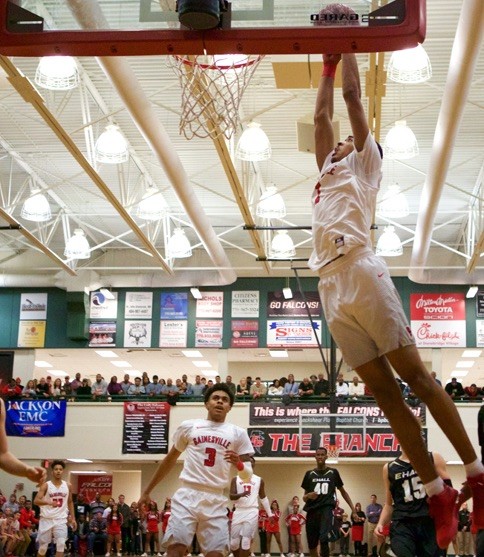 http://accesswdun.com/article/2018/1/624337/basketball-ghs-boys-lanier-girls-use-2nd-half-rallies-to-take-wins