FLOWERY BRANCH — No one would've blamed the Flowery Branch baseball team on Saturday for showing signs of fatigue.
The Falcons were coming off two straight gut-wrenching seventh-inning losses over the past two days and were facing Gainesville for the second time in three days. And after falling behind 3-0 in the third inning, it appeared perhaps Sunday's break couldn't come soon enough.
Instead, the Falcons found a surge of energy and exploded for a seven-run fifth inning to rally for a 7-3 victory over the Red Elephants at the Hog Mountain Sports Complex.
It was a much-needed win for the Falcons (7-7) who came in just 1-4 in one-run games and riding a four-game losing streak.
"I have to admit things weren't looking good for us after they got the lead on us," first-year Flowery Branch coach Heath Kennedy said. "The guys were a little beat-up after the last couple of days where they lost on two walk-off hits. I was a little worried. But, I also knew that these guys have never quit so far."
In the big inning the Falcons sent 11 batters to the plate. But, it began to take life after Dalton Strickland smacked a one-out double to left and Cam Holmes was hit by a Kyle York pitch. York had cruised through the first four innings yielding just two hits and striking out two.
It was the biggest inning allowed by Gainesville pitching this season. The Red Elephants had allowed more than four runs in a game just once (a 7-2 loss to Heritage, Conyers) until Saturday.
"That (hit-by-pitch) kind of got the guys going," Kennedy said. "We told them before that inning began they had seen everything he had and to just be patient and wait for their pitch. They did a great job."
The win was even more crucial with the all-important Region 8-AAAAA schedule set to begin for the Falcons on Monday against rival Johnson.
"We've played a tough non-region schedule and when you play teams like Gainesville and North Forsyth you hope to gain some experience from that," Kennedy said. "To beat a team like Gainesville after the way things had gone the last week or so is huge for this group. Hopefully we can use that to our advantage starting on Monday."
While the offense was doing its part, the Falcons bullpen slammed the door on Gainesville over the final two-plus innings. With Gainesville appearing set to blow things open with a pair of walks off starter Preston Felt to begin the top of the fifth, Kennedy went to Peyton Vinson. The junior right-hander enticed a pair of fielder's choice groundouts sandwiched around a caught-stealing to get out the inning.
After Flowery Branch grabbed the lead, Kennedy turned to freshman southpaw Andrew Armstrong, who walked two and struck out one without surrendering a hit to earn the save.
"He made some good pitches and right now he's just enjoying the game," Kennedy said of Armstrong. "He may not know enough yet to be nervous. But, he has a big-time arm and we feel comfortable putting him out there with the game on the line."
The Red Elephants (10-3) had won four straight coming into the game and got started quickly with a lead-off single by Banks Griffith to open the first inning. However, he and Cameron Wilson were erased on fielder's choices and it looked like Felt was going to get out of the inning with no damage done. But Jared Smith walked with two out and then Charlie Wall stroked a two-run triple to right-center scoring Collier Scott and Smith to give Gainesville a 2-0 lead.
The Falcons were poised to answer back in the bottom of the inning. Sean Akins reached on an error to start and moved to second on a sacrifice by Grant Lackey. But Akins was gunned down trying to score by Red Elephants' rightfielder Ross Tipton after a Anthony Grutaduario single. Gainesville starter Kyle York got Vinson to line out to left to end the threat.
Felt struck out two in the second inning but Gainesville added on in the third. Felt plunked Scott with one out and Wall and AJ Smallwood followed with back-to-back, two-out singles driving in Smith, who had reached on a fielder's choice, for a 3-0 lead.
York settled in after Grutaduario's first inning single retiring 10 of the next 11 batters into the fifth, getting help with a pair of nice defensive plays behind him.
Gainesville then knocked Felt out in the top of the fifth with walks to Wilson and Scott to open the inning and was on the verge of blowing the game open. The Falcons brought in Vinson, who got a pair of fielder's choice, including gunning down Wilson at the plate, and a caught stealing to end the inning and keep it a 3-0 Red Elephants' advantage.
The Falcons finally broke through in the fifth batting around in a huge inning sending 11 batters to the plate. Strickland ended York's streak at six with his double to left. Holmes was hit by a pitch and Andrew Reichart got the Falcons on the board with a line-shot double through Scott at third knocking in Strickland.
Andrew Curtin drove in KC Dzialo with a fielder's choice to trim the lead to 3-2. Trace Merk, who came on in the top of the fifth replacing Lackey in right, ripped a RBI single to center to tie the game at 3-3. Grutaduario followed that with a two-run double to left giving the Falcons their first lead at 5-3. Vinson knocked in Grutaduario with a double to center and then came around to score on an error and wild pitch to push it 7-3.
Vinson and Armstrong were solid retiring eight of the 10 Gainesville batters they faced to close out the win.
Gainesville also will open its Region 8-AAAAAA schdule on Monday traveling to Winder-Barrow to begin a huge week-long, three-game showdown.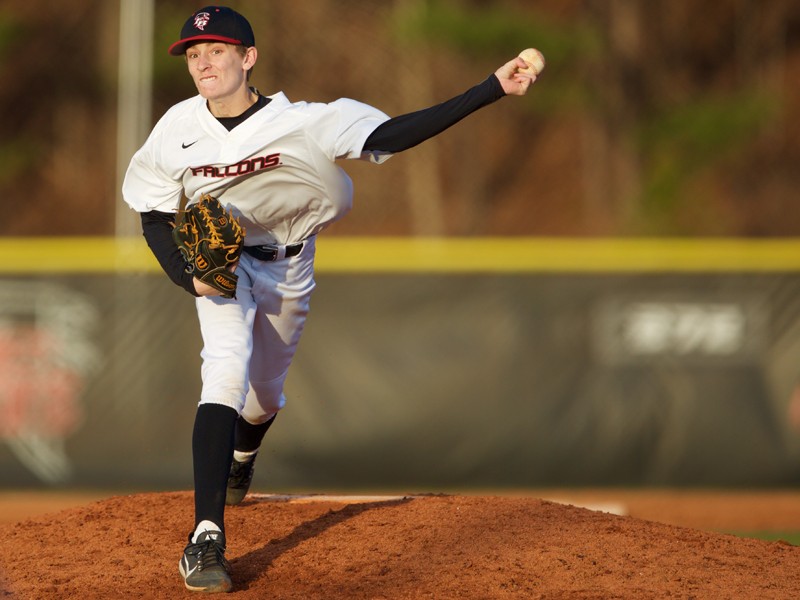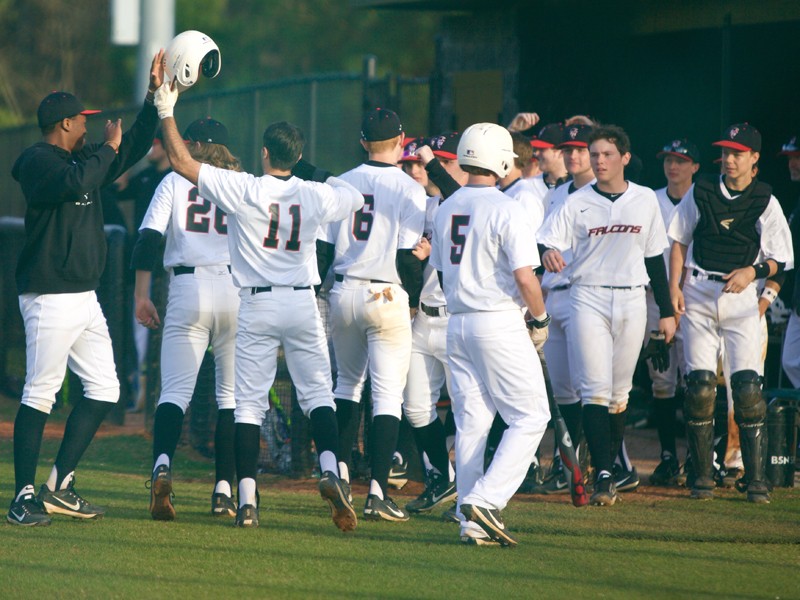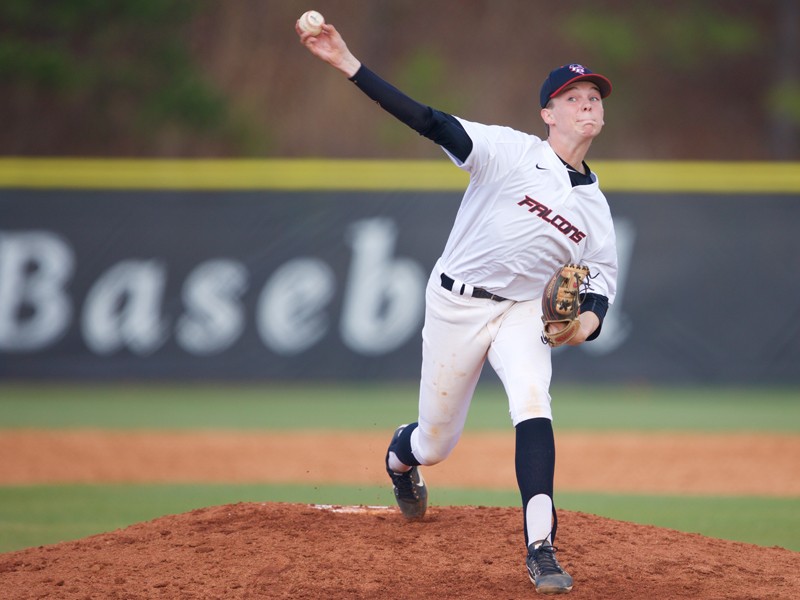 http://accesswdun.com/article/2017/3/514478/baseball-branch-fights-back-late-to-take-out-gainesville