Ryan Gustin and Nick Hoffman scored World of Outlaws CASE Late Model Series victories over the past few days.
Gustin was victorious on Friday night at Pennsylvania's Marion Center Raceway, while Hoffman took the win on Tuesday night at Stateline Speedway in Busti, New York.
On Friday night, Ryan Gustin stormed under Ryan Montgomery on lap 7 to take the lead and never looked back to win the Connor Bobik Memorial Friday night at Marion Center Raceway.
Montgomery led the field to the green in the 40-lap affair, holding off challenges from Mike Norris and Gustin, who slowly worked his way to the front from his fourth starting spot in the first few laps.
But as Gustin snuck by Norris on the inside for second, a caution came out on lap 4 for Colton Flinner, who spun.
After the restart, Gustin needed three laps to wrestle the lead away from Montgomery, sliding underneath him in turn 2 on lap 7.
From there, he aced three more restarts to earn his third career World of Outlaws win and his first of the 2023 season.
"We took off, and I felt really, really, good," Gustin said. "Probably the best I've ever felt in a Late Model. It went right around there, and I just kind of tried to ride and not kill the edges on my tires a whole lot once we got to the lead.
"It's nice starting up there. If you start eighth or tenth or whatever, you know you just got to go. When you start up there, you can definitely take a lot better care of your tires and make sure you got something left at the end."
Zebulon, Georgia's Shane Clanton finished in second, with Brandon Sheppard in third, Nick Hoffman in fourth, and Bobby Pierce in fifth.
After the scheduled race at Pennsylvania's Port Royal Speedway was washed out by wet weather, the series next moved to Stateline Speedway on Tuesday night, where Nick Hoffman led all but one lap Tuesday night to score his first career series victory.
Hoffman and Gordy Gundaker brought the 24-car field to the green flag as both drivers fought for the top spot on Lap 1.
Gundaker had the early advantage on the inside, nosing ahead of Hoffman on the backstretch and holding that momentum as they finished the first lap.
But on lap 2, it was a different story.
Hoffman kept car rolling on the outside, this time his momentum pushing him ahead of Gundaker off of Ttrn 2.
That burst of speed allowed Hoffman to clear Gundaker as they entered turn 3, pulling ahead to lead Lap 2.
"I knew he had to take off first, but I knew if I could just roll speed through the middle of the racetrack and keep him pinched down where he couldn't circle, I knew I could maybe clear him after a lap or so," Hoffman said.
"That's kind of what happened there. I was able to stay to his outside, and obviously, we're buddies, so he isn't going to run me into the fence. I was able to roll speed fast enough to get all the way alongside him coming to the first lap and then clear him off of (turn) 2."
Max Blair, Bobby Pierce, Gundaker, and Chub Frank rounded out the top five.
The World of Outlaws CASE Late Model Series next heads to Sharon Speedway in Hartford, Ohio on May 25-27. For more information, visit WorldofOutlaws.com.
WoO CASE Late Model Series
Marion Center Raceway – Marion Center, PA
Race Results – May 19, 2023
1. 19R-Ryan Gustin
2. 25-Shane Clanton
3. B5-Brandon Sheppard
4. 9-Nick Hoffman
5. 32-Bobby Pierce
6. 96V-Tanner English
7. 22-Gregg Satterlee
8. 11-Gordy Gundaker
9. 44-Chris Madden
10. 00-Kyle Hardy
11. 1ST-Johnny Scott
12. 1*-Chub Frank
13. 40B-Kyle Bronson
14. 28-Dennis Erb, Jr.
15. 5L-Jon Lee
16. 36-Logan Martin
17. 12-Doug Drown
18. B1-Brent Larson
19. 3S-Brian Shirley
20. 97-Cade Dillard
21. 1C-Alex Ferree
22. 1Z-Logan Zarin
23. 30-Todd Cooney
24. W3-John Weaver
25. 9Y-Levi Yetter
26. 14W-Dustin Walker
27. 10-Mike Norris
28. 4S-Ryan Montgomery
29. 48-Colton Flinner
WoO CASE Late Model Series
Stateline Speedway – Busti, NY
Race Results – May 23, 2023
1. 9-Nick Hoffman
2. 111-Max Blair
3. 32-Bobby Pierce
4. 11-Gordy Gundaker
5. 1*-Chub Frank
6. 44-Chris Madden
7. 96V-Tanner English
8. 40B-Kyle Bronson
9. 97-Cade Dillard
10. 44H-Dave Hess, Jr.
11. 3S-Brian Shirley
12. B5-Brandon Sheppard
13. 19R-Ryan Gustin
14. 25-Shane Clanton
15. B1-Brent Larson
16. 99B-Boom Briggs
17. 30-Todd Cooney
18. 36-Logan Martin
19. 9K-Mike Knight
20. 28-Dennis Erb, Jr.
21. 1ST-Johnny Scott
22. 76-Steve Kania
23. 14W-Dustin Walker
24. 9S-Breyton Santee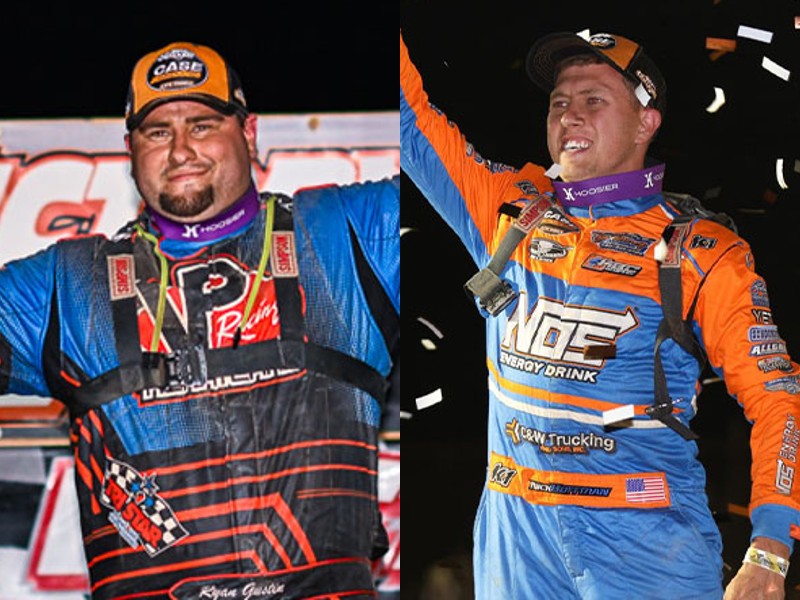 http://accesswdun.com/article/2023/5/1185517/gustin-hoffman-take-woo-late-model-series-victories