HAMPTON, Ga. – Joey Logano added another memory at Atlanta Motor Speedway on Saturday, and seven other Ford drivers followed behind him.
Covering the 1.540-mile distance in 31.256 seconds (177.374 mph), Logano won the pole for Sunday's NASCAR Cup Series race and led a parade of eight Ford drivers into the top eight starting positions.
That's the first time since August 25, 1965 at Maryland's Beltsville Speedway that Fords have qualified for the top eight spots on the grid. Saturday's result is even more impressive, given that no Chevrolets attempted to qualify for the Beltsville race, where Fords took positions one through 10.
Logano's pole-winning run was .006 seconds faster than that of Team Penske teammate Austin Cindric (177.340 mph). Ryan Blaney qualified third at 177.215 mph, giving Penske the second 1-2-3 qualifying effort in the organization's history.
Brad Keselowski was fourth fastest, followed by Aric Almirola, Kevin Harvick, Chris Buescher and Chase Briscoe. Kyle Larson (176.213 mph) was ninth in the fastest Chevrolet.
Christopher Bell was the only Toyota driver to qualify for the final round, but he spun during his money lap and failed to post a time.
It marks Logano's second pole of the season, second at Atlanta (but first with NASCAR's superspeedway competition package) and 28th of his career. Inevitably, Logano's success on the big track brought back memories of his early days in racing, when he competed in Legends cars at Atlanta.
"I've never been on the front row at a superspeedway — forget a pole," Logano said. "Doing it here at Atlanta for me is special. So many memories here. I lived up in one of those condos for five years and raced Legends cars out here for six years.
"Just the memories of walking into victory lane a minute ago to get the pole award and thinking about driving my Legend car in there, with my dad and how cool that was, and always dreaming about being on the big track when I was running the quarter-mile all the time…
"I guess I try to keep those thoughts up front in my mind."
WDUN will carry live PRN Radio coverage of the NASCAR race weekend from Atlanta Motor Speedway beginning with Saturday's NASCAR Xfinity Series Raptor King of Tough 250 at 4:30 pm on 102.9 FM, AM 550 and streaming live on AccessWDUN. Coverage continues on Sunday with the NASCAR Cup Series Ambetter Health 400 at 2 pm on 102.9 FM, AM 550 and streaming live on AccessWDUN.
NASCAR Cup Series
Atlanta Motor Speedway – Hampton, GA
Ambetter Health 400 – March 18, 2023
Saturday's Qualifying Results
Pos Car Driver Team Time Speed
1. 22 Joey Logano Autotrader Ford 31.256 177.374
2. 2 Austin Cindric Menards/Knauf Ford 31.262 177.340
3. 12 Ryan Blaney BodyArmor Smart Water Ford 31.284 177.215
4. 6 Brad Keselowski King's Hawaiian Ford 31.323 176.995
5. 10 Aric Almirola Smithfield Ford 31.324 176.989
6. 4 Kevin Harvick Busch Light Ford 31.363 176.769
7. 17 Chris Buescher Violet Defense Ford 31.367 176.746
8. 14 Chase Briscoe HighPoint.com Ford 31.396 176.583
9. 5 Kyle Larson HendrickCars.com Chevrolet 31.462 176.213
10. 20 Christopher Bell DeWalt Toyota 0.000 0.000
11. 24 William Byron Liberty University Chevrolet 31.544 175.755
12. 34 Michael McDowell Fr8Auctions.com Ford 31.545 175.749
13. 3 Austin Dillon Andy's Frozen Custard Chevrolet 31.548 175.732
14. 11 Denny Hamlin Shingrix Toyota 31.554 175.699
15. 48 Alex Bowman Ally Chevrolet 31.554 175.699
16. 45 Tyler Reddick Xfinity 10G Network Toyota 31.574 175.588
17. 8 Kyle Busch Lenovo Chevrolet 31.583 175.537
18. 1 Ross Chastain Advent Health Chevrolet 31.597 175.460
19. 23 Bubba Wallace DoorDash Toyota 31.636 175.243
20. 31 Justin Haley LeafFilter Gutter Protection Chevrolet 31.642 175.210
21. 9 Josh Berry(i) NAPA Auto Parts Chevrolet 31.662 175.099
22. 42 Noah Gragson # Sunseeker Resort Chevrolet 31.680 175.000
23. 38 Todd Gilliland Gary Martin Hays Ford 31.696 174.912
24. 41 Ryan Preece Autodesk/HaasTooling.com Ford 31.801 174.334
25. 99 Daniel Suarez Tootsies Orchid Lounge Chevrolet 31.835 174.148
26. 77 Ty Dillon Ferris Commercial Mowers Chevrolet 31.835 174.148
27. 47 Ricky Stenhouse, Jr. Kroger/Nature Valley Chevrolet 31.837 174.137
28. 43 Erik Jones Allegiant Chevrolet 31.853 174.050
29. 19 Martin Truex, Jr. Bass Pro Shops Toyota 31.859 174.017
30. 16 A.J. Allmendinger Action Industries Chevrolet 31.939 173.581
31. 7 Corey LaJoie Celsius Chevrolet 31.945 173.548
32. 51 Cody Ware Biohaven/Jacob Co. Ford 32.064 172.904
33. 21 Harrison Burton Motorcraft/Quick Lane Ford 32.340 171.429
34. 15 J.J. Yeley(i) Barnett Southern Corporation Ford 32.559 170.275
35. 54 Ty Gibbs # Monster Energy Toyota 34.582 160.315
36. 78 B.J. McLeod B'laster Chevrolet 0.000 0.000
(i) Ineligible for driver points in this series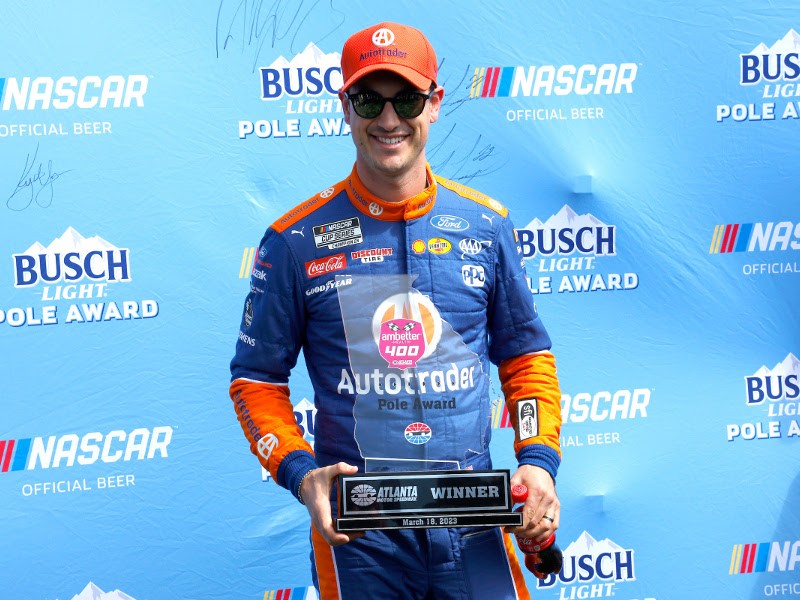 http://accesswdun.com/article/2023/3/1173999/logano-leads-ford-dominance-in-atlanta-cup-qualifying