Forsyth County launched the 4 Minute City Program Thursday to help improve survival rates of out-of-hospital cardiac arrest by placing hundreds of automated external defibrillators throughout the county.
Sudden cardiac arrest, or a heart attack, happens when a person's heart and breathing stop. There are roughly 350,000 to 375,000 heart attacks a year in the United States - that's one person every two minutes, Jason Grady the System Manager with Emergency Cardiac Care at Northside Hospital said.
"Once a person has cardiac arrest, every 60 seconds that goes by without an intervention increases mortality by 10 percent," Grady said. "With an average response time in the United States of EMS being 8 minutes or longer from the time 911 is called and no other intervention is done before they arrive, survival is unlikely.
When a person goes into cardiac arrest, two interventions must happen: chest compressions and defibrillation. Those two actions significantly increase a person's chance of survival, Grady said.

The 4MC program is led by Avive Solutions, Inc., a company aimed to get enough AEDs in the community to where heart attack victims are defibrillated within four minutes of a 911 call. The company also developed new smart AED technology to help increase the likely hood of a nearby AED to meet the four minute window, Vice President of Commercialization Micha Bongberg said.
"We didn't reinvent defibrillation. Our goal was just to figure out new ways of mapping people to get them to patients much faster than they are today," Bongberg said.
There are nearly four to five-million AEDs in the United States; however, those same AEDs are only used by bystanders four percent of the time, Interventional Cardiologist and Medical Director of Emergency Cardiac Care Dr. John Jeffrey Marshall with Northside Hospital said. The new AED technology has the ability to walk almost anyone through life-saving steps when cardiac arrest occurs, he said.
"Individual citizens will become the care givers and that is the key to survival," Dr. Marshall said.
Avive's new AED is built with Wi-Fi, Bluetooth, cellular and GPS capabilities. These features allow 911 dispatchers to essentially wake-up the AED device and send an alert that it is needed nearby. The AED provides GPS technology that leads the AED bystander to where it is needed, Bongberg said.
"Whether you have an AED at your house, whether you have an AED in your vehicle, or you have our app and someone is in need as you're driving down the street, the AED will actually tell you 'Hey, I need to be used' and will map you to where the patient is," Bongberg said. "911 is receiving all of this data back, so 911 can see the AED is moving to the patient's location, kind of like Uber coming to pick you up, so they're able to tell the caller 'Hey, an AED is around the corner or at your front door, when it gets there, turn it on and listen to it.'
Once the AED is on, it prompts the user through the next steps. The AED pads are placed on the patient's chest, the device reads the patient's vitals, determines whether the patient truly is in cardiac arrest, then sends data to 911 dispatchers and first responders.
"We're working on ways with Northside [Hospital] to share this information with [cardiologists] at Northside, so that they actually have the patient's heart rhythm in hand well before they arrive to the hospital, because there are all sorts of clinical decision-making they might make based on the heart rhythm the patient is in," Bongberg said.
The 4 Minute City program is a collaborative among Avive Solutions, leaders of Forsyth County, Northside Hospital, Central EMS, Forsyth County Fire, Forsyth County Sheriff's Office, Cumming Police and Forsyth County Emergency Management/911.

Forsyth County is the third 4MC in the United States; The other two 4MCs are Jackson, MS and Cumberland County, PA.
"This [technology] doesn't exist in the world today and it will be in Forsyth before it's anywhere else internationally," Bongberg said.
For more information visit Avive Forsyth online.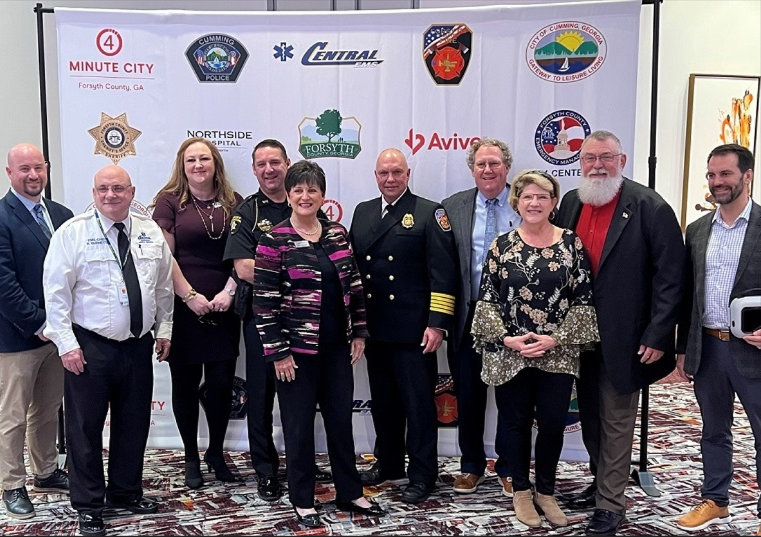 http://accesswdun.com/article/2023/2/1170732/forsyth-co-becomes-third-4-minute-city-in-us