The Hall County Soil and Water Conservation District announced Wednesday they are now accepting entries for a poster contest from youth in the agency's service area.
The agency is dedicated to the stewardship of Hall County's natural resources and reportedly hopes the artistically oriented poster contest will help spread awareness and provide educational opportunities to ensure the next generation will maintain the current conservation standards.
The annual poster contest provides public, private and homeschooled students in grades three through 12 the chance to have their art selected to advance to the Georgia state contest. Prizes are awarded to the top three winners in each category. According to a release, this year's theme is "One Water" which focuses on watersheds.
Each year, the topic for the contest reflects the National Association of Conservation District's annual theme and helps to highlight the district's work to protect and enhance the area's natural resources.
The contest rules are: any medium can be used (paint, crayons, colored pencils, stickers, etc), poster submissions can only be created by one individual and the 2023 "One Water" theme must be included on the front side of each poster submission. The three categories for the contest are grades three through five, grades six through eight and grades nine through 12. First place will receive $100, second place will receive $50 and third place will receive $25.
The deadline for submission is May 1 and you can email your submission to [email protected].
The Hall County SWCD is a unit of the state government that directs resource management programs all over the county. They continually work with farmers, landowners and other governmental units to educate and actively promote practices that support conservation and the development of soil, water and other related resources.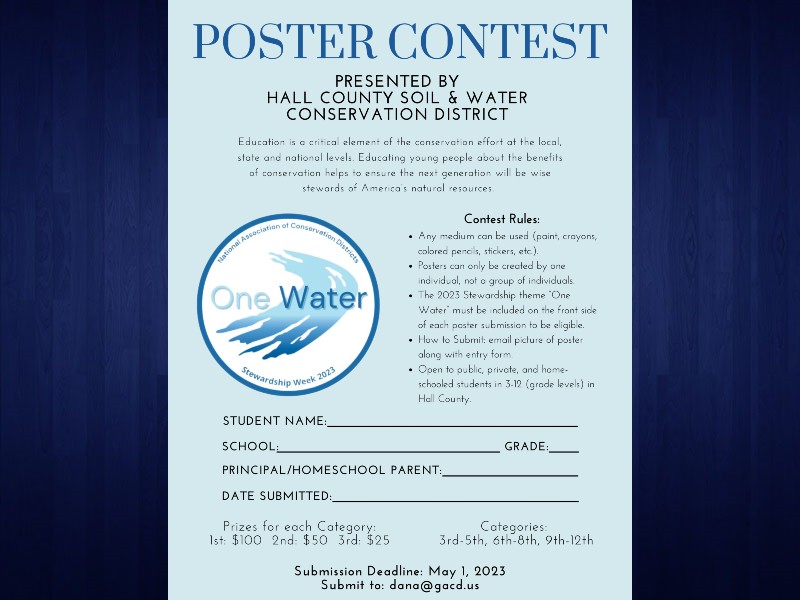 http://accesswdun.com/article/2023/2/1168648/hall-county-conservation-district-accepting-entries-for-poster-contest