This is the third in a four-part series looking at the NGMC Gainesville patient tower expansion.
Foundation officials with Northeast Georgia Medical Center Gainesville provided an outlook Friday on the numerous naming and donation opportunities in the new patient tower.
NCMG Gainesville will soon have a completed patient tower on the northeastern end of the property, hosting many new resources and amenities for employees and patients. With 11 planned levels, an added energy facility and a new parking deck, the hospital hopes to more effectively serve the community.
Northeast Georgia Health System Foundation President and Chief Development Officer Chris Bray provided valuable insight on how the new building will play host to a large number of donation and naming opportunities for businesses and individuals in the community.
NGHS previously agreed to help support funding new initiatives coming with the tower.
"The Foundation Board approved a couple of years ago to support some of the education spaces, some of the cardiac areas to the tune of about $6 million," Bray said.
With so many new operating rooms, corridors and specialty offices within the structure, raising money to name areas after keynote people is an important task — one that Bray said brings in a lot of donor funding.
"We're in the process right now raising $1.5 million to name an area in the [Emergency Department] after Dr. Buddy Langston," Bray said. "We've raised successfully about $1.1 million towards that $1.5 million goal. So we're almost there. But it's going to create a special place and the pediatrics waiting area for kids to go, where Dr. Langston for years took care of all of our kids and stuff like that. So it's, it's an exciting piece of that."
Funding opportunities do not stop at just rooms, either. Bray said everything inside has the potential to be honored after someone, creating a more community-oriented environment.
"There's naming opportunities for everything," Bray said. "We've got — you can name rooms, you can name everything from an individual patient room all the way up to you're putting your name on the tower. Which is an ambitious goal for us, but something that we hope that someone in the community would want to create a legacy like that."
Donations to the NGHS Foundation are not completely going toward the construction of the tower, as some funds will be used to bolster other community health initiatives. Bray shared an important aspect of the Foundation's naming philosophy — to maintain an attitude of giving.
"We want to connect people to the organization in a way that's meaningful to them," Bray said. "So what their gifts go to is not necessarily construction of the tower, their gifts may go somewhere else, to provide better health care for our community. But the recognition piece would be putting your name up on a certain space. You know, a lot of people talk about, 'Well, it's an ego thing, I want to see my name,' it's not about that. I think a lot of times people put their names on things, because they want to inspire others to give to future generations to realize that someone they never met, someone they never knew, cared enough about their health and their future, that they were able to put their resources towards creating something great, which is ultimately what we're trying to accomplish."
Bray reports that the Foundation is currently involved in a campaign to raise $50 million over the course of five years. He estimates they have raised $23 million of that goal, with just under three years left to go.
"I would say we're kind of right on pace with where we want to be," Bray said. "But we've had some big gifts in the last year that have really kind of sparked things for the Hospice House, different things like that, but we're also getting a lot of interest from folks about the new tower, the new facilities down in Braselton."
NGHS recently acquired the Habersham Medical Center, which will see major improvements over the next five years. Officials report that the Hospital Authority of Hall County and the City of Gainesville will invest $3 million per year in capital improvements for HMC for a total of $15 million. In lieu of that deal, Bray says the Habersham community and Gainesville will have a voice in what they want to see added to both expanding properties.
"One of the founders of our foundation, Woody Stewart, used to say the difference between a great hospital and a good hospital is philanthropy and what we're trying to do is create a great hospital," Bray said. "We know that that's going to come from people who are giving of their assets, their generosity, their inspiration to make something great here. We're proud of what we're doing but we've got a long way to go and a lot of people are interested in helping."
Officials said they plan to host a ribbon cutting and have the new patient tower up and running by Jan. 2025.
You can view the first part of this NGMC update series by clicking here.
You can view the second part of this NGMC update series by clicking here.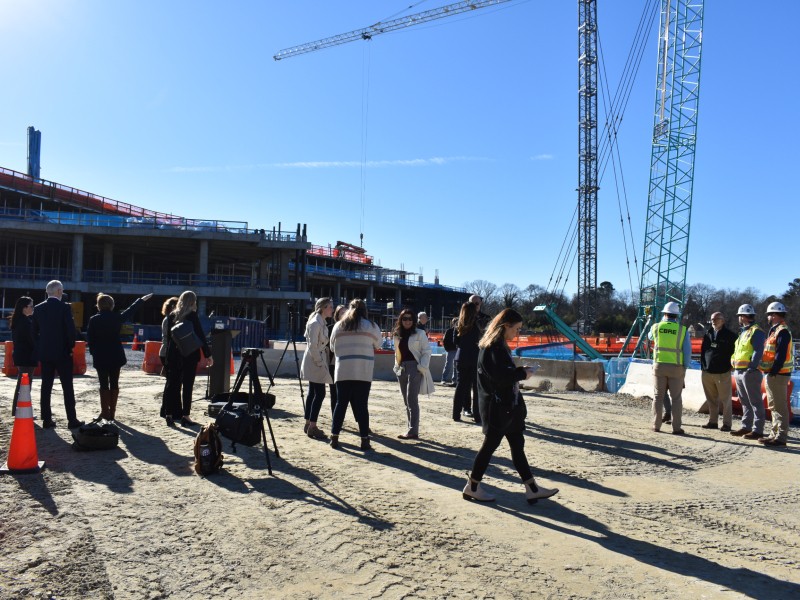 http://accesswdun.com/article/2023/1/1163327/ngmc-gainesville-update-new-patient-tower-offers-naming-and-donor-opportunities