RABBITTOWN — Freshman Claire Carlson poured in 20 points, including four 3-pointers, to lead Cherokee Bluff to a 62-50 win over East Hall on Tuesday in Region 8-4A North action at Valhalla.
The Lady Bears (12-8, 5-3 Region 8-4A North) used a 15-9 second quarter run to pull away for a 35-27 halftime lead. Emma Reynolds and Ella Quirarte combined for 26 first half points. Reynolds also had 6 rebounds and Carlson dished out 7 assists for Cherokee Bluff.
The Lady Vikings stayed in the game most of the way with the three-ball. Amari Burce scored 15 points on five 3-pointers and Callie Dale scored all 12 of her points on four treys. Maleah Harrison added 10 points for the Lady Vikings (7-15, 2-6 Region 8-4A North).
But it wasn't enough as Carlson scored 10 in the fourth quarter as Bluff was able to hang on down the stretch.
East Hall is off until next Tuesday while Cherokee Bluff will play host to Cedar Shoals on Friday in a Region 8-4A crossover game.
---
BUFORD 71,
MOUNTAIN VIEW 26
The Lady Wolves exploded for a 29-4 first quarter en route to a Region 8-7A win at The Buford Arena.
Buford (18-1, 6-0 Region 8-7A) also remained the only unbeaten team in the region with the victory. It was the 12th straight loss for the Lady Bears (3-17, 0-6 Region 8-7A).
Ava Grace Watson scored all of her game-high 20 points in the first half as Buford built a 51-16 lead at the break. It did not get any better for the Mountain View in the second half as the Lady Bears were held scoreless in the third quarter.
Cadence Jenkinson added 12 points, Lydia Ledford had 9, and Alyssa Green 8 for the Lady Wolves.
Nina Soloman led Mountain View with 11 points.
---
NORTH FORSYTH 54,
LANIER 22
The Lady Raiders took over sole possession of first place in Region 8-6A with a win on the road on Tuesday.
North Forsyth (14-6, 6-1 Region 8-6A) held Lanier to 9 points or less in every quarter and to just 9 second-half points in winning its third straight.
Lindsey Pirkle led the Lady Raiders with 14 points and grabbed 4 rebounds. Erin Whalen had 12 points, 5 rebounds, and dished out 6 assists.
Gabbie Gliatta added 9 points, London Weaver had 6 points, Addison Peck had 5 points, and Kamryn Gardner dished out 7 assists for North Forsyth.
Lanier (12-8, 4-3 Region 8-6A) had its two-game win streak snapped. Ajanae Jones led the Lady Longhorns with 7 points.
---
DAWSON COUNTY 54,
GILMER 27
The Lady Tigers won their third straight game and improved to 7-3 at home with a big Region 7-3A victory.
The win moved Dawson County (12-9, 4-4 Region 7-3A) to within one-half game of idle Pickens (15-4, 4-3 Region 7-3A) and will travel to Ellijay on Thursday to take on the Dragonettes with a chance to climb into fourth place.
---
WESLEYAN 68,
WHITE COUNTY 43
In a battle of top four teams, the Lady Wolves avenged an earlier loss to the Lady Warriors in Norcross.
It was the second straight loss for White County (15-5, 5-2 Region 7-3A), which dropped third place behind Wesleyan (16-3, 6-2 Region 7-3A). The Lady Wolves were coming off a blowout loss to Lumpkin County last week.
White County next will play host to West Hall on Friday.
---
LANIER CHRISTIAN 37,
YOUNG AMERICAN CHRISTIAN 32
A strong defensive effort in the fourth quarter helped the Lady Lightning take a GAPPS region win on the road.
Ellie Roberts once again paced LCA with a double-double, pouring in 14 points and pulling down 15 rebounds. Adelyn Gough added 12 points and 6 rebounds, and Kaitlyn DeLozier had 8 points for the Lady Lightning.
LCA (11-11, 4-2 GAPPS) next will play host to Pinecrest Academy on Friday in another GAPPS matchup.
---
EAST FORSYTH 66,
CHESTATEE 58
Adeline Rosebush scored 25 points, and Ella Holbrook added 23 to lead the Lady Broncos (10-11, 6-2 Region 8-4A North) past 9th-ranked Chestatee on Tuesday.
Halley Hiddema finished with 12. Riley Black scored 25 points to lead the Lady War Eagles (15-6, 6-2 Region 8-4A North).
With the win, East Forsyth is now in a tie at the top of the sub-region standings.
---
RABUN COUNTY 84,
TALLULAH FALLS 47
Ellie Southards scored 21 points and pulled eight rebounds to lead the Lady Wildcats past Tallulah Falls on Tuesday.
Lucy Hood finished the night with a double-double, scoring 18 points and dishing out eight assists.
Trea Black added 17 points, and Mili Watts chipped in 14.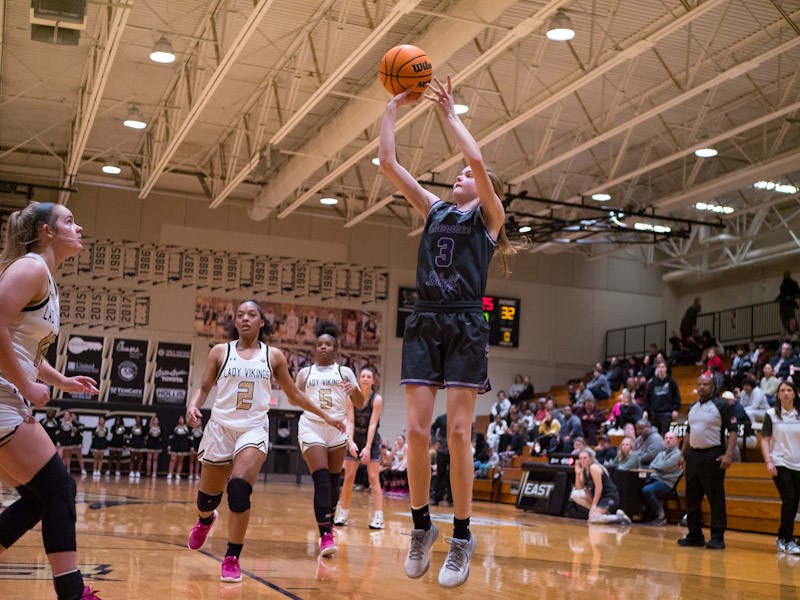 http://accesswdun.com/article/2023/1/1163137/girls-basketball-carlson-leads-lady-bears-past-east-hall-buford-routs-mountain-view