This is the first in a four-part series looking at the NGHS hospital patient tower expansion.
Hospital officials provided an update Friday as to the progress of the new patient tower being constructed on the Gainesville medical center's grounds.
President and CEO of Northeast Georgia Health System Carol Burrell opened Friday's event with a resounding "thank you" to all the people who have helped make the new expansion possible. NGHS is currently in the process of adding a major wing onto the northeast side of the existing hospital, enabling a host of new services for the community. New surgical robotics and technology, operating rooms, streamlined emergency services, upgraded patient rooms and naming and donor opportunities are just a few of the additions coming to the hospital.
"Our goal, as I think you all know, is to make sure that we're providing the right care close to home, so you don't have to travel and you can have confidence in the level of services that you're receiving here," Burrell said. "And I think our track record over the past few decades has proven that. I'm also proud to share that 85% of the dollars to our contractors on this project are from the state of Georgia, I'm equally proud to say that more than 65% of the cost here is our local providers, local contractors who are in our own service area."
The primary design phase for the expansion project kicked off in late 2018 with construction beginning in early 2022. Senior Director of Project Management Tim McCurley said the process has been fairly seamless thus far.
"We've been able to mitigate most of the problems, future problems, with material procurement and things like that," McCurley said. "We've been able to mitigate most of that just by planning and buying early, and getting materials on site as early as we can do that."
A major factor in staying on pace for completion is planning far ahead, as supply chain issues have proved to be a hurdle for many contractors over the last few years. Northeast Georgia Medical Center Braselton President Anthony Williamson said plotting the construction process far down the line is critical in order to keep on schedule.
"You know, everything that you used to get in three or four months now might be over a year," Williamson said. "So they've had to look at all of that and stay in touch with all of those suppliers, to know when do we need to order this to get it now on time. So that we can have it when we need it. And it's changed so dramatically. But we've been able to kind of plan for all of that, for the most part."
Senior Project Manager Michael Percy detailed what phase the construction crews are in currently, as they simultaneously work on the primary tower, the new parking deck and the added energy facility.
"We are hot and heavy on the concrete structure," Percy said. "We have a main focus of going elevated through the concrete structure, while we're finishing the foundations for the parking deck. Additionally, the central energy facility, which is a steel frame building, is essentially topped out this month, and we're going to start pouring [concrete]."
The energy facility will sit on the northern end of the property, with an underground tunnel connecting it to the other structures on site. It will provide the immense energy needed to power air conditioning and heat, hospital technology and robotics machines, lighting and much more.
On Friday, crews actively poured concrete columns at the top of level three, with plans to continue upward in the coming weeks. Percy said the main patient tower structure will be topped out to its highest level by late July or early August.
"A total of 11 levels, essentially, the basement, ground and then there's eight levels with a roof slab with a helipad," Percy said. "And then, as we top out late summer, the glass and skin systems just chasing right behind that and we'll have the skin and roof on by the end of the year."
Percy noted that each phase of the project does not happen independently from one another. As the structure continues to progress upward, crews will begin work on the lower level's interiors, as well as the outer glass windows.
The northeast end of the building will also play host to another emergency vehicle circle drive, allowing fast access for healthcare professionals and their transported patients.
Burrell expressed her excitement for the new building in her opening remarks during Friday's event, reminding those in attendance, and the community at large, that the expansion is in good hands.
"As you can imagine, this takes an incredible amount of effort to get to this point," Burrell said. "The planning has been going on for years. But we have a lot of experts who are making sure that we're doing things state-of-the-art and top quality."
Officials said they plan to host a ribbon cutting and have the building up and running by January 2025.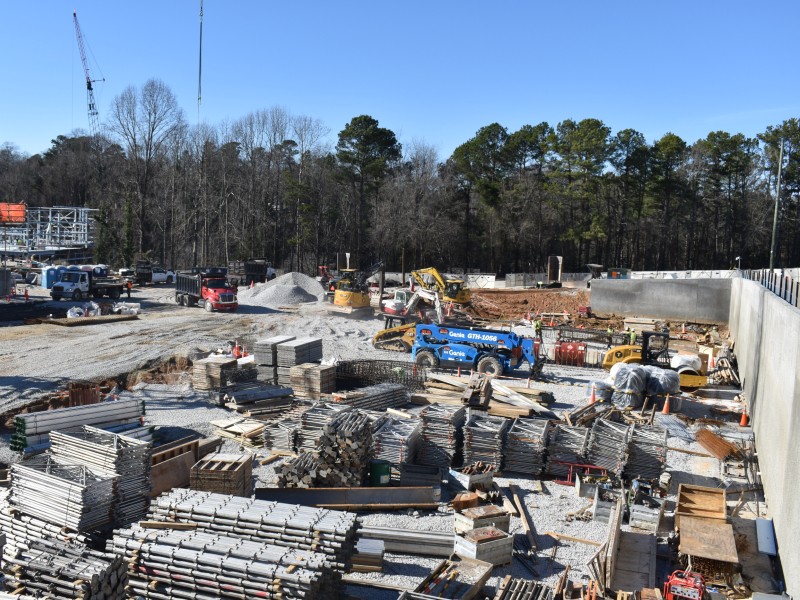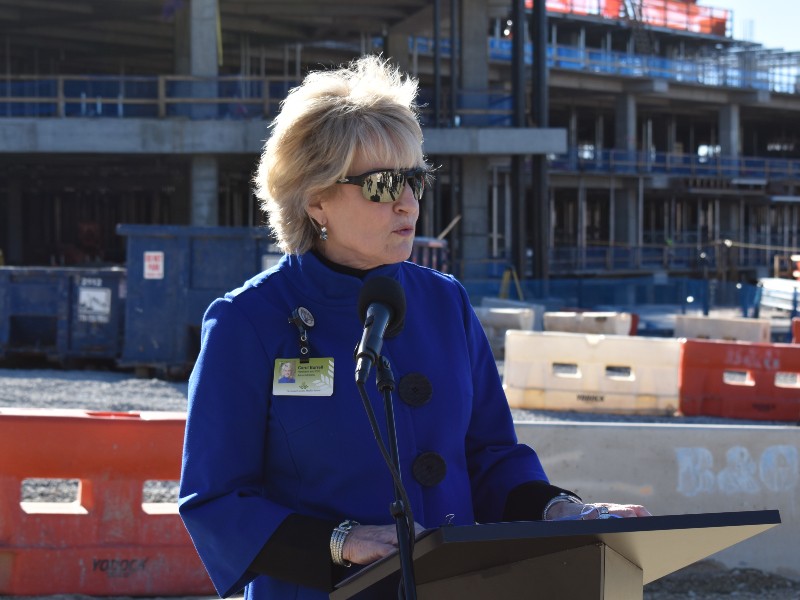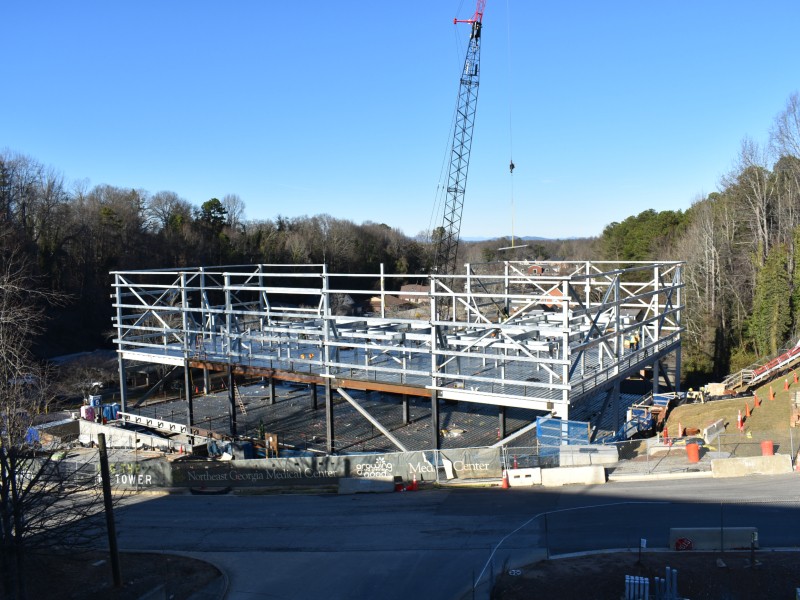 http://accesswdun.com/article/2023/1/1162820/nghs-hospital-update-construction-moving-along-at-pace-on-new-patient-tower