When the ARCA Menards Series visited Kansas Speedway earlier this year, Corey Heim had the car to beat until he crashed out of the race while racing Drew Dollar for the lead.
On Sunday morning, Heim made sure he got his redemption.
The 20-year-old from Marietta, Georgia, dominated the race to earn his second ARCA Menards Series victory of the season for Venturini Motorsports.
"First of all, thank you so much to Venturini Motorsports, Billy Venutrini, the whole Venturini family, I wouldn't be here without them," Heim said, who earned his first ARCA victory in 2020 at Kansas Speedway. "It was definitely a great performance for us from what we had in the spring. Going through that adversity, I feel like we should have had a really similar performance back there in the spring.
"To come back here and put on a show like that, it's pretty special."
Sunday's race was originally scheduled for Saturday evening, but the event was postponed until Sunday due to unfavorable weather conditions.
Heim started from the pole in the No. 20 Toyota and was practically untouchable. He only gave up the lead twice due to pit strategy, but each time he quickly regained the lead once the race resumed.
The final challenge for Heim came following the last caution flag of the race on lap 98 when Rajah Caruth crashed in turn 1 after a tire failed on his No. 6 Chevrolet.
A green-white-checkered restart followed and Heim quickly pulled away from the field to comfortably score his ninth career series victory.
"It's redemption for sure," Heim said. "I feel like we should have had both (wins), but at the end of the day we're back in victory lane at Kansas, the place where I got my first win. It's so special to me, it always has been."
Championship points leader Nick Sanchez, who had won the last two ARCA events at Kansas Speedway, finished second to further pad his championship lead.
"I think we were just chasing the 20 (Heim) all day and we just fell a little short," Sanchez said. "We never lost sight of him, we just didn't have the speed."
Sanchez's runner-up finish also allowed him to secure the General Tire Superspeedway Challenge championship for Rev Racing team owner Max Siegel. The General Tire Superspeedway Challenge features races on the ARCA Menards Series schedule at paved ovals greater than 1.5 miles in length.
"To get Max Siegel that, that's awesome and a testament to my team and all they do on these big tracks," Sanchez said.
Sammy Smith narrowly edged Daniel Dye to finish third, with Ryan Huff coming home a career-best fifth.
Parker Chase, Christian Rose, Amber Balcaen, Toni Breidinger and Jon Garrett rounded out the top 10.
The ARCA Menards Series season continues Thursday, Sept. 15 at Bristol Motor Speedway. The event will also serve as the finale of the ARCA Menards Series East season.
ARCA Menards Series
Kansas Speedway – Kansas City, KS
Kansas Lottery 150 – September 11, 2022
1. Corey Heim
2. Nick Sanchez
3. Sammy Smith
4. Daniel Dye
5. Ryan Huff
6. Parker Chase
7. Christian Rose
8. Amber Balcean
9. Toni Breidinger
10. Jon Garrett
11. Scott Melton
12. Rajah Caruth
13. Brad Smith
14. Matt Wilson
15. Cody Coughlin
16. Kevin Hinkle
17. Greg Van Alst
18. Alex Clubb
19. Tim Monroe
20. Zachary Tinkle
21. Ron Vandermeir, Jr.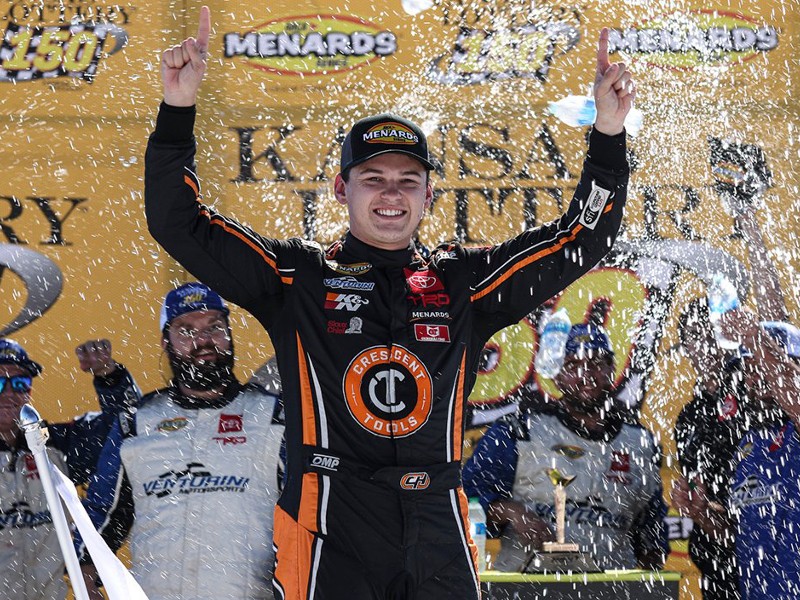 http://accesswdun.com/article/2022/9/1130638/corey-heim-takes-dominant-arca-victory-at-kansas