Skyler Dingler, a Gainesville High School graduate, knows firsthand the difficulty people have understanding people with Autism.
Dingler says he was bullied throughout school because of it, but rather than let that make him bitter he channeled that into something positive for those living in and visiting Banks County.
"Autism is something I've always had all through my life. Earlier in life, I really struggled on the part of having a learning disability all through school, and which caused me to get bullied and not really be able to interact with people as I should," Dingler said. "I had real bad anxiety. I did not like being in big crowds. All through life and realizing through school that not a lot of people knew about Autism and what Autism was all about and all the things that come with it, such as anxiety and behavior – how people can act with it. And I wanted to find a way to give back to the community, and I figured the best thing to do was host a car show."
Enter Shawnette Good, executive director of Joshua's Voice, an organization dedicated to being a voice of compassion for those with invisible disabilities. The group is named for her son, Joshua Richey, who died in 2020 when he couldn't find his voice to seek help.
"We seek to, first, redefine what a disability is and make sure that everyone understands that a disability is not just about a parking space or getting a check in the mail – which is certainly that for those who need it – but it's also about any type of condition or disorder that prevents you from being what you otherwise would be without additional resources," Good said.
Good learned of Dingler's planned car show benefiting Autism awareness and asked if Joshua's Voice could partner with him to keep money raised in the local area.
"Ms. Good reached out to me with Joshua's Voice and told me all about them and their organization and we decided to partner with them and thanks to the car show and everything we were able to raise a little over $2,000 for the event," Dingler said.
The funds raised provided 40 sensory kits to Banks County Sheriff's Office – enough for each officer. That's something the group has not been able to do at other departments yet.
"The amazing thing about these particular kits is that the funds that Skyler raised was, with the exception of an additional $86, exactly enough to provide the kits for Banks County Sheriff's Department," Good said. "So that's exciting in itself. These kits cost about $50 each to assemble, and they are very simple because the idea is if an officer on the scene is not able to accommodate someone that sits on the spectrum on the scene, that this could be handed off to bystander. They could look in the contents and figure out exactly what to do with them. They're made to be durable enough to roll around in a police officer's car and simple enough for anyone to use."
Banks County Sheriff's Major James S. Shi said deputies not only were willing to go through the Autism training but were eager to take it.
"This is fantastic because it's one of the few times that you can actually see something come full circle," Shi said. "Often, we're just a part of something larger and we never really see it come to completion. And here we've got this full circle being closed where this young man took it on himself to do this great project and then the organization that partnered with him thought enough of us to come back here with it and present this to the county. So, I think that also added a lot of excitement with the deputies where they realized, you know, that this is something that we really can be proud of as a county and is really going to help them in doing their job."
Recently, Joshua's Voice also presented sensory kits to Gainesville Police Department. Due to funding limitations, that donation could not be as widespread as the one in Banks County.
But what is in a kit? The kits include a dry erase board, fidget spinner, noise-cancelling earphones, and resources for nonverbal communication, both for those with Autism and those with autistic characteristics.
"Because we are so new and our funding sources are still being developed, that's something we've not been able to do yet," Good said. "We've not been able to provide every kit that is needed for a department at the initial point, but we were able to do that for Banks County Sheriff's Office because of the contribution of Skyler Dingler, a recent high school graduate who decided to choose Joshua's Voice for the benefit of his mission to bring awareness to autism and what people with Autism are able to do."
To learn more about Joshua's Voice or to support the group's efforts to put sensory kits in the hands of every officer, check out joshuasvoice.org or find the group on social media.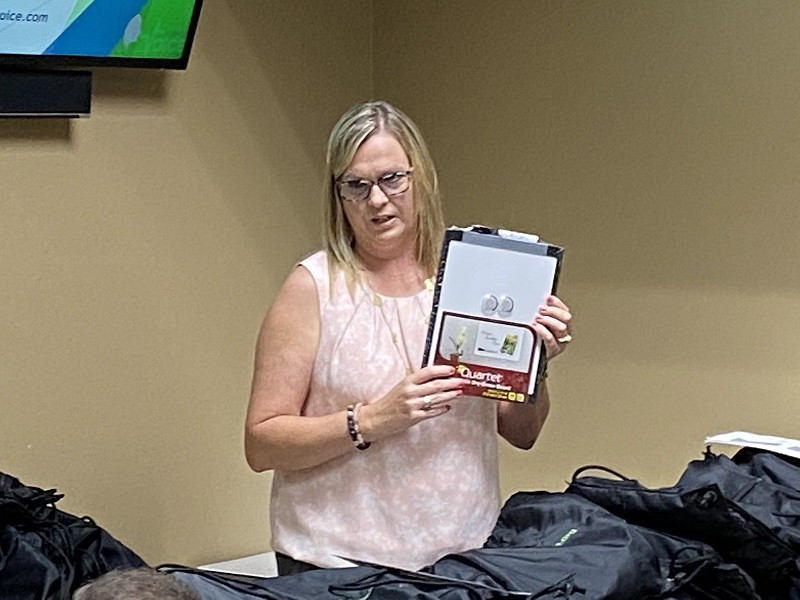 http://accesswdun.com/article/2022/7/1114834/banks-county-2022-graduate-gives-back-to-community-through-autism-sensory-kits