The timing was a couple of years later than planned due to COVID-19, but on Wednesday morning officials from Northeast Georgia Health System, Lumpkin County, Dahlonega, and the surrounding area gathered to celebrate the ceremonial groundbreaking for Northeast Georgia Medical Center Lumpkin.
"Our health system had to do some serious refocusing during the last couple of years," said Spence Price, board chair for Northeast Georgia Health System. "That meant a shift from what we had planned to do, like holding this groundbreaking and starting construction on this wonderful facility to what we had to do. Our people had to focus on educating our community and adapting quickly to save lives during a global pandemic. The work that was required of our local healthcare providers makes this delay groundbreaking even more poignant. We know now, more than ever, that a hospital is vital to every community."
Price said what's being done by building a new, expandable hospital in Lumpkin County is going to impact future generations across the region.
"As we prepare to put shovels in the ground, it's hard not to draw a parallel to the miners who came here two centuries ago, or even the indigenous people before them who came to haunt fish and reap from the soil and the bounty of this region," Spence said. "This place is a place of abundance. Lumpkin County draws people here because of its beauty, its mountains, its rivers, and the character of its people. This new facility reflects the culture and values of those who call North Georgia home. It's the people and the culture that will attract not only the right physicians and nurses, but also the businesses that will depend on excellent health care for their employees. NGMC Lumpkin will be a community gem and asset for this bustling Georgia 400 corridor for years and years to come."
Lumpkin County Commission Chairman Chris Dockery paused to pay tribute to former Ward 1 Commissioner Dr. David Miller, who died last year before being able to see the new hospital he worked for come to fruition.
"He brought a level of expertise that was really helpful to us as a Board of Commissioners because he understood healthcare," Dockery said. "Because of that, he served as a liaison with Northeast Georgia Health System. He shared an enthusiasm to see this happen. And he kept that spirit alive among our community, so we're certainly going to miss him. He was instrumental in guiding and planning this hospital that that we're here to celebrate today."
Northeast Georgia Health System President & CEO Carol Burrell said NGHS looks forward to becoming a constant in the formerly oft-changing history of the hospital in Lumpkin County.
"If we look at a little history on the Lumpkin County Hospital, it opened in 1976," Burrell said. "In 1985, St. Joseph's Hospital in Atlanta came in and renamed it St. Joseph's Dahlonega. But then in 1994, another change in ownership led to it being named Chestatee Regional. A few more ownership changes ensued. And finally in 2018, Northeast Georgia Health System learned that the hospital would be closing its doors – joining a trend of rural hospitals throughout the nation. But thanks to the hard work of some of the key leaders at not only the state level, but University of North Georgia, and members of all of this community, Northeast Georgia Health System was able to find a way to bring this hospital back to life."
State Senator Steve Gooch of Lumpkin County said former Governor Nathan Deal, members of his staff, and Philip Wilheit are among those who played a part in a hospital remaining in the area.
"Most people here don't know that the State of Georgia put money in the state budget to purchase the current hospital that's in Dahlonega that was shut down," Gooch said. "Nathan Deal's name has already been mentioned. Gov. Deal was a strong leader, and he did a lot for us behind the scenes as well as out front. His leadership will be felt for many, many decades to come. So will the leadership of his chief of staff, Chris Riley, who was very instrumental in making this purchase happen as well. And I can't forget my friend Philip Wilheit, who was on the Board of Regents at the time when we were having a groundbreaking in Dahlonega at the Convocation Center. You and I had a discussion about that hospital and about the future of North Georgia healthcare. And we talked that day about how important it would be to keep the hospital open, but also how the University of North Georgia could play an integral part of that."
Sonja Mclendon, interim president of Northeast Georgia Medical Center Lumpkin, said she looks forward to a ribbon-cutting ceremony for the new hospital campus in early 2024.
"We see our upcoming move to this campus as an opportunity to move forward in enhancing the care for the citizens not only of Lumpkin County, but for our friends to the north and the south and the east and the west – all those who will come here for comfort and care," Mclendon said. "Our team really is exceptional. Many of you know that. You're coming to us for care now, up on the hill, and you will continue to do so. I'm daily impressed by the professionalism of our healthcare workers, those who are at the bedside and those who support those who are at the bedside. So, thank you. Thank you for being a part of this community, for working so hard to help us create the next phase of this beautiful, beautiful Medical Center. This is just phase one of what we're going to do."
The initial 66,000-square-foot phase of the hospital will include:
16 private inpatient rooms
10 state-of-the-art emergency treatment rooms, four dedicated observation rooms, a fast-track area and separate entrance and exit
3 operating rooms and one procedural suite to support orthopedics, sports medicine, general surgery, and other services
Café and dining area
The future hospital campus sits along Georgia 400, just south of the Ga. 60 intersection, and has been in the planning phase since 2019. That's when the current NGMC Lumpkin hospital opened in Dahlonega – thanks to quick collaboration by Northeast Georgia Health System, local leaders and state officials after the previous hospital owner closed its doors.
NGMC Lumpkin provides 24/7/365 emergency care to Dahlonega and surrounding communities. The hospital also provides inpatient care and supporting imaging, lab and pharmacy services.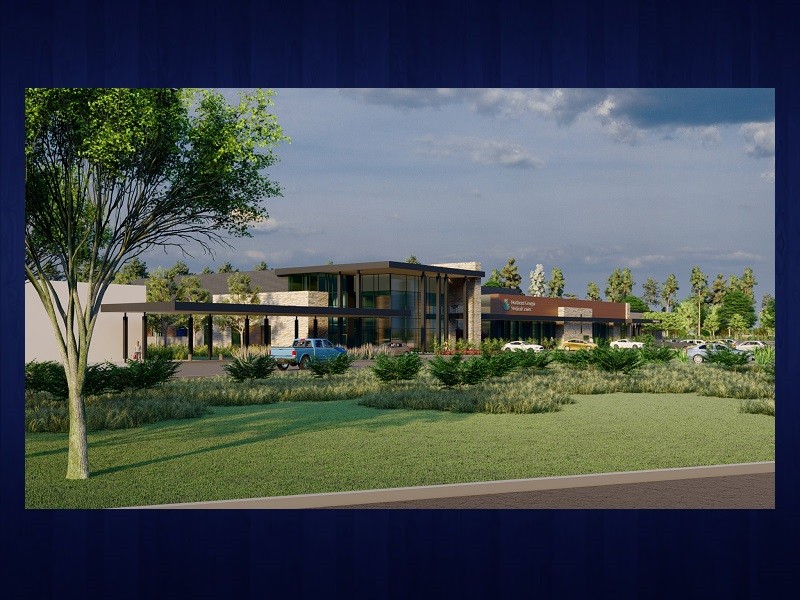 http://accesswdun.com/article/2022/6/1111987/officials-break-ground-for-new-nghs-hospital-in-lumpkin-county