Ross Chastain, who won the NASCAR Cup Series' first road course race of the 2022 season at Austin, Texas in March, said he spent time this week reaching out to a pair of drivers he had run-ins with last week at World Wide Technology Raceway at Gateway.
Chastain had some contact with both Denny Hamlin and Chase Elliott in the race.
And in return, both those drivers – who cars were essentially rendered non-competitive after the Chastain incidents – kept him on his toes in the closing laps thereafter. Their frustration was unmistakable, running Chastain's car up the track toward the wall and agitating him as he made his way forward in the race. Hamlin implied afterward that there may be "pay back" sometime down the road.
After the checkered flag, Chastain apologized for the hard racing and insisted it wasn't his intention to wreck either driver. He promised to speak to both drivers this week.
"We had a good conversation," Chastain said of his talk with Hamlin. "But whatever happens (this weekend at Sonoma Raceway), happens."
Hamlin's Joe Gibbs Racing team later posted to social media a photo of a watermelon left at the No. 11 JGR team hauler on Saturday afternoon – suggesting it may have been a gift – or peace offering – from Chastain, who is a watermelon farmer.
Chastain revealed in qualifying however, "not me," saying the team must have been having some fun with it.
Lone NASCAR Cup Series Off-Weekend Approaches
Austin Dillon is buoyed by the fact that immediately after this weekend's race at Sonoma Raceway, the NASCAR Cup Series will have its only "off-week" of the 2022 season.
"I've got my vacation planned and my grandfather (team owner Richard Childress) is already on me about getting back to work," Dillon said. "I was like, 'hey, I'm taking this one off-weekend."
Dillon said his family is looking forward to spending the rare downtime at the beach, expecting it to allow him to "refocus" on the closing stretch of the regular season.
Dillon is currently winless in 2022 and ranked 16th in the standings – which would not qualify him for the Playoffs with three race winners – Kurt Busch, Austin Cindric and Denny Hamlin – right behind him the standings that jump over him into the top-16 based on their wins this season.
"Mathematically, it's not hard at all for us to get into the Playoffs if there's no more winners," Dillon said. "I think we are in a place where we can point our way in. But I think there are going to be more (race) winners and we need to be one of them."
WDUN will carry live PRN Radio coverage of Sunday's NASCAR Cup Series Toyota/Save Mart 350 from Sonoma Raceway beginning at 3 pm on 102.9 FM, AM 550 and streaming live on AccessWDUN.
NASCAR Cup Series
Sonoma Raceway – Sonoma, CA
Toyota/Save Mart 350 – June 12, 2022
Sunday's Starting Line Up
Pos Car Driver Team Time Speed
1. 5 Kyle Larson HendrickCars.com Chevrolet 77.776 92.111
2. 9 Chase Elliott NAPA Auto Parts Chevrolet 77.799 92.083
3. 17 Chris Buescher Fifth Third Bank Ford 77.938 91.919
4. 34 Michael McDowell Love's Travel Stops Ford 77.941 91.916
5. 8 Tyler Reddick Lenovo Chevrolet 78.021 91.821
6. 41 Cole Custer Autodesk/HaasTooling.com Ford 78.070 91.764
7. 1 Ross Chastain Worldwide Express Chevrolet 78.137 91.685
8. 99 Daniel Suarez Onx Homes/Renu Chevrolet 78.148 91.672
9. 22 Joey Logano Autotrader Ford 78.276 91.522
10. 11 Denny Hamlin FedEx Freight Toyota 78.515 91.244
11. 45 Kurt Busch Monster Energy Toyota 78.244 91.560
12. 18 Kyle Busch M&M's Crunchy Cookie Toyota 78.275 91.523
13. 3 Austin Dillon True Velocity Chevrolet 78.319 91.472
14. 12 Ryan Blaney Menards/Knauf Ford 78.472 91.294
15. 14 Chase Briscoe Ford Performance Racing School Ford 78.507 91.253
16. 16 A.J. Allmendinger(i) Goldfish Casino Slots Chevrolet 78.572 91.178
17. 15 Joey Hand Built Ford Proud Ford 78.578 91.171
18. 31 Justin Haley LeafFilter Gutter Protection Chevrolet 78.603 91.142
19. 48 Alex Bowman Ally/Better Together Chevrolet 78.664 91.071
20. 24 William Byron RaptorTough.com Chevrolet 78.691 91.040
21. 10 Aric Almirola Farmer John/FoodMaxx Ford 78.706 91.022
22. 6 Brad Keselowski Kohler Power Reserve Ford 78.829 90.880
23. 4 Kevin Harvick GEARWRENCH Ford 78.857 90.848
24. 38 Todd Gilliland # Chicago Pneumatic Compressors Ford 79.065 90.609
25. 2 Austin Cindric # America's Tire Ford 79.300 90.340
26. 21 Harrison Burton # DEX Imaging Ford 79.315 90.323
27. 23 Bubba Wallace DoorDash Toyota 79.337 90.298
28. 19 Martin Truex, Jr. Bass Pro Shops Toyota 79.356 90.277
29. 77 Josh Bilicki(i) Pacific Coast Termite Chevrolet 79.493 90.121
30. 7 Corey LaJoie GNARLY Premium Cut Jerky Chevrolet 79.544 90.063
31. 20 Christopher Bell DeWalt Toyota 79.553 90.053
32. 47 Ricky Stenhouse, Jr. Kroger/Cottonelle Chevrolet 79.617 89.981
33. 43 Erik Jones FOCUSfactor Chevrolet 79.711 89.875
34. 42 Ty Dillon Allegiant Chevrolet 80.037 89.509
35. 78 Scott Heckert Pala Casino Ford 81.171 88.258
36. 51 Cody Ware Nurtec ODT Ford 0.000 0.000
(i) Ineligible for driver points in this series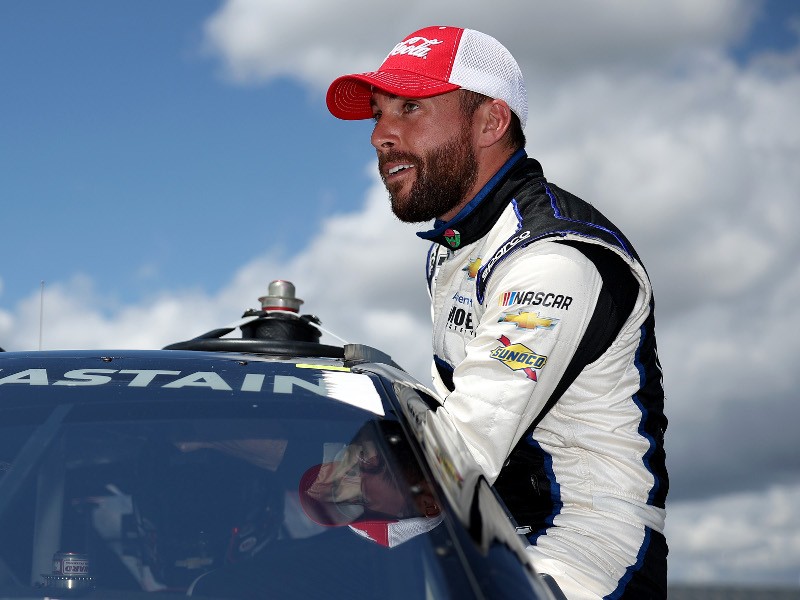 http://accesswdun.com/article/2022/6/1109493/chastain-reaches-out-after-contentious-gateway-race