Christopher Woods beat out the competition to score the Limited Late Model feature victory on Saturday night at Georgia's Winder-Barrow Speedway.
The Statham, Georgia speedster held off Ken Lampp to take home the win a the ¼-mile clay oval.
Dink McKeehan followed in third, with Alex Yarbrough in fourth, and Cade Cagle in fifth.
In other action, Josh Lewis scored the win in the Hobby 602 feature, with Austin Fox in second, Joe Yarbrough in third, James Cason in fourth, and William Booth in fifth.
Shawn Tullis took the victory in the Modified Street feature. Jeffrey Lampp followed in second, with Jordan Poole in third, Quik McCannon in fourth, and Brandon Cox in fifth.
Ronnie Poole was the winner in the Stock 8 feature, with Mark Chancey, Trip Sexton, Scott Cox, and Trey Pilgrim rounded out the top five.
P.J. Taylor held off Brent Couch to score the win in the Stock 4A feature. Brent Couch finished second, with Matt Gerrin third, Justin Taylor fourth, and Allen Cantrell fifth.
Willie Harrison was first under the checkered flag to take the win in the Stock 4 B feature, with JR Kirk in second, followed by Wade Harrison in third, Adam Jones in fourth, and Will Sanders in fifth.
Tim Ivester topped the Front Wheel Drive field to take home the feature win. William Earnest finished in second, followed by Robert Hester in third, and Eddie Poulnott in fourth.
Winder-Barrow Speedway returns to action on Saturday, May 14, as the raceway plays host to the SHARP Mini Late Model Series. For more information, visit WinderBarrowSpeedway.com.
Winder-Barrow Speedway – Winder, GA
Race Results – May 7, 2022
Limited Late Models
1. 17 Christopher Woods
2. 1k Ken Lampp
3. 21m Dink McKeehan
4. 41 Alex Yarbrough
5. C5 Cade Cagle
6. 99 Lance Finn
Hobby 602
1. 28 Josh Lewis
2. 36 Austin Fox
3. 41 Joe Yarbrough
4. 105 James Cason
5. 23 William Booth
6. 17 Randy Jackson
7. 23 Scott Cox
Modified Street
1. 0 Shawn Tullis
2. 2 Jeffrey Lampp
3. 99 Jordan Poole
4. 36 Quik McCannon
5. 11 Brandon Cox
6. 66 B.J. Franklin
7. 88 Brandon Franklin
8. 78 Aaron Criswell-DNF
Stock 8
1. 55 Ronnie Poole
2. 20 Mark Chancey
3. 69 Trip Sexton
4. 52 Scott Cox
5. 7 Trey Pilgrim
6. 14 Eddie Puckett
7. 44 Chase Chancey-DNF
Stock 4A
1. 2 P.J. Taylor
2. 28 Brent Couch
3. 441 Matt Gerrin
4. 52 Justin Taylor
5. 3 Allen Cantrell
6. 23 Derek Lord
7. 03 Roger Cochran
8. 28 Arron Cronic
9. 11 James Gaines
10. 35 Joseph Dyer
11. 10 James Robinson
12. 57 Russell Shore
13. 72 Cody Peppers-DNF
14. 2B Elliott Brayboy-DNF
Stock 4B
1. 16 Willie Harrison
2. 21 JR. Kirk
3. 10 Wade Harrison
4. 42 Adam Jones
5. 30 Will Sanders
6. 11 Charles Earnest-DNF
7. 17 Jerry Adkinson-DNF
FWD
1. 9 Tim Invester
2. 11 William Earnest
3. 88 Robert Hester
4. 21 Eddie Poulnott
5. 31 Steven Shedd-DNF
6. 18 Jake Mcbride-DNF
7. 14 Richard Earnest-DNF
8. 1x Kenneth House-DNF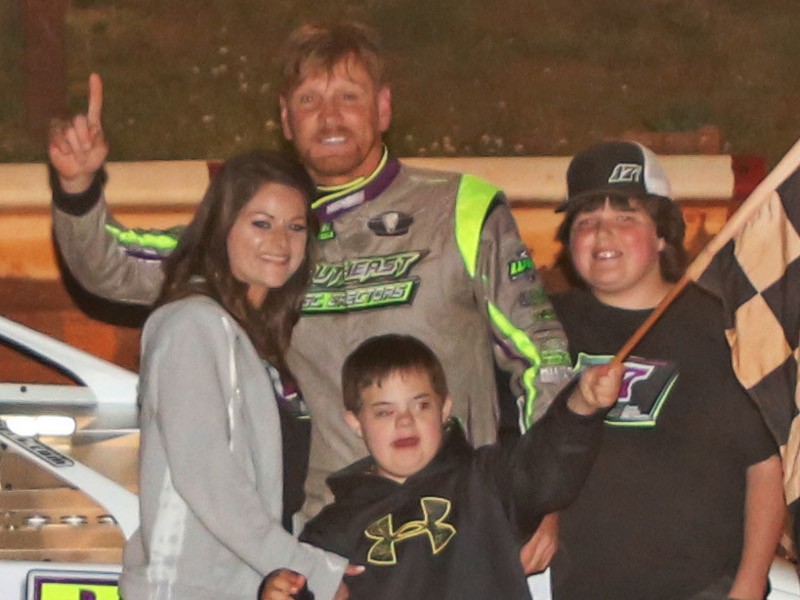 http://accesswdun.com/article/2022/5/1101606/woods-tops-winder-barrow-limited-late-model-feature