MILLEDGEVILLE — After suffering a gut-wrenching loss to Cross Creek in last season's Class 3A semifinals, Lumpkin County made sure there would be no repeat heartbreak in Saturday's Final Four showdown with Westminster.
The Lady Indians used a big run to open the game en route to a 64-42 win at Georgia College & State University, moving them into their first-ever state championship game in program history.
Lumpkin County (29-1) came in with the most wins in Class 3A and ranked No. 1 most of the season. Westminster (17-11) came in with the fewest wins among the Final Four teams.
"Amazing effort by the girls. I can't think of a game all year where they did not fire on all cylinders," Lumpkin County coach David Dowse said. "We haven't had a flat moment all year and tonight was no different."
It did not take long for Lumpkin County to take control. It was just a 7-4 lead early in the period before the Lady Indians used a 14-7 spurt to make it a 21-11 lead after the opening period. The Lady Wildcats never recovered.
"Coach told us to keep pushing and pushing and we wanted it more than they did," Lexi Pierce, who led Lumpkin with 20 points, said after the game.
Lumpkin County pushed the lead to 37-20 by halftime and took a 46-32 lead into the fourth quarter.
The Lumpkin County offense had its way with the Westminster defense most of the game. The Lady Indians hit 8 3-pointers compared to just 2 for the Lady Wildcats. Lumpkin also was 16-of-21 from the free-throw line while Westminster was just 2-of-3 from the line for the game.
Mary Mullinax added 16 points, Averie Jones had 14 points, and Kate Jackson had a double-double with 14 points and 10 rebounds for the Lady Indians.
Courtney Ogden led Westminster with 24 points. No other player had more than 6 for the Lady Wildcats.
Lumpkin County will play former region foe GAC next Friday at 1 p.m. in Macon for the Class 3A championship.
---
CLASS A PUBLIC SEMIFINALS
HANCOCK CENTRAL 50,
COMMERCE 37
The Lady Tigers were looking for their first-ever berth in the state championship game but ran into a hot Lady Bulldogs squad on Saturday at Valdosta State University.
It was a tight game in the first half as Hancock Central led just 14-10 after the opening quarter and just 21-18 at halftime as the Lady Tigers (14-15) chipped away. But Commerce struggled shooting in the third quarter scoring just 5 points as the Lady Bulldogs stretched their lead to 30-22 heading into the fourth.
Hancock Central slowly pulled away over the final eight minutes as the Lady Tigers hit just two 3-pointers in the game. Hancock Central knocked down six treys.
Malay Mitchell led Commerce with 11 points, 8 coming in the second half. Carson Hobbs had 10 points but was held to just 3 after halftime.
"We have had so many adversities that no one outside of our little town thought that we would even make it past the first round, if that, and here we were in the Final Four," Commerce coach Brad Puckett said. "We hurt today, but in the next few days we will look back at the blessings that were poured out on us this year and be thankful."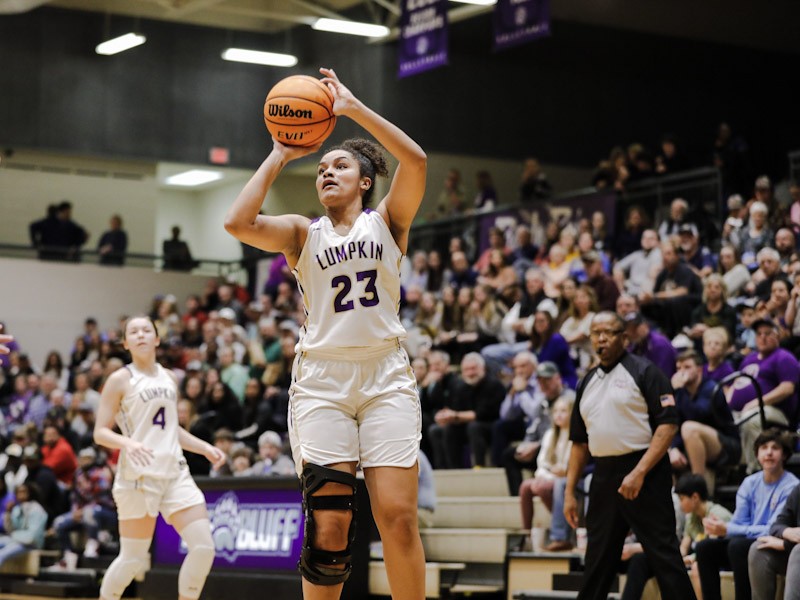 http://accesswdun.com/article/2022/3/1083146/girls-basketball-playoffs-lumpkin-co-advances-to-1st-ever-title-game