FLOWERY BRANCH, Ga. — West Hall boys coach Bobby Pless told his group it wouldn't be easy against the defending Lanierland champions, even if East Hall was sporting a young roster without a full-strength C.J. Agborsangaya.
He was right, although his Spartans found a way to rally in the fourth quarter and hold on late for a 52-46 win in the first round of the 63rd annual Lanierland Tournament Wednesday night at the Cherokee Bluff gym.
"I told them no matter who they had it would not be easy," Pless said."But our guys just found a way and I can't be more proud of them."
(Click here for the girls story.)
It was the first win in the opening round for West Hall (7-6) since making it to the 2019 finals. The loss dropped the Vikings, who are rebuilding with a starting lineup that includes two freshmen and two sophomores, to 1-10 on the season.
However, it was the Vikings, and freshman Jamarcus Harrison in particular, that stormed out of the gates. Harrison scored the first seven points, including a 3-pointer, as East Hall ran out to a 7-0 lead.
Owen Jenkins finally broke a nearly 3-minute drought for West Hall with a running basket. That ignited a 21-9 run for the Spartans that was capped with a Quintavious Reid basket and a 21-16 lead midway through the second quarter. The Vikings cut the lead to 21-19 by halftime on a Chris Alford 3-pointer.
West Hall opened up a 27-19 lead early in the third quarter and looked to be taking control. But East Hall's C.J. Agborsangaya hit back-to-back 3-pointers, Harrison converted a pair of free throws, Alford hit a trey, and Harrison capped a 16-4 run to give the Vikings a 35-31 lead.
But the Spartans chipped away into the fourth quarter as Jenkins capped a 10-2 run for a 41-40 lead. East Hall reclaimed the lead on a Chasen Jones basket, but West Hall closed out the game with an 11-4 run as Reid and Jenkins hit 3-of-4 free throws in the final 12 seconds to ice it.
"The first one is always the hardest because there's the pressure to stay out of any play-in possibility," Pless said. "It feels good to be in the semifinals. But we're going to have to play a lot better (on Thursday)."
Harrison paced East Hall with 14 points. Agborsangaya finished with 11 points in his first action since mid-November. Alford also had 11 points for the Vikings, who will play Lakeview Academy at 1:30 p.m. on Thursday at Flowery Branch in the consolation bracket.
Malin led West Hall with 14 points before fouling out in the fourth quarter. Reid finished with 12 points, Jenkins had 11 and Isaiah Holder 8 for the Spartans.
West Hall advances to take on North Hall at 7:30 p.m.in the semifinals at Flowery Branch.
---
GAINESVILLE 62,
FLOWERY BRANCH 60
Shooters will shoot.
Gainesville coach Chuck Graham is glad of that after Charlie Reisman hit a 3-pointer with 21 seconds left to lift the Red Elephants to a thrilling win in the first round of the Lanierland Tournament at the Cherokee Bluff gym.
Gainesville (4-5) had been 0-for-14 for the game before Reisman spotted up from the left side and found nothing but the bottom of the net.
"I'm not surprised because guys like that just know how to make big shots," Graham said afterwards.
Until then it looked like the Falcons (9-2) were ready to advance to the semifinals for the first time since winning the 2015 tournament. Branch had fought back from a 51-43 deficit behind sophomore Jeremiah Ware, who had 10 of his 16 points in the final 5:17 of the game. Ware's two free throws with 1:01 left gave the Falcons a 60-59 lead.
Branch had two golden chances in the final seconds to pull the upset. Fe Honors' short shot rimmed in and out and Resiman threw the rebound out of bounds with 1 second left. The Falcons' inbounds, however, was stolen and Gainesville held on.
Graham had a smile afterwards.
"I saw the first glimpse of what could be a complete team," he said. "It's taken a while to get everyone together and working together. We saw the beginning of that tonight I think."
It was nip-and-tuck in the early going as the teams traded leads four times until Branch used a 9-3 run to grab a 13-9 lead by the end of the first quarter. The Falcons increased their lead to 15-9 on a Fe Honors basket to open the second quarter and led 20-15 on a Jackson Owens bucket with 4:36 left in the half.
From there the Red Elephants turned up the pressure. Jaylen Bivens scored six straight points, including four consecutive free throws as part of a 6-point possession, as Gainesville reclaimed the lead at 23-22.
Ellis Pitts pushed the Gainesville lead to 27-22 before Jayden Gudz scored near the end of the half to cut the lead to 27-24 at the half.
Branch opened the second half with a 13-8 run to grab a 37-35 lead on a Honors basket. Reisman capped a 7-0 run with a jumper and the Red Elephants took a 44-41 advantage into the fourth quarter.
Ellis Pitts paced Gainesville with 12 points, 11 coming in the first half. Reisman finished with 11, 7 in the fourth quarter and Octavion Demory had 10, 8 in the second half. Dre Raven added 9 points and Cade Simmons 8 for the Red Elephants.
Gudz led Branch with 15 points but fouled out in the fourth quarter. Honors had 11 and Tyleek Worth 10 for the Falcons.
Gainesville next will take on Cherokee Bluff in the semifinals on Thursday at 4:30 p.m. at Flowery Branch.
Flowery Branch will play Chestatee at 10:30 a.m. on Thursday in the consolation bracket at Flowery Branch.
---
CHEROKEE BLUFF 72,
CHESTATEE 68 2OT
Boston Kersh converted a key offensive rebound for a basket to help Cherokee Bluff escape Chestatee in double-overtime.
Kersh scored 9 of his team-high 23 points in the fourth quarter and overtime. He played the final 12 minutes with four fouls and added a pair of key steals as well.
Bluff coach Josh Travis, who coached most of the Chestatee squad before moving over to Bluff last season, said it was exactly the kind of game he expected.
"It's Lanierland, baby...at its finest! Both teams just played their hearts out. This is the kind of game you expect in this tournament," Travis said. "I got to do something I've never done before, which is coach against kids I coached. I wish both teams could advance. It was a hard-fought battle the whole way."
The first half was about as even as you could ask for. There were 12 lead changes and two ties in the opening 16 minutes.
The Bears jumped out to a quick 4-0 lead on a pair of Kersh baskets. But Chestatee answered with an 8-3 run, highlighted by a 5-0 run from Jarvis Weaver, to take their first lead at 8-7.
They went back-and-forth with Weaver hitting a basket at the buzzer to end the first quarter for a 15-13 War Eagles lead. The two teams exchanged the lead over the next seven possessions before Bluff pulled out to a 27-23 lead on a Andy Quirate 3-pointer with 1:48 left in the half.
Chestatee cut it to 27-25 on a Hugh Pruitt basket but Carlos Marlowe and Kersh both converted baskets in the final minute to give the Bears a 31-25 lead, the biggest of the game at that point.
In the third quarter, Bluff pushed its lead to as many as seven on three separate occasions. Each time Chestatee answered, pulling within 41-40 on a Pruitt free throw. At that point, Chestatee's Colton Wilbanks, who came in averaging a double-double on the season, had been held to just 5 points.
But the War Eagles, behind Wilbanks, finally completed the comeback. Wilbanks got a steal and a dunk and a pair of free throws to take a 56-55 lead with 1:11 left. Marlowe hit one free throw with 1:04 left and both teams missed opportunities to win it in regulation.
In the first overtime, Wilbanks converted a tip-in with 4 seconds left to tie the game for the War Eagles at 62. Bluff's Logan Holmes had a chance to win it but his 3-pointer at the buzzer bounced off the rim.
In the second overtime, Chestatee took its biggest lead of the game, 64-62, on a Henry Grimsley basket to open the extra frame. Bluff, however, answered with a 9-0 run to take control.
The War Eagles had a chance to tie at 71 but a Josh Bull 3-pointer with 10 seconds left rimmed out.
Marlowe had 18 points, including 7 in overtime, and Holmes chipped in 13 points for the Bears (7-3).
Wilbanks finished with 23 points to pace Chestatee (8-3). Weaver had 22 points before fouling out in the fourth quarter for the War Eagles. Pruitt had 10 points for Chestatee.
Cherokee Bluff will take on the Gainesville-Flowery Branch winner in the semifinals on Thursday at 4:30 p.m. at Flowery Branch.
Chestatee will play the Gainesville-Flowery Branch loser in the consolation bracket on Thursday at 10:30 a.m. at Flowery Branch.
---
NORTH HALL 75,
LAKEVIEW ACADEMY 49
When they needed him most, Sam Gailey delivered for North Hall in the opening round.
Gainey hit three 3-pointers in 58 seconds to spark a 13-0 run in just under two minutes to blow open a close game as the Trojans rolled to a 75-49 win over Lakeview Academy.
North Hall (7-4) led just 50-42 after Lakeview's Justyce Sadler hit a pair of free throws to open the fourth quarter. But Gailey got hot and by the time the barrage was over the Trojans had exploded for a 21-4 run and a 71-46 lead.
"Lakeview was shooting the ball better than us and we had chances early in the game to extend leads," North Hall coach Miles Kendall said. "The shots just finally started to fall there in the fourth."
North Hall opened the game with a quick 15-8 lead on three 3-pointers from Cason Payne and Luke Sanders. Lakeview responded with a 7-0 run to tie the game at 15 late in the first quarter.
The Trojans opened the second with an 8-3 run for a 26-21 advantage but again the Lions answered with a 6-0 run, capped by a 3-pointer from Brock Graham, to take a 27-26 lead.
But Payne drained his third 3-pointer of the half at the buzzer to give North Hall a 29-27 halftime lead.
In the third, North Hall held the Lions (4-7) scoreless for more than two minutes and took a 50-40 lead into the final period.
Payne finished with 15 points to lead North Hall. Sanders and Gailey each had 14 points and Cole Hulsey had 10 points for the Trojans, who hit 10 3-pointers as a team for the game.
Jack Collins led Lakeview with 15 points. Sadler finished with 13 points for the Lions.
North Hall will take on the East Hall-West Hall winner at 7:30 p.m. on Thursday in the semifinals at Flowery Branch.
"The first one is so important. You have to win that first game in this tournament," Kendall said. "We'll just get ready for whoever we have next."
Lakeview will get the East Hall-West Hall loser at 1:30 p.m. on Thursday at Flowery Branch.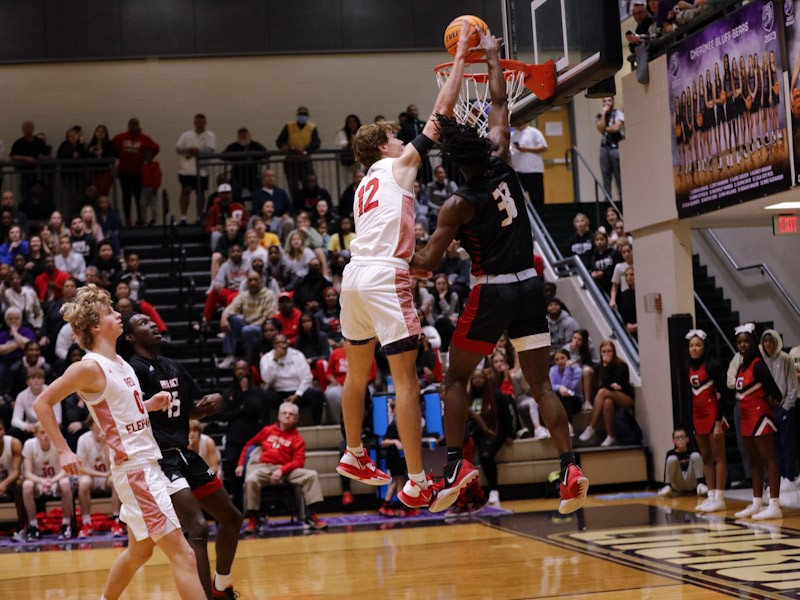 http://accesswdun.com/article/2022/12/1156851/63rd-lanierland-boys-gailey-sanders-shoot-north-hall-past-lakeview